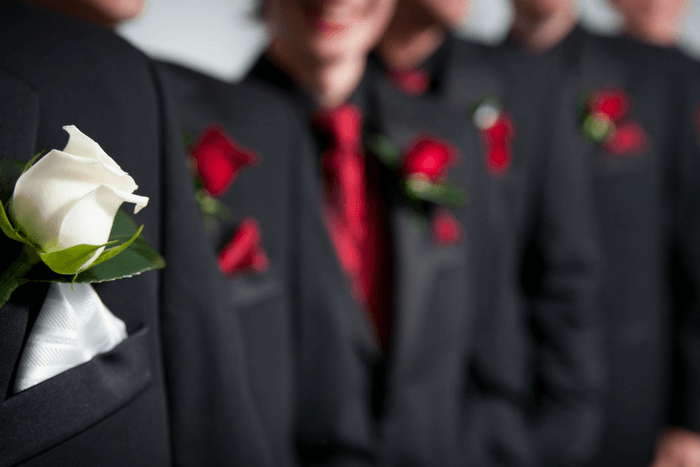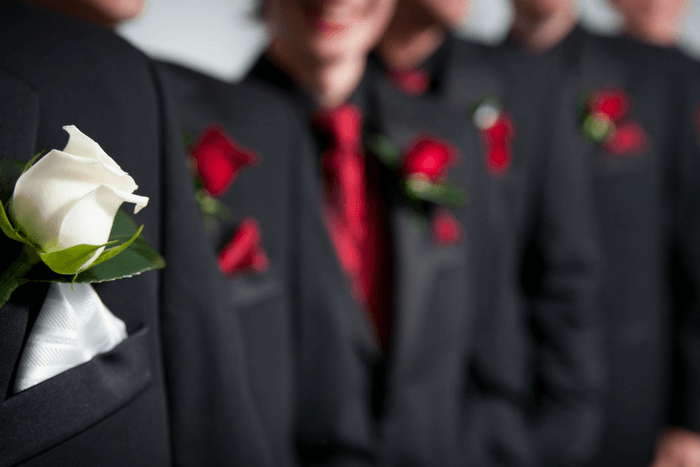 Before you know it, your winter wedding day will be here! You've found the perfect dress for yourself, and the bridesmaids are starting alterations on their gowns. Now, it's time to make some final decisions on your winter wedding tuxedo for the men in your wedding party. From the groom to the groomsmen, we've got you covered!
1. Coordinate tuxes with your wedding scheme and colors.
It's common for men to wear accents of the colors found in the bridesmaid dresses and bouquets. Pick a dominant hue and use it for the tuxedo vests, pocket squares or ties.  Your wedding style can also be reflected in the boutonnières. Ask the florist to incorporate tiny snowflake charms into the flowers, or use a sprig of holly instead of blooms for your winter wedding.
2. Accessorize tuxedos to add personality.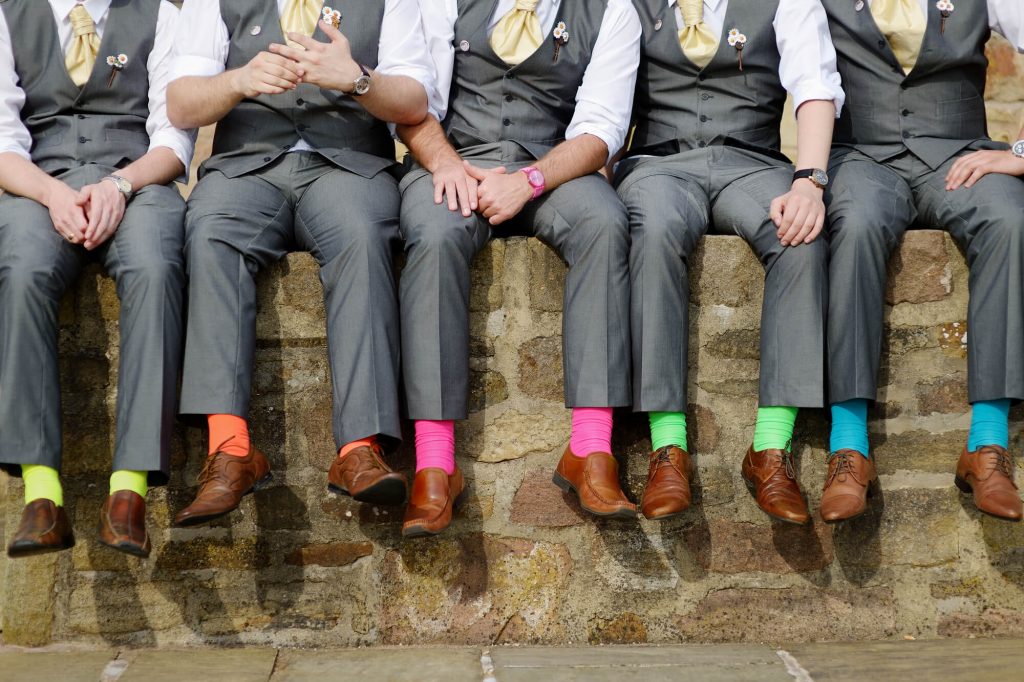 Sure, all the men will be matching, but that doesn't mean you can't have fun with add-ons that show off their unique styles. Let each guy wear his favorite rock band T-shirt under his dress shirt or flaunt a funky pair of socks. Doing outdoor pictures after the ceremony? Let each person wear a warm beanie showing off his favorite sports team logo. These create memorable, candid wedding pictures and let the men have extra fun dressing up.
3. Choose fabrics that are best for winter wedding tuxedos.
Tight-weave tuxedos made from wool blends, tweed, crushed velvet, or polyester are excellent choices for cool weather events. These fabrics are naturally heavy, keeping the bridal party men extra warm and cozy during the day's events.
4. Flaunt classic winter wear with your tux.
The best part about a winter wedding is adding on those iconic, elegant extras. We love to see a groom traveling to and from the event in a velvet-lined winter poncho or tailored overcoat. Winter wedding tuxedos also look sharp topped with a black derby hat, wool top hat or felt fedora.
5. Let the groom stand out among the men.
Finally, the groom's wedding day look should coordinate with the groomsmen, but have a few key differences to make him stand out as the man of the day. The groom's vest can match the tone of the bride's dress, or he can choose a differing jacket style. Often the groom's pocket square or boutonnière will coordinate with his bride's bouquet to unify their look.
Are you ready to make some winter wedding tuxedo decisions? Browse the Jim's Formal Wear website for more ideas and put together a look to share with your wedding party on the big day.