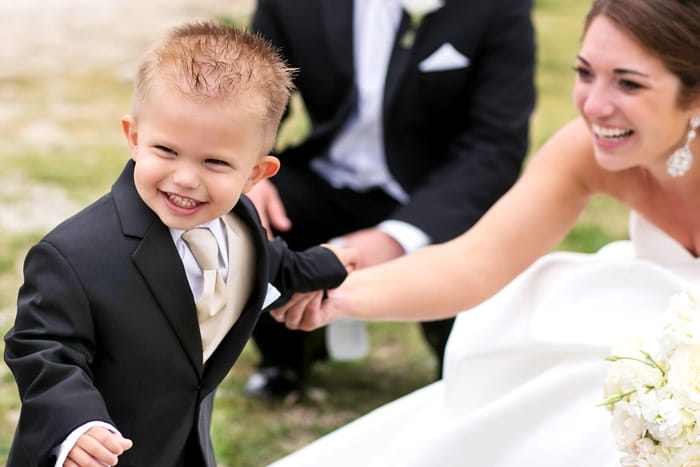 Children can undeniably add a whole level of cuteness to your wedding ceremony. If you have children from a previous relationship or have young family members, there are many meaningful ways to include them in your wedding. While kids in weddings can be adorable, they can also be unpredictable. Here are some ideas for successfully including children in your wedding:
Choose age-appropriate roles for children
While a ring bearer and a flower girl are the obvious choices for younger family members, there are several other duties for children if you're looking to include older children or multiple kids. At the ceremony, children can act as ushers, hand out programs, or distribute packets of rice or rose petals. At the reception, ask them to man the guest book or hand out favors from a basket. Just be sure to choose roles that match the child's personality.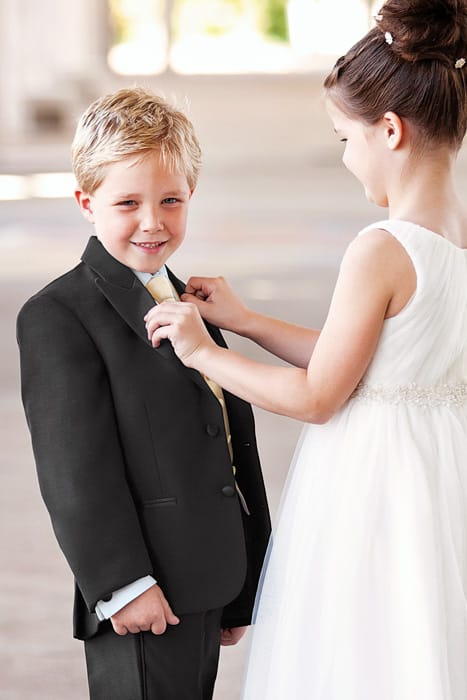 Outfitting the littlest guys in your party,m 
Remember the little gentlemen when choosing your men's tuxedos or suits. The majority of brides and grooms will choose to outfit ring bearers in the same ensemble as the groom while junior groomsmen or ushers either match or coordinate with the adult men in the party.
Luckily, Jim's Formal Wear offers several cost-saving options in our Ring Bearer Collection for the littlest men in your party. Create uniformity with color by coordinating the kids' wedding clothes with your wedding theme colors. You can utilize Build A Tux to mix-and-match tuxedos and accessories to create the perfect ensemble for every member of your party. We do generally suggest waiting until 3-4 weeks before the wedding to have the children measured for their attire since kids' sizes can change quickly.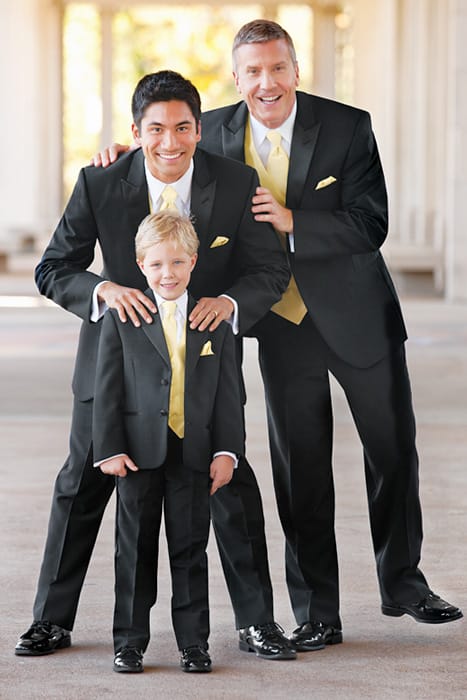 Practice makes perfect
Whatever role you choose for those special kids in your life, be sure to prepare them for the big day with lots of practice. If the children will be walking down the aisle during the ceremony, have them practice several times until they feel comfortable. If you've chosen them for a special reading, have them practice by reading aloud in front of others. And the ceremony shouldn't be the first time that you're making it a group event. You should begin including them from the start. Seeing familiar faces on the wedding day will ease some of their nerves.
The ideas for including children in your wedding celebration are endless, but the rules are all flexible. Just go with what makes you and the kids comfortable, but prepare yourself for cuteness overload!