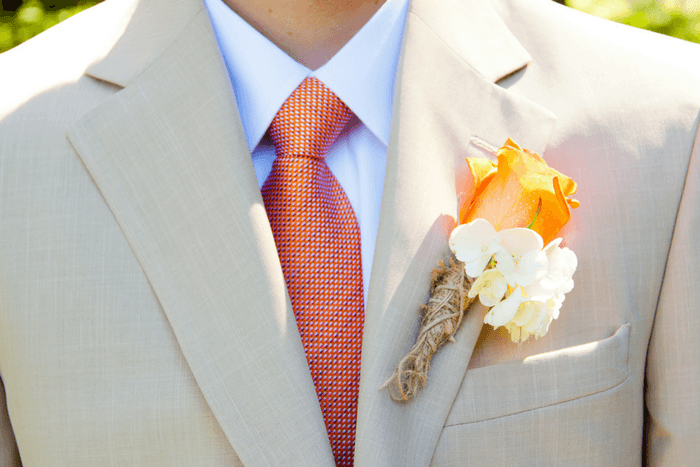 After years of wearing groomsmen suits, it's finally your time to shine as the groom. Since it's your big day, there's nothing wrong with adding a little bit of flair to your wedding suit or tux – it's the perfect way to express some personality while you're standing at the altar. Be creative! Beyond your tie, cuff links, and the other accessories you'll need on your wedding day, consider a specialized boutonniere to spice up your suit. If you're planning on tying the knot this fall, then here are some fun fall wedding boutonniere ideas to get you started:
Go With Some Fall Foliage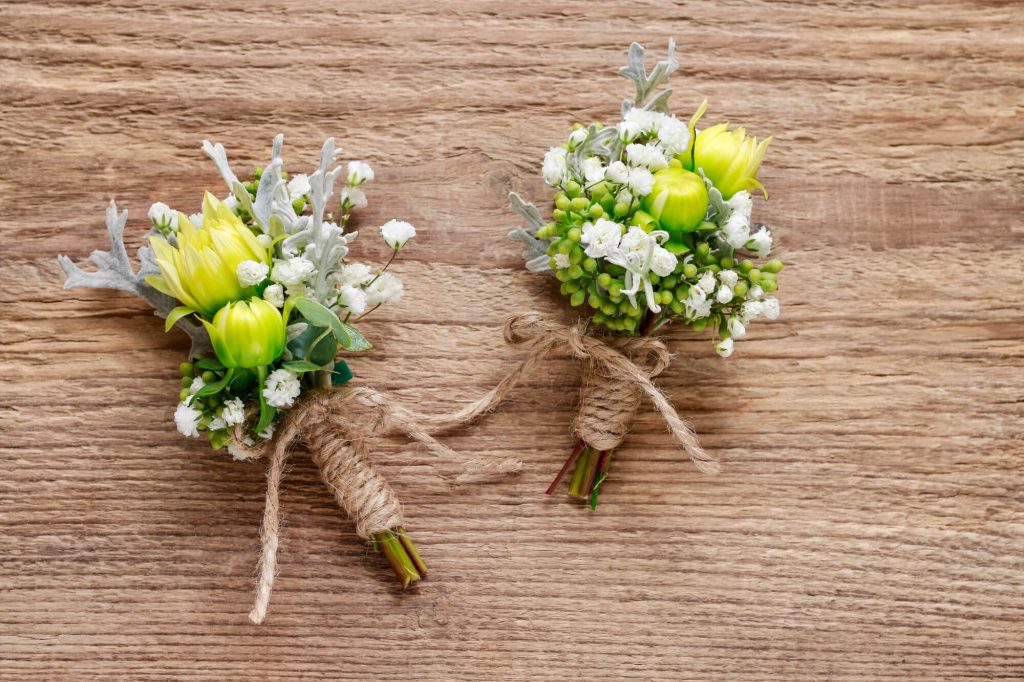 The most obvious complement to your formal wear is some appropriate fall foliage. You can bring a bit of the season into your ceremony with a few carefully placed leaves and some deep-orange ribbon or twine. Fall colors on your boutonniere can be a fun, thematic addition to any fall wedding.
Celebrate the Return of Football
Remember, a modern boutonniere doesn't need to be a flowery affair. There's nothing wrong with showing some love for the home team during your ceremony. Consider a boutonniere that boasts your favorite football team's colors.
Thanksgiving Comes Twice This Year
Consider this: your wedding day is a time for giving thanks unlike no other day in your life. Why not commemorate your good fortune with a boutonniere fashioned after a cornucopia?
Celebrate the Return of Good TV
What, only sports fans get to show off their fun side? The fall is also the return of new TV. Why not broadcast the shows you and your spouse will be watching on your honeymoon downtime with an appropriately decorated boutonniere.
Rebel Against the Season
Not down with the vibrant earth tones for which the fall is known? Then go your own way with an electric tropical flower or a whimsical ode to your favorite cartoon. Just keep in mind that boutonnieres aren't just roses and baby's breath anymore. The sky (and your imagination) is the limit.
Have a fun fall wedding boutonniere in mind already? Find the perfect fall wedding suit to complement your creative boutonniere at Jim's Formal Wear today.