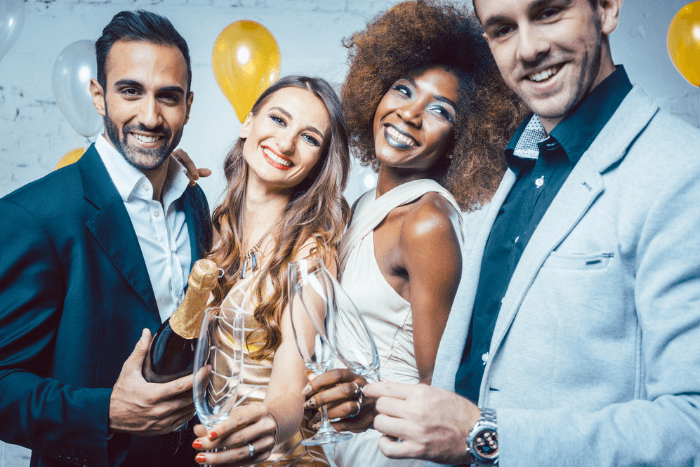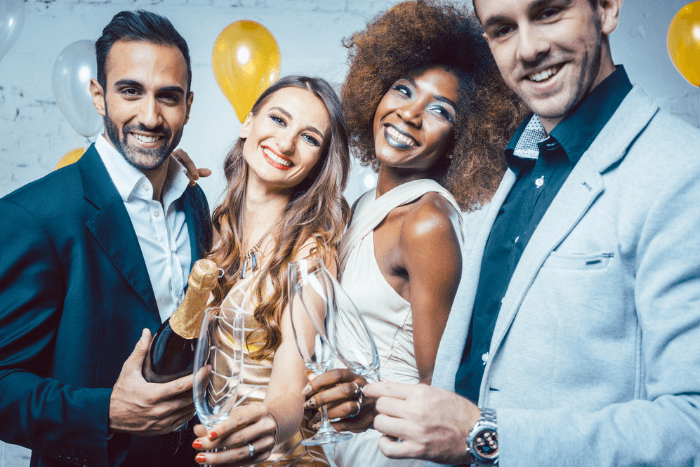 Do you get stuck on what to wear to holiday parties? For your final holiday party on New Year's Eve, end the year with a bang by rocking a semi-formal suit. If you pick a festive suit comfortable enough to move and dance in, you'll be able to wear your new year's eve suit to your party with confidence and style.
Pick the perfect suit for your party's theme
Now that you've put away your Halloween costume and ugly Christmas sweater, you can bring out a designer suit for this festive occasion.
Common New Year's Eve party themes include:

1920s/Great Gatsby:

The Prohibition Era is a popular theme choice, and it's impossible to deny that folks had great style during this period. Men often wore wool or tweed semi-formal suits with

notch lapels

. Plaid or herringbone patterns were common, and suits were more form-fitting than later styles in the 1930s. Accessorize with a vest,

suspenders

, and an appropriate hat like a bowler, fedora, or newsboy cap.

Black tie or masquerade

: You can dust off your tuxedo for this theme if you want to, but a dark formal suit or

semi-formal suit

will work just fine when paired with a black tie or bow tie. A vest and sleek pocket square will dress up your classic look.

Casino/poker night:

 This theme might be a little vaguer on the dress code, but a semi-formal designer suit that channels the 1960s era will probably fit the bill. Think James Bond or Don Draper:

slim-fitting suits

with narrow lapels in a cool blue or dove gray. A skinny tie makes your suit look both mod and trendy.
Choose the best material for warmth and comfort
Remember that you'll probably be dancing and mingling with other guests, so you'll want to be comfortable yet stylish. If you're in a colder climate, you'll want to stay warm, too.
Tweed is a classic fabric that will keep you warm in chilly temperatures. It's also durable and naturally water-resistant, which might help if you expect to be outside during rain or snow. Wool will also keep you warm during the winter, but it does double-duty in warmer months by wicking away moisture from your body. Perfect for dancing and working up a sweat at your party.
If you're looking for something a little more special, consider a silk suit or velvet suit. Silk is known for its smooth texture and is often used for suit accessories like ties and pocket squares. Silk fabric will lay comfortably against your skin. For extra oomph, a velvet suit made from rayon or silk will keep you warm and make a statement during your New Year's Eve party.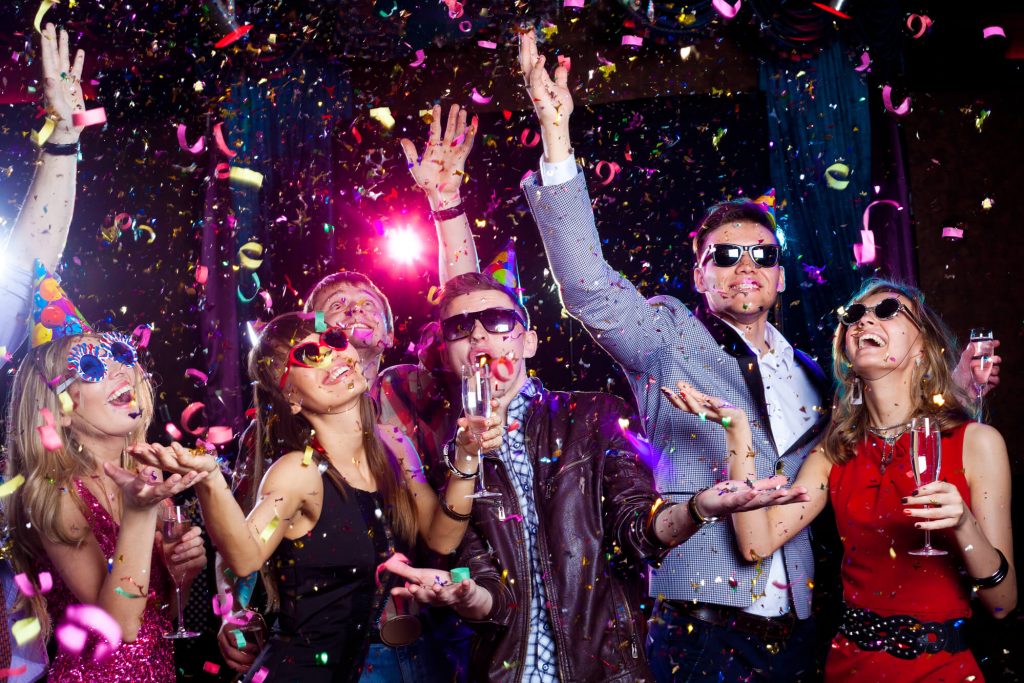 Make sure your suit fits
Last but certainly not least, check the fit of your suit jacket and pants! Whether your New Year's Eve party is themed or has a specific dress code, it's important that the suit fits your body, no matter what look you choose.
Look for the following when checking the fit of your suit:
The jacket and pants fit well overall.

If your jacket is too loose or strains at the seams when buttoned, it doesn't fit. If your pants sag or are too tight to move comfortably, they don't fit. Pick different sizes for your body type.

The suit jacket fits your shoulders and chest.

The jacket's seam should lie flat where your shoulder meets your arm. And when your jacket is buttoned, slip a hand over your heart. If there's too much room, you may need a smaller size or tailoring.

The pants lie smooth and flat with a slight break at the hem.

Make sure they don't sag or bunch anywhere. The bottom of your pant legs should rest on top of your shoe with a slight fold. If the hem bunches or doesn't meet your shoes, it's too long or too short.
Once you've chosen a designer suit perfect for your party's dress code and location, don't forget the accessories. You can easily add personality and style with ties, pocket squares, and socks. Have fun!
Do you need more help finding a suit for your New Year's Eve party? Check out our collection of semi-formal suits and accessories online!