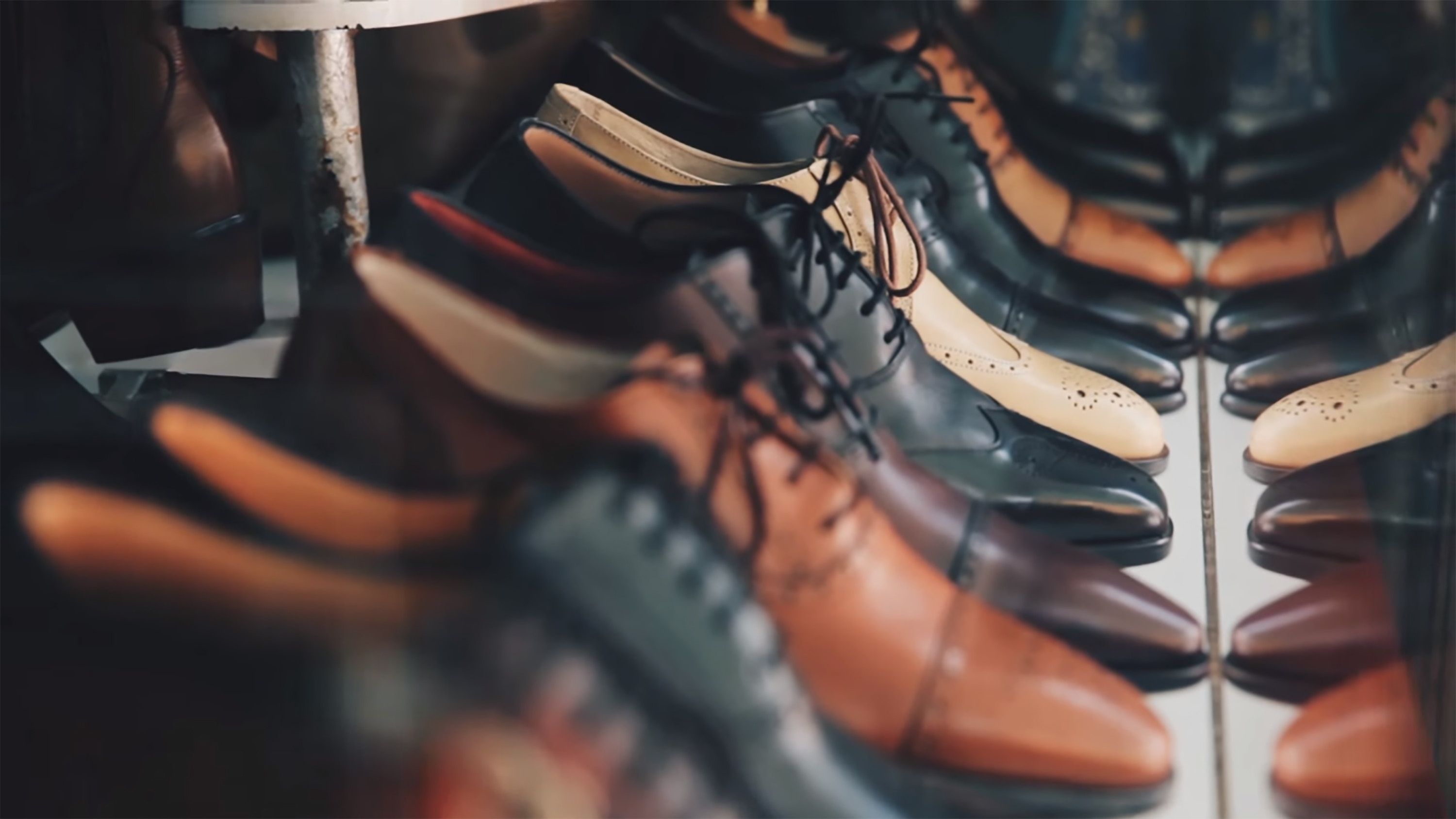 Whether you're starting to build your wardrobe, or you're on the lookout for trends you haven't tried before, one component you should consider is your dress shoes. Men's dress shoes are a worthy investment since your shoe size won't vary much (after about 18), which isn't always the case with shirts and pants. A good pair of shoes will last you years. If you're new to dress shoes, you'll want to find classic, versatile shoes that will complement other pieces in your wardrobe. And if you're a style veteran that's looking for a refresher on dress shoes, see if you have these essential pairs already in your closet.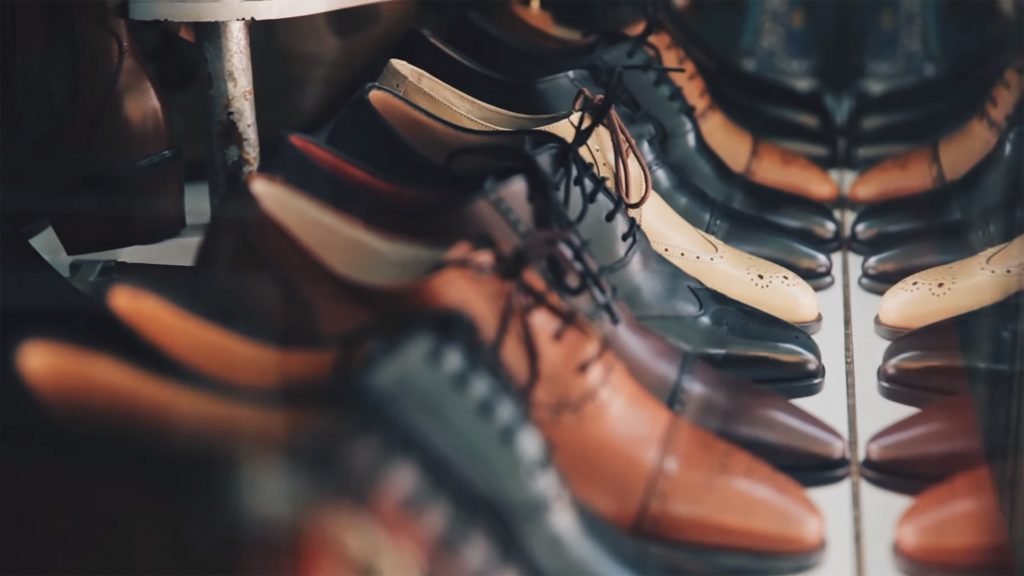 Black leather oxford for formal occasions
If we had to choose one classic dress shoe that everyone should start with, it's the black leather oxford. One good pair of these dress shoes can be worn to all sorts of formal events: interviews, weddings, funerals, and black tie occasions. We suggest choosing a pair without any broguing, which is the name for perforations along the upper part of the shoe (more on that later.) Go for a cap-toe or plain-toe style, and you're all set.  
Brown brogues for versatility
Now that you have a classic black oxford in your arsenal, you should add a slightly less formal alternative to your wardrobe. A brown leather brogue looks classy and has more character, thanks to the iconic broguing. It's up to you whether you'd like a cap-toe style or wingtips (which you can identify from the wing-shaped "W" pattern on the upper.) You can wear them to work and on dates. A medium brown pair will look great with anything: a three-piece suit, chinos with a sport coat, jeans and a dress shirt, and so on.
Leather dress boots for rugged or polished style
Once you've found your perfect pair of black oxfords and brown brogues, you can decide which kind of shoe to get next: a slip-on loafer or leather dress boots. We'll go over leather dress boots first, which can range from casual to dressy. On the casual end, you have lace-up leather boots like chukkas or combat boots. For a more polished look with boots, consider getting a pair of classic Chelsea boots. This slip-on style can be dressed up with trousers or dressed down with denim. Either fabric or embellishments is your choice, but we love the versatility of brown or chestnut leather Chelsea boots.   
Slip-on loafer for casual looks
Ready for a versatile and comfy shoe? Loafers can be dressed up with trousers for the office or dressed down with jeans. Wear them sans socks during warm weather and with socks when it gets cold. Again, the fabric and style are up to you. A double or single monk-strap loafer will give your wardrobe a bit of European style, while penny loafers work well in a preppy wardrobe. Go with a leather pair for polished style, or suede for elegant charm.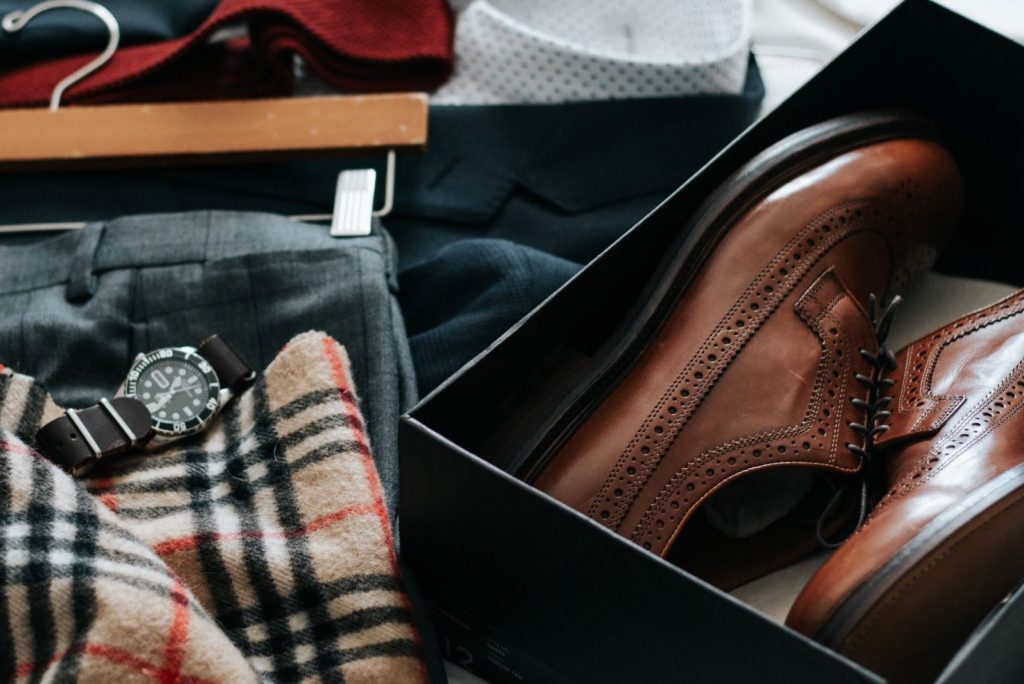 One wildcard pair of your choice
Do you have the previously listed styles of men's dress shoes? Great. Now you can branch out a little bit. Look at where you're wearing these shoes, how often, and with which outfits. Do you find that your brown leather brogues are seeing a lot of action? Maybe you'd like to add another brown leather pair in a different style, like a derby, which has open-faced lacing as opposed to closed on an oxford.
If you realize you love your pair of leather dress boots, consider adding a new pair in a different style and fabric, like a suede pair of chukkas in light brown or a rugged pair of moto boots. Or, maybe you're ready to try rocking a suit with minimalist leather sneakers to your next cocktail party. Whatever you choose for your fifth pair of dress shoes, envision how they'll work in your wardrobe, make sure they fit and make sure you love them. You can't go wrong.
Complete your look with Jim's Formal Wear
Need help looking for the perfect pair of men's dress shoes for your next formal event? You're sure to find it in our wide selection of shoes and other formal wear accessories. Start browsing now!