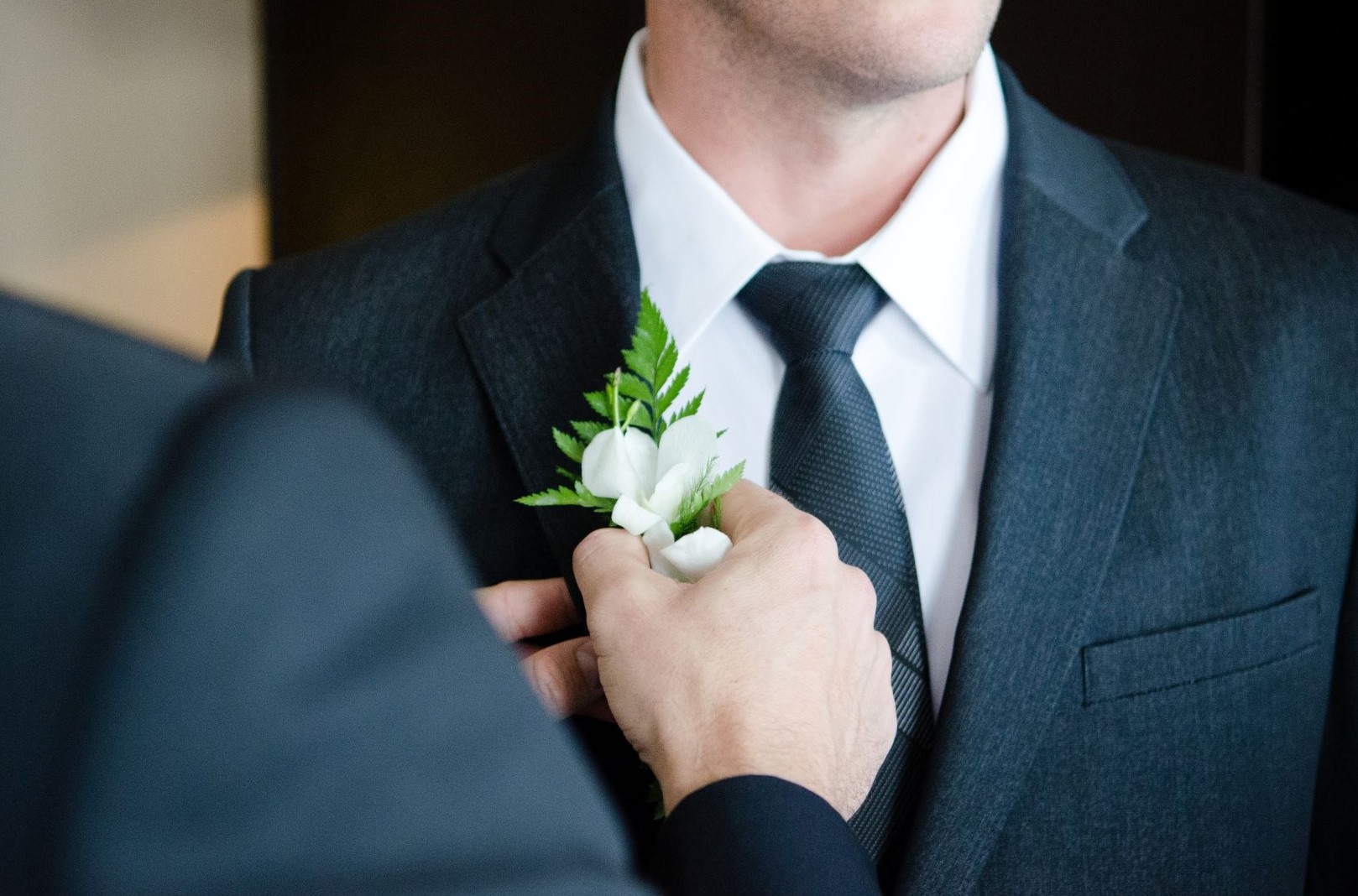 Boutonnieres are common accessories for formal events like prom, homecoming, weddings, galas, or awards ceremonies. They look elegant and debonair when worn well. If you're wearing a boutonniere for the first time, or you want to start rocking this dapper accessory more often, read on about how to wear a boutonniere.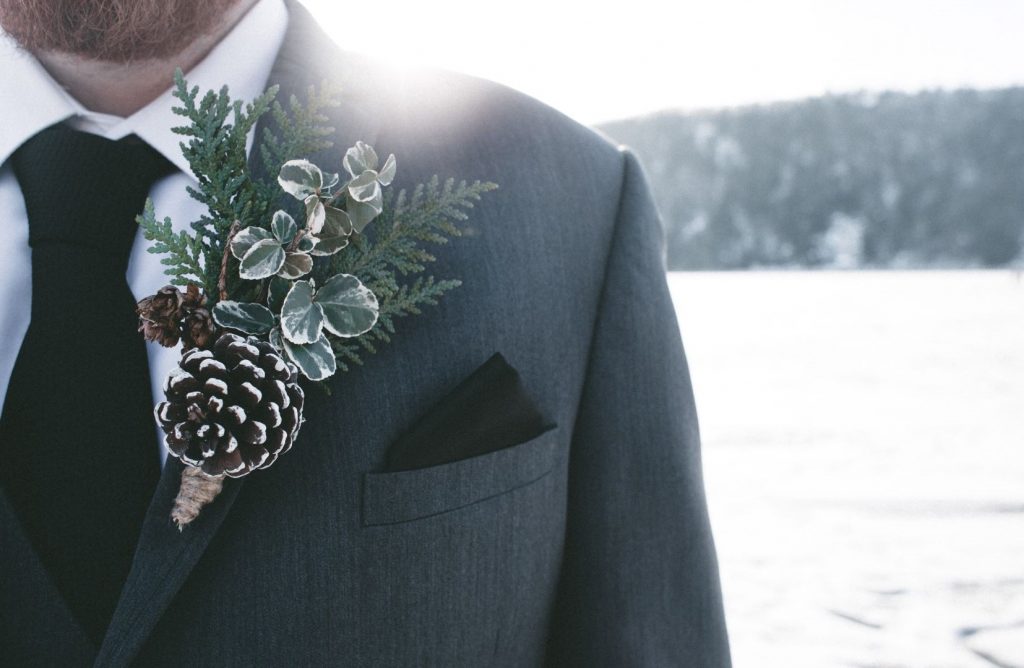 What is a boutonniere?
A boutonniere is a fresh flower or small bouquet worn on the left lapel of a men's suit jacket, sport jacket, blazer, or overcoat. Roses and carnations are popular types of flowers for boutonnieres; think of James Bond sporting a red carnation on his white dinner jacket, or the simple red rose that adorns Don Corleone's tuxedo jacket. 
When and where a boutonniere is appropriate
Though flowers are often associated with being feminine, men used them for fashion throughout history. You can spot an early form of the boutonniere in a portrait of an English captain by Thomas Gainsborough from the late 1700s. Through the 19th and 20th centuries, boutonnieres were worn on frock coats, trench coats, suits, and more. 
Today, it's not very common to wear a boutonniere on a daily basis. It's reserved for formal occasions and unique celebrations. You might wear a boutonniere for:
A night at the theater or opera

An awards ceremony

Black tie weddings, galas, or parties

Homecoming

Quinceañeras

Prom
You're not limited to wearing a boutonniere at these events, though. If you wear dapper suits to work all the time, why not try adding a boutonniere to your next outfit? If your workplace is more casual, however, it may be awkward. Think about your comfort level and the typical dress code when you're deciding whether to wear a boutonniere.
How to put a boutonniere on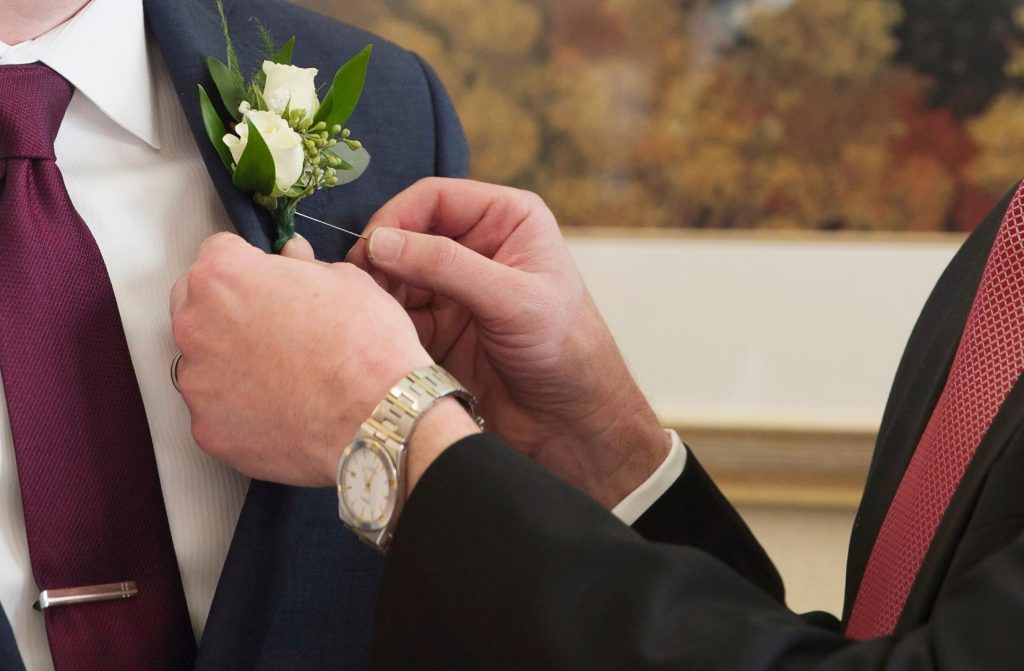 First, locate the buttonhole that's meant for your boutonniere. It should be a 1" to 1.5" opening near the top of the left lapel, below the collar. Flip the lapel over and look at the back. There should be a thread on the back of the lapel, slightly below the opening. This is called a boutonniere latch, and it will hold your flower upright against the lapel, so it doesn't flop over or fall through. Thread the stem of your flower through the opening and inside of the boutonniere latch.
If your jacket or coat doesn't have a buttonhole, you can have a tailor add one, or you can pin your boutonniere to your lapel. Pinning was once considered unattractive and a fashion faux pas, but it's become more acceptable, especially with rented suits. Remember that if you have a custom-tailored suit, a pin may damage the threads, so it's best to get a buttonhole added if you can.
Styling your boutonniere
Like a tie or pocket square, your boutonniere should fit the occasion as well as the rest of your outfit. White or red flowers look great for formal occasions and can match a variety of outfits. When in doubt, choose a simple white bloom like a carnation, gardenia, lily of the valley, or orchid. 
You don't have to wear a pocket square with your boutonniere, but if you do, choose complementing colors and let one accessory shine. If your pocket square is patterned and colorful, pair it with a simple white boutonniere. If your boutonniere is exotic and eye-catching, nix the pocket square or pick a solid, plain one.
Wear your boutonniere with confidence
If it's your first time wearing a boutonniere, don't worry! When you've put together your outfit thoughtfully, all you have to do is wear your look with confidence.
Looking for more accessories to complete your look? Jim's Formal Wear has everything you need, from cummerbunds to pocket squares to ties and everything in between. Find your accessory in our online collection now!