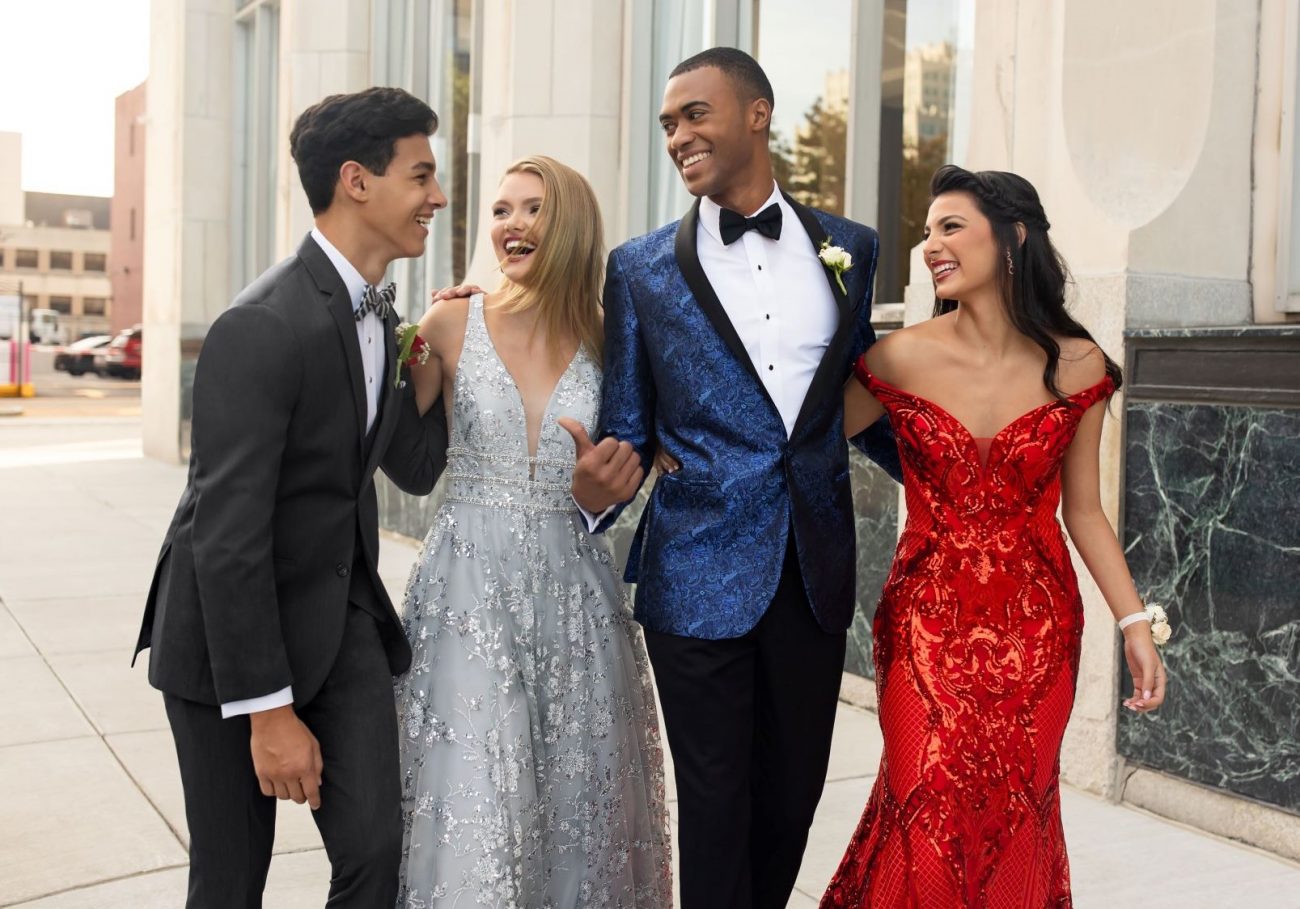 One of the most exciting times of the school year is coming up fast! Are you ready for prom? More specifically, do you know what you're going to wear? Check out some of our favorite prom looks for 2020, in case you need inspiration.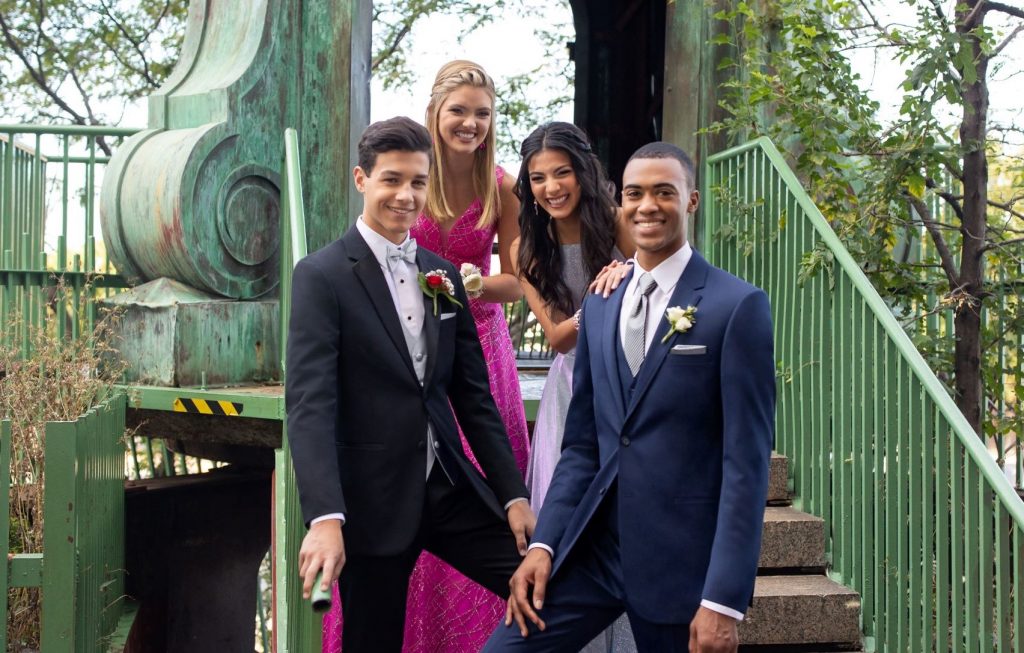 Updated classics
For many, "formal" instantly means an outfit in black and white:  A classic white tuxedo jacket and black pants, or a sleek black tux. While you can't go wrong with either of these traditional styles, why not add your own modern twist to them? You can do that by swapping out a traditional men's prom tuxedo jacket for a black velvet jacket. It's a subtle change that looks and feels cool and fresh. Finish one of your prom looks with a white pocket square and your best watch and cufflinks.
To stray even further from tradition, you might even try a black shawl collar tuxedo with a white shirt and…no tie. It's a daring look to go to a formal event sans necktie or bowtie, but when the rest of your outfit is on point, it can be done. 
Pattern play
How about a suit or a tux that gives off retro vibes? A grey plaid suit is a nod to the 1960s and 1970s style, without the cheesiness. Pair it with a white dress shirt, classic black bow tie, and polished black shoes. For a bit of extra warmth and style, add a matching waistcoat.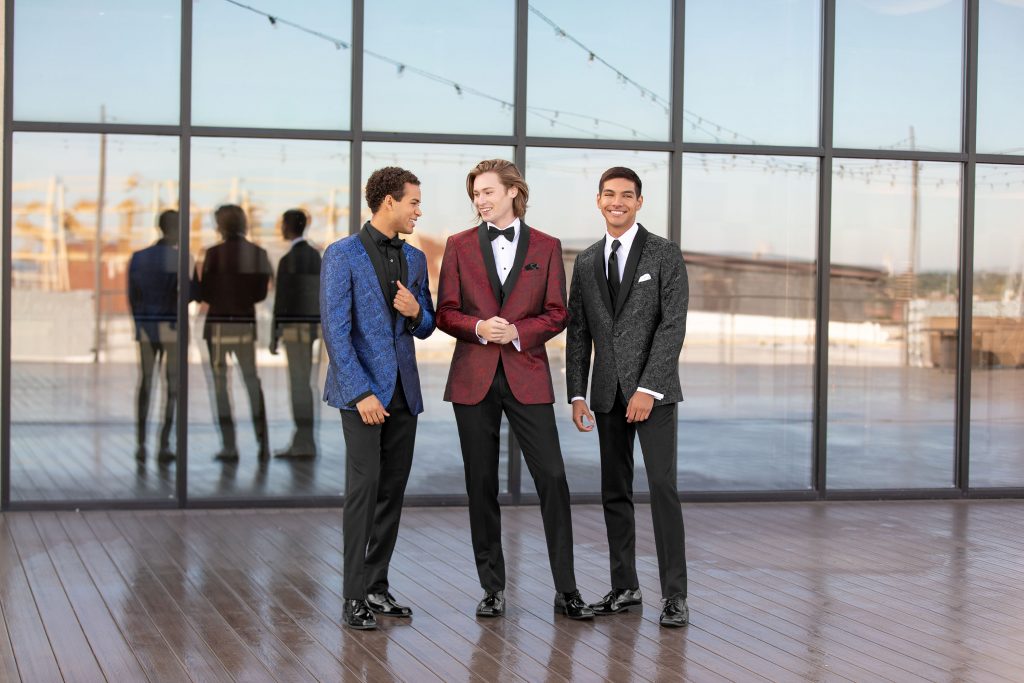 If plaid isn't your thing, try a different pattern like florals or paisley. A patterned jacket is the star of the show when you wear it with classic black pants, a black necktie or bowtie, and black shoes. And if florals and paisley aren't flashy enough for you, take your outfit to an even higher level by trying a jacket covered in sequins or patterned in animal print. Why not have fun with your prom look?
A touch of color
Make a statement with a tuxedo or suit in a bright color. Jewel tones like burgundy, emerald green, soft rose, and metallic gold are still trending in 2020. The best part is, you can customize your look to fit your style. If a matching jacket and pants combo in one bright color is too much for you, you can swap the pants for a classic black pair.
Similarly, a bright, metallic gold jacket can look excessive if you pair it with equally bright gold pants. A white or black dress shirt, black pants, and cool black formal shoes like velvet loafers monk strap shoes tones it down and balances it out.
True blue
Want one of your prom looks to have a little color, but not one that's too bright and bold? Blue is a great middle-ground if you don't want to wear black and white, but you're also not quite ready to make a big statement with your outfit. 
A slim indigo blue tuxedo looks stylish with a pale blue dress shirt, brown oxford loafers, and a navy bowtie. It looks just as good with traditional black and white accessories, too. If indigo blue is still a touch too bright for your style, stick with a navy suit or tuxedo.
Browse tuxedo styles for prom
For more style inspiration or to find your prom look, check out Jim's Formal Wear. We have tuxedos and suits for every prom style, from traditional to bold to trendy and more. Browse our online prom collection to start putting together your favorite prom look today!