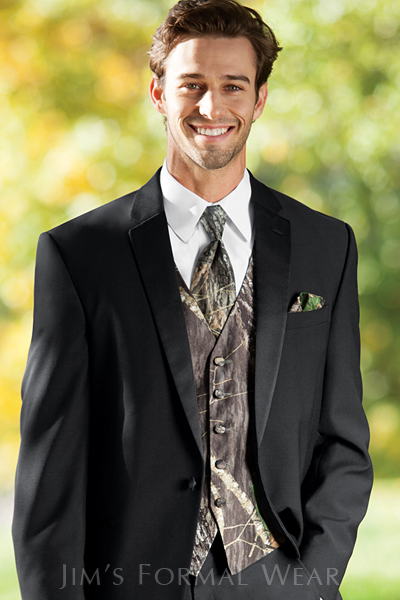 I can still remember a corporate buying seminar from a few short years ago when our company decided to purchase and add a camouflage vest to our formalwear line. All of our management teams are involved in the decision-making process and the seminar is a big event for us. At the time, it was easy to choose tuxedos and colorful vests to add to our lineup as we keep pretty good tabs on what our customers are asking for. However, some of us were hesitant to cast our votes for a camouflage fullback vest.
We asked ourselves, "Is this look even considered formal? Does it belong with a tuxedo? Are people going to wear it?" Well, a few years later, we have now come to the conclusion we shouldn't have hesitated at all because our camouflage vest has turned out to be very popular with our retailers and end-consumers!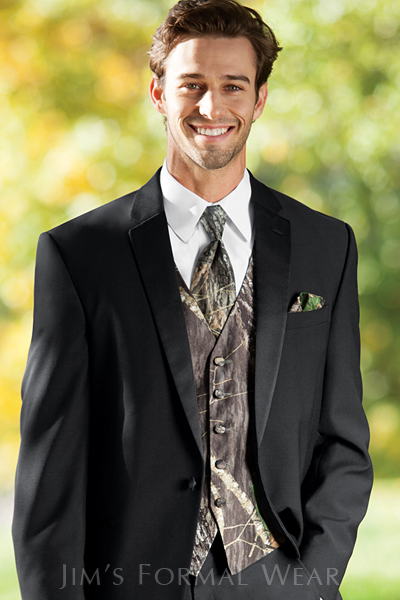 At that seminar, we decided to offer a vest in a green camouflage pattern by Mossy Oak. It is available with a matching Windsor tie, bow tie, and a coordinating pocket square.
How Wedding Couples Incorporate a Camo Vest into their Wedding Day
The vest became quite popular with wedding couples who were planning camouflage or hunting-themed weddings. We found some couples will rent a more traditional fullback vest pattern in a specific color to match their wedding's theme and then also rent the camouflage fullback vest for the guys to wear to the evening's reception.
And for proms and homecomings, the camouflage fullback vest is also popular. It's worn by young gentleman who likely consider hunting as one of their hobbies and are looking for a very unique look for their prom tuxedo.
A Second Camouflage Vest is Added
Fast-forward to today and we have added a new camouflage fullback vest pattern in white, also with a matching Windsor tie or bow tie and a coordinating pocket square.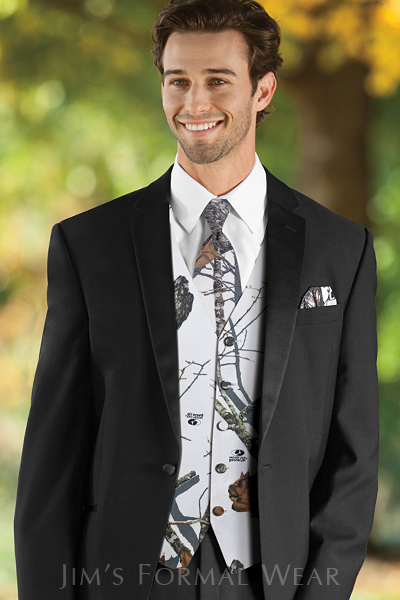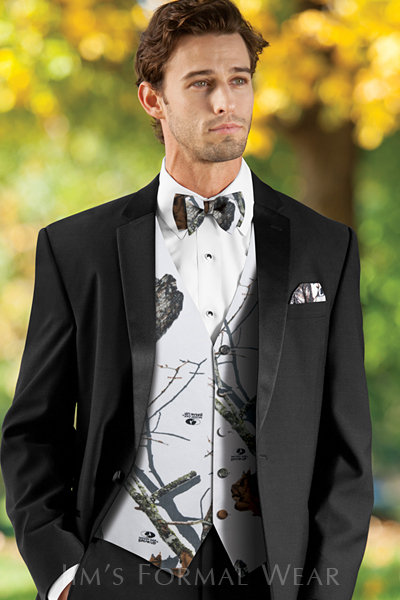 When a camouflage-themed wedding is being planned, we are expecting the white camo vest may be chosen for the groom while the green camo may be worn by the groomsmen. We're anxious to see how creative our retailers and consumers get with this pair of unique vests…
The popularity of the camouflage vest in our accessory line reminds us of something very important: A wedding is a very personal event for a bride and groom and the attire worn during that day should reflect their personal tastes whether their attire is ultra-formal or not. It is our goal to have the tuxedos and accessories they want!