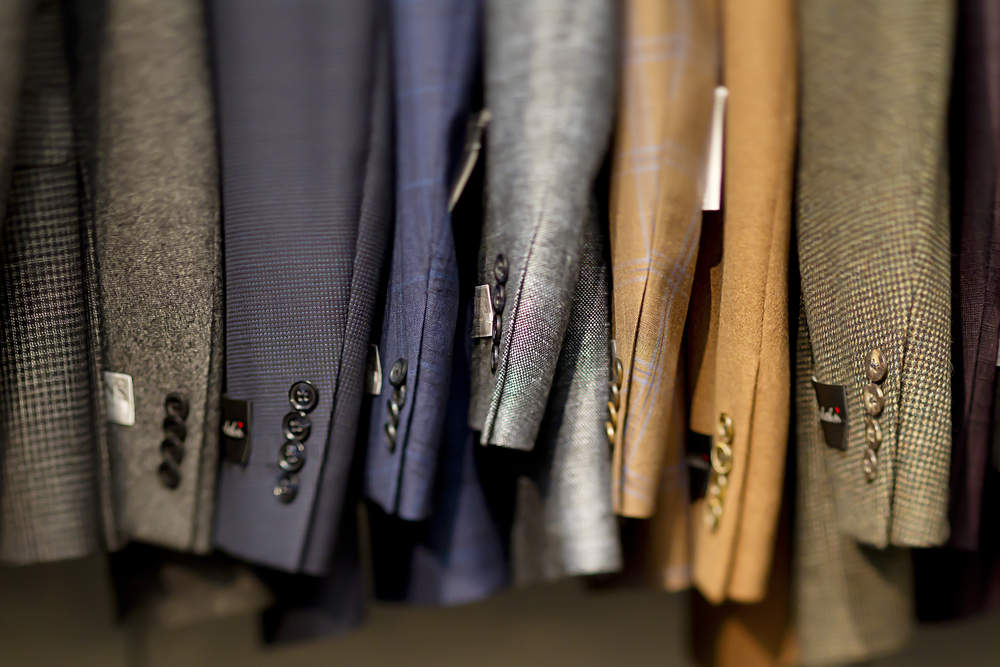 With many fabric options available for your suit and changing trends throughout the year, how do you grapple with choosing a suit fabric? Do you pick a fabric for the current season, stick with a classic fabric, or base your decision off where you'll be wearing it? We talk about some common suit fabrics you'll find when picking out a suit, the characteristics of each, and the best occasions to wear them.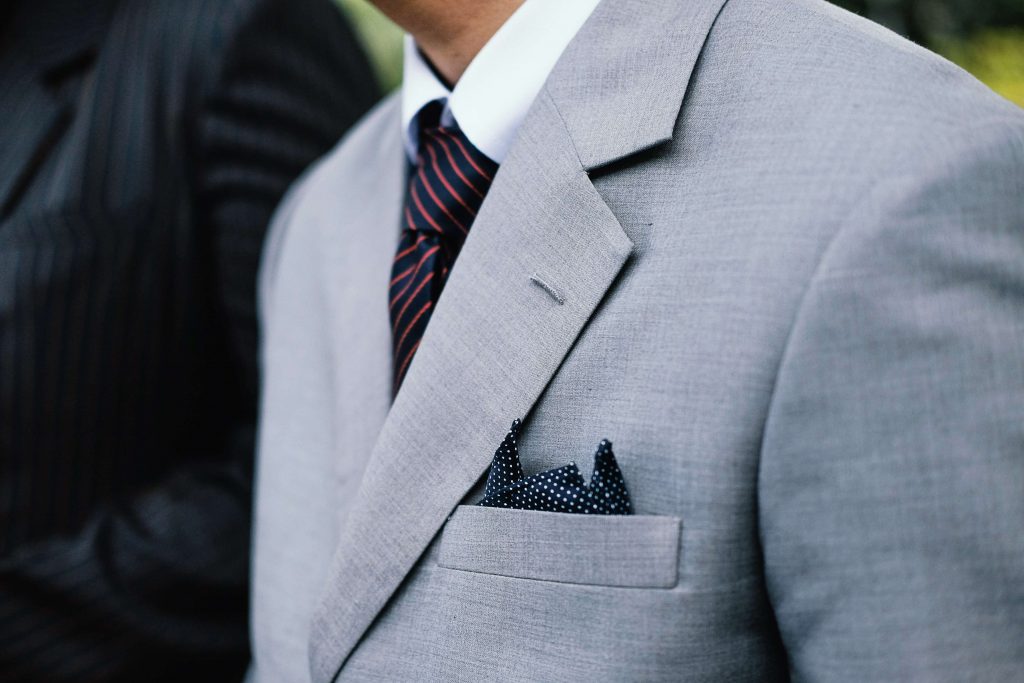 Wool suits
The most common fabric for suits is wool. It's versatile and can be woven into many different cloths. You'll find light, finer suits that are great for hot climates and heavy, wiry suits that will keep you warm. Wool is durable, wrinkle-resistant, water-resistant, and breathes easily. It also tends to keep its shape, so a good wool suit will drape well and flatter your body. 
It's easy to see why wool is the most common fabric for suits. Its versatile properties mean it can be used in all kinds of climates and for all sorts of occasions. If you're looking for a wool suit you can wear in most types of weather, choose a Merino wool suit in a midweight cloth. It may be called an "all-season" or "four-season" wool. You can wear a midweight wool suit to work, job interviews, cocktail parties, and much more. 
Lightweight wools will keep you cool if you live in a predominantly hot climate, or if you're going to an important formal event like a wedding in the summertime. If you need to stay warm most of the year, or you're having a winter wedding, stick with an upper-midweight cloth or low-heavyweight cloth. Flannel, tweed, and wool are great choices. True heavyweight wool is usually reserved for heavy jackets or coats.
Cotton blend suits
Cotton is another popular fabric for suits. Choosing a suit fabric like cotton is perfect for when you need to look nice in the middle of summer or spring, cotton can cool you off since it's breathable. Cotton also tends to be less expensive than a wool suit, which is great if you're on a budget. They're low maintenance and travel a little better than a wool suit since they take up less room. Just be sure to give your cotton suit a quick ironing if you're heading to a business meeting after your flight. 
Choose heavy cotton or wool/cotton blend for work, formal events, weddings, or job interviews. If you're going to an event with a more relaxed, playful dress code, try a suit in seersucker, madras, or chambray fabric.
Linen suits
If you're looking for an even more breathable suit fabric and have a bit more room in your budget, consider investing in a linen suit. While cotton is derived from the cotton plant, linen is derived from the flax plant. Linen billows and won't drape close to your body like wool or pressed cotton, giving you room to breathe. It's super lightweight and breezy, but it also wrinkles naturally and easily. However, the wrinkling is part of the charm of a linen suit, so embrace it.
Linen suits are best worn as a warm-weather casual alternative to cotton or wool. It's best not to wear them to work or at a business event. They are perfect for less formal summer events like a wedding on the beach or a summer cocktail party.
Polyester blend suits
Suits made out of synthetic materials like polyester were a hit in the 1970s since they were less expensive and easier to care for than natural fibers. However, now they are typically seen as lower quality and less polished than wools or cotton.  Synthetic materials do have some benefits; they're inexpensive and can be durable depending on the fabric used.
They are also washing machine friendly, so you'll generally see suits in lighter shades like white, ivory and tan made solely from polyester. If you must get a suit in a synthetic fabric due to budget, find one that's blended with wool for better quality and wearability. It'll work fine in mild temperatures to business casual events, or to the office.
Special fabrics
If you've already mastered the basic suit fabrics for your office looks and semi-formal occasions, maybe you're ready to step up to sumptuous fabrics for extra-special formal events.
Silk suits
Silk is an expensive, sleek fabric that can be worn year-round to luxurious events like galas or award shows. It's supremely comfortable and breathable, so it's best worn in the spring or summer.
Cashmere suits
Cashmere is technically a light to mid-weight type of wool that feels decadent to the touch. A luxurious cashmere suit looks great and will keep you warm during chilly autumn nights.
Velvet suits
A closely woven blend of silk, nylon, and cotton, velvet is a plush fabric that can be used on a year-round dinner party jacket or smoking jacket. A full velvet suit in the right cut and fit will make a big statement at an event like a holiday party or formal winter wedding.
At Jim's Formal Wear, choosing a suit fabric is easier than ever. We have suits and tuxedos in all sorts of fabrics to meet your needs. Look through our online collection of styles now to find the perfect suit for your next event!