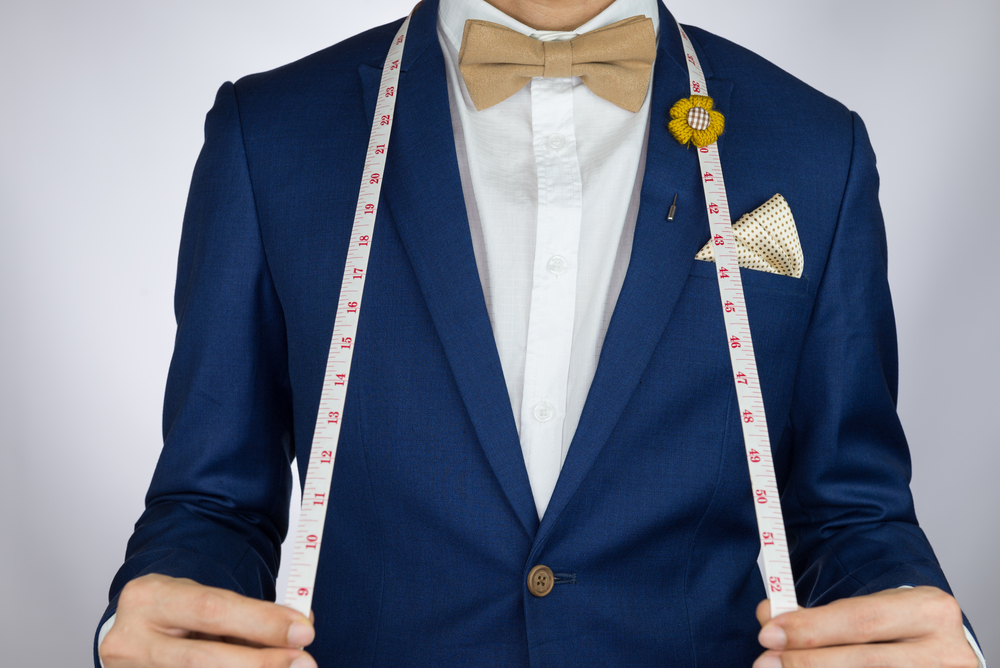 Buying men's suits or tuxedos aren't quite as easy as finding a new pair of jeans or a shirt. Unlike ready-to-wear casual clothing, suits and tuxedos require a bit more time finding the right fit, as well as some tailoring to make it look even better on you. If you've never bought formal wear before, you may not know how to choose a suit, what to look for in a tux, or how either should fit. If you're getting your first suit or tux, or maybe it's just been a while since you've gotten one, here are some tips for your first suit or tux fitting.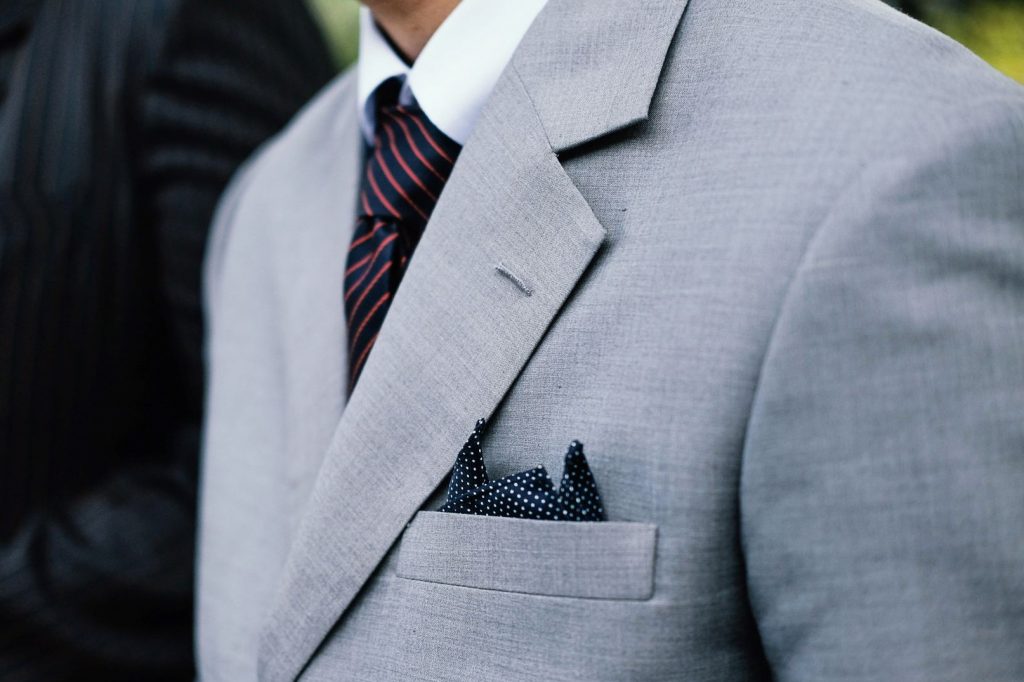 Choose something flattering for your figure
There are a lot of style options to choose from when you're getting a suit or a tux. Should you get an ultra-slim fit suit or a traditional fit? What kind of lapel should my tux have? What will look good on my body type?
First off, choose a cut that will flatter your figure. If you're lean and tall, a suit jacket with skinny lapels and shoulder pads will complement your body shape and add a bit more mass to your torso. Slim fitting pants will flatter your long legs. If you're shorter than average, look for a suit jacket with shawl or notch lapels; peak lapels are wide and can make your torso look small. Jackets that are slightly shorter than usual and have higher button placement can make your legs look longer, making you look taller. 
Not sure what cut to get for your body type? Ask a consultant for advice! An expert can help you find flattering styles to try on. 
Nail the fit of your jacket
Whether you're getting a suit or a tuxedo, the entire outfit is certainly important, but the jacket is probably the most important of all. It's the first part of your look that people will notice, so it's important to nail the fit of your jacket.
Shoulder fit and sleeve length
The shoulders of a jacket are the most difficult part to alter, so check that it fits your shoulders first. The seam that connects the shoulder to the jacket sleeve should rest right where your shoulder connects to your arm. The fabric should lie flat. Do you notice the shoulder pads or fabric bulging out over your arm? Your jacket is too big. Is your arm straining against the seam? It's too small.
Check the length of your jacket's sleeves. They should skim along your arms and end somewhere between the base of your thumb and wrist, in order to show a quarter-inch or half-inch of your dress shirt and cufflinks.
Overall length and torso
Look at how your jacket fits your torso when buttoned. Fasten the top or middle button, then slip a flat hand under the lapels of the jacket. It should slide into your suit easily; if it doesn't, your jacket is too tight and won't be comfortable. Then, make a fist with that hand. The fabric should pull at the button. If it doesn't, your jacket is too loose. 
To check the length, stand naturally, and keep your arms relaxed at your sides. The bottom of your jacket should hit around the middle of your hand where your knuckles are. 
Button etiquette
If your jacket has two buttons, fasten the top button. If it has three buttons, fasten either the top button alone or the top and middle buttons. Unless you're wearing a one-button jacket, always leave the bottom button undone. When you sit down, unbutton your jacket completely to avoid it bunching up around your chest.
How dress pants should fit
Overall fit
After you try on a pair of pants and fasten them, stand naturally. Look at the overall fit. The fabric should skim smoothly from your waist and down your legs. They shouldn't bunch, sag, cling, or crease anywhere, which is a sign that they're too small or too large. Sit, stand, and walk around to check the fit and comfort while you move.
Waist and drop
Your pants should fasten at your natural waist, around your navel. Your pants should feel secure and snug without using suspenders or a belt. The drop, or the length of the crotch of the pants, should be comfortable. A drop that's too low can make your legs look short, and a drop that's too high may feel too tight. 
Break
The break is how much the hem of your pant legs rests on the tops of your shoes. "No break" means the hem of your pants hovers above your shoes. It's a trendy look for some suits, but not appropriate for tuxedos. A "slight break" is a modern look that's not as fashion-forward as no break. A "medium break" or half-break means the hem of your pants has a slight fold and is a conservative, safe choice. A "full break" is a very traditional (even vintage) look where the fabric pools around your ankles. If you're not sure what break to choose, go with a slight break or medium break. 
Jim's Formal Wear can help you find your first suit or tux
Now that you know how your first suit or tux should fit, look through our collection of styles online to find yours! There's a lot to consider when you buy formal wear. If you need more advice, let our team of experts at a nearby location help!