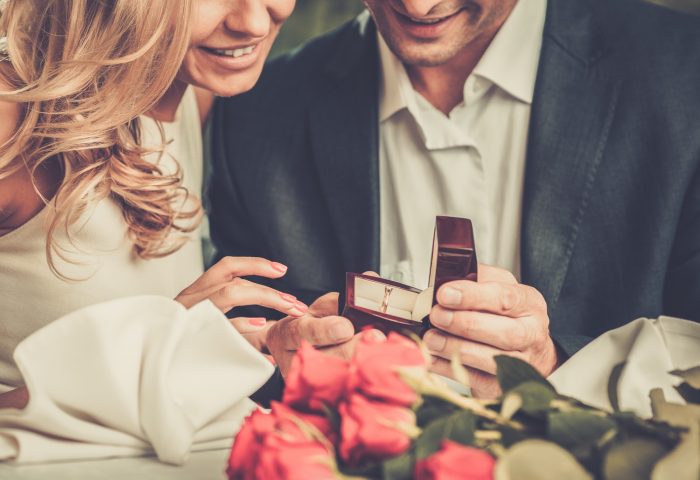 So you're ready to pop the question. Congratulations! Before planning the most romantic proposal, you'll need an engagement ring to present to your loved one. If you're not sure where to start when choosing a ring, don't worry. We've put together some tips on how to pick an engagement ring by considering style, budget, and more.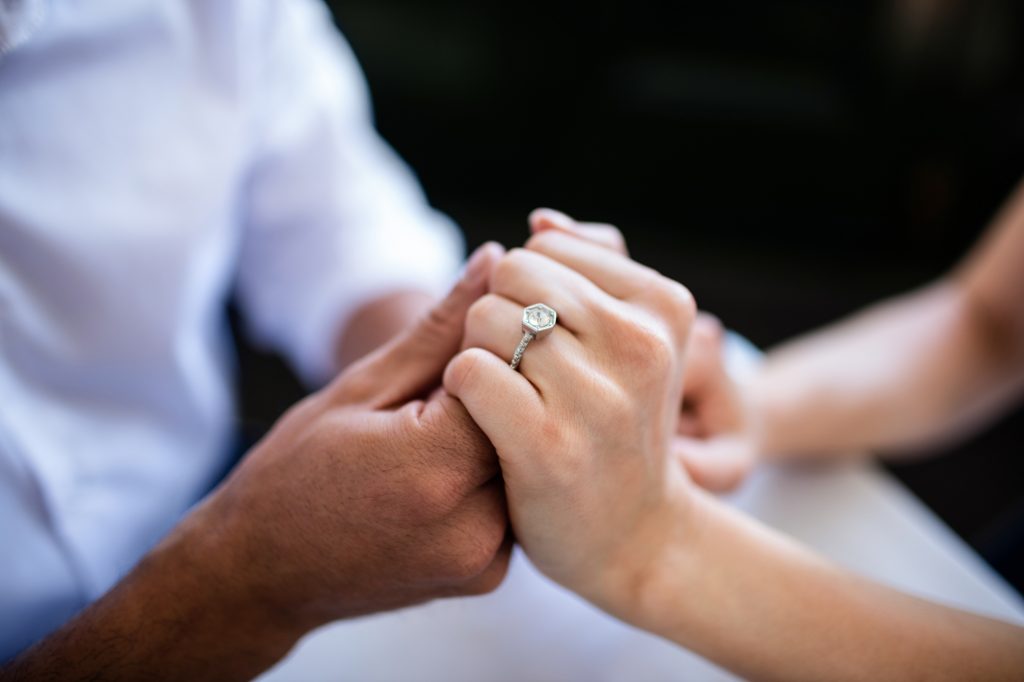 Figure out your budget
To start to pick an engagement ring, figure out your budget. What's the maximum amount you're comfortable spending on a ring? The minimum? Don't assume that you have to spend a certain amount in order to do it right. When you choose a ring thoughtfully that you know your partner will love, how much you spent on it won't matter. 
And if you're thinking of putting off your proposal until you can afford a "better" ring, think about it this way: you can always buy a nicer ring down the line for an anniversary if you want. The ring you give to your loved one now will honestly represent this time in your lives. That's way more romantic than blowing all your savings or delaying a proposal.
Pick the right style
If you know your partner well enough to propose, you'll likely have at least some idea of her jewelry preferences. Here's a quick guide that will help you narrow down ring choices.
Does she wear mostly gold, silver, or platinum jewelry? Does she wear a lot of colorful gemstones, or does she prefer neutrals like pearls and diamonds?
Does she wear minimal jewelry or the more the merrier? Some women like to wear earrings, necklaces, bracelets, and rings at the same time to create a certain look, while others may choose to wear one statement piece alone.
Does she wear simple pendant necklaces with delicate chains? Or does she like big, chunky bracelets or large earrings?
Think about her personality. Is she outgoing enough to happily show off her ring to others? She may prefer something flashy that makes a statement. Or is she down-to-earth and shy? She may prefer something more subtle and simple.
Really stumped on what she'd like? You can always visit a jewelry store together if you'd rather not keep the proposal a surprise. If you do want it to be a surprise, visit a jewelry store for a different reason (like you're buying a watch for a family member as a gift) and observe what she looks at. If you need even more help, enlist one of her friends or close family members.
Understand the 4 Cs
After you've figured out your partner's style, maybe you've decided that she'll like a diamond engagement ring over other popular gemstones like sapphires, rubies, or emeralds. It's time to pick the best diamond for your ring, but first, you need to understand how they're classified using the "4 Cs."
Cut
Cut is about how a diamond reflects and refracts light. A well-cut diamond will look bigger and brighter, while a poorly cut diamond of the same weight won't look as clear or pretty. When considering the 4 Cs, prioritize cut over the others. The weight or clarity of a diamond won't matter if the cut doesn't make it look good.
Color
Diamonds come in a spectrum of shades, from colorless to slightly yellowish. Color is ranked on a scale from D at the top (colorless, most expensive) to Z (visibly yellow, least expensive.) If you're looking to spend less on color, get the lowest color diamond that will still look colorless once it's set in a ring.
Clarity
Even the most perfect-looking diamond can have flaws. The more clear and pristine a diamond is, the more expensive. Diamonds that have tiny fractures or minerals in it have "inclusions," which can knock down the price. 
Carat
Lastly, the weight or size of a diamond is measured in carats. The heavier the diamond, the more expensive it likely will be. It's an easy measurement to get hung up on, but remember what we said about a diamond's cut being the most important factor.
Choose the right shape, setting, and band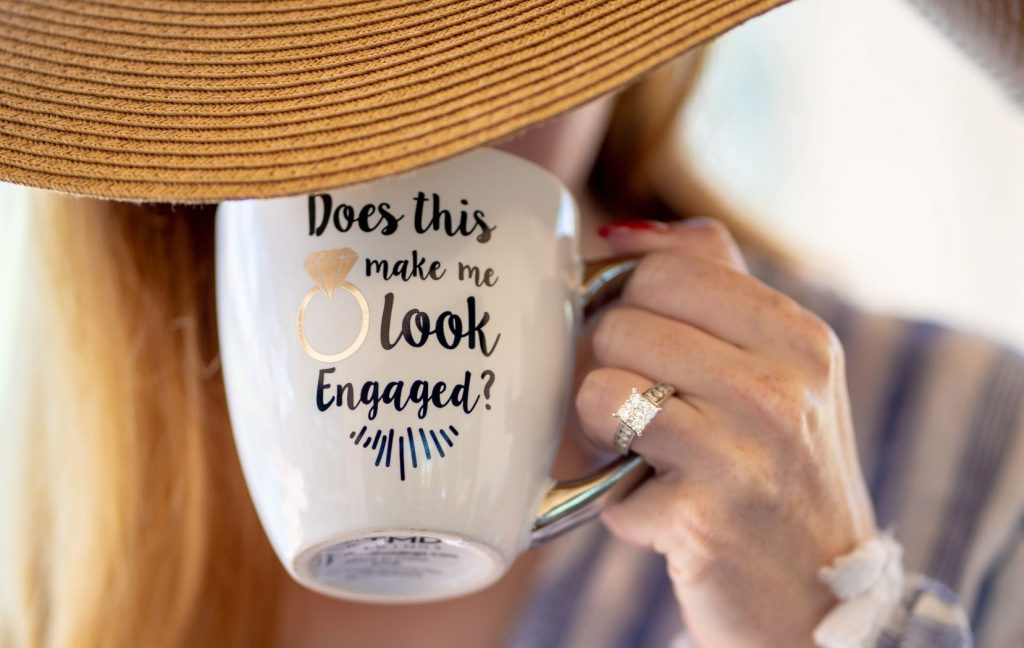 You'll also take your partner's style into account when choosing a diamond shape, ring band, and setting. 
Diamond shape
There are a lot of choices for shape, all of which come at different price points. Round diamonds are classic, and typically the most expensive. Princess cut diamonds are square-ish and versatile, and the second most popular cut. Looking for cuts that feel vintage or elegant? There's the marquise cut or pear-cut. Need something timeless? Try an oval cut.
Setting
The setting refers to how a diamond sits on the ring. Your options will depend on the diamond shape you pick. The Tiffany setting mounts the diamond up above the ring band, front, and center. In contrast, a bezel setting encircles the sides of the diamond, holding it much lower in profile. An eternity band has diamonds set into the ring all around it. 
Ring band
You'll also need to choose the metal for the engagement ring band. Again, this will depend on your loved one's style preference, but it's also helpful to know what metals are like. Gold is easily buffed and polished, but since it's a soft metal, it wears down quickly. Silver is also soft, and it tarnishes easily, requiring frequent care. Platinum is more durable, but it loses its luster much faster than gold. If your partner has a traditional style, you might choose gold. If she likes the look of silver, try white gold instead, which doesn't tarnish. If she's practical and has an active lifestyle, you might choose platinum.
And of course, know your partner's ring size before you buy! You don't want to spend on a beautiful engagement ring only to have it in danger of falling off. If you don't know her size, ask her best friend or mother for the size. 
Don't forget the practical stuff
It's easy to get caught up in the romance of it all, but remember that an engagement ring can be a pretty big expense. Don't forget about the practicalities of finding the perfect ring. 
Negotiate. Don't be afraid to haggle on the price! Rings are marked up a lot, and a good jeweler should be willing to work with you.

Get it insured. You may be covered by homeowner's or renter's insurance, but your policy likely only covers a certain value. You may need an additional policy rider.  You can ask for insurance company recommendations from your jeweler.

Give yourself time. A ring can take weeks to be ready, especially if you're getting it customized.

Ask for certification and receipts. A bill of sale includes information about your diamond and ring. Buying a certified stone also ensures good quality and accurate grading.  
Now that you're all set with the perfect engagement ring, you're ready to propose! And when you're ready to start planning your dream wedding with your fiance, Jim's Formal Wear is here to help with that, too. We have wedding tuxedos and suits to fit many styles and budgets. Browse our online collection today!