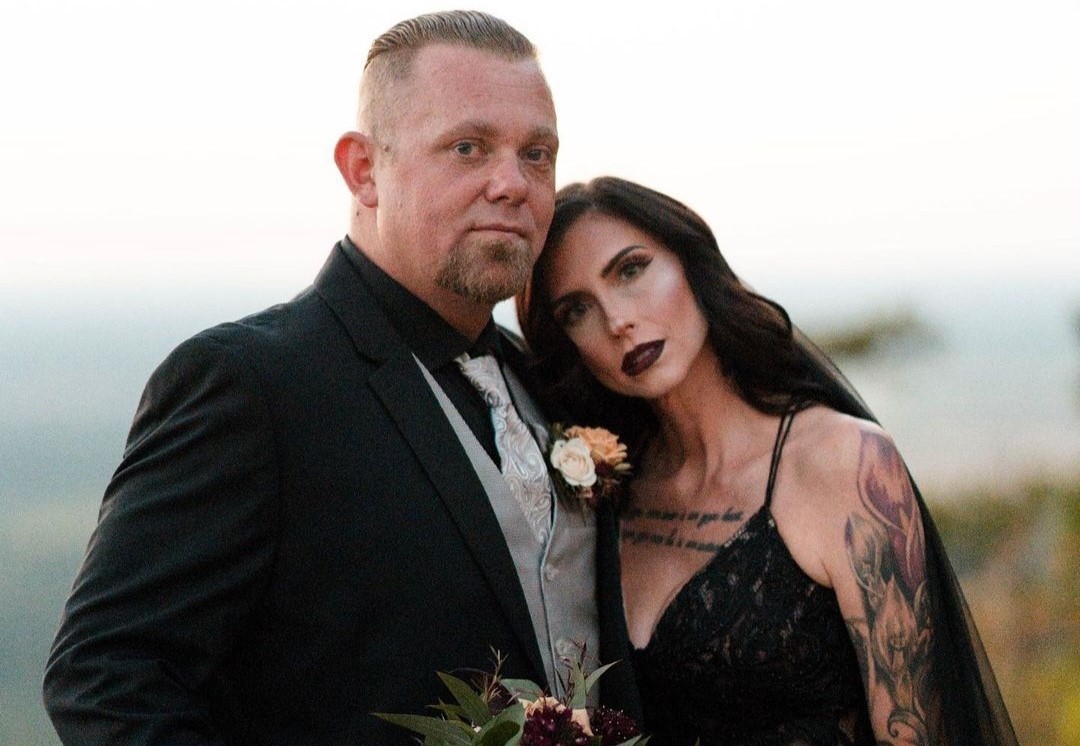 Welcome to the dark side!  Moody weddings are becoming a trend, and we are here for it!  With the deep, rich color palettes, non-traditional brides and grooms are leaning more towards this romantic, edgy and dramatic theme.  Although Fall wedding season is one of the best times of the year to incorporate the moody vibes, this wedding theme can be used for winter weddings too.  If you're looking for inspiration on how to make your special day an elegant and moody affair, continue reading for some helpful tips.
Luxurious Color Palettes
Fall and winter weddings bring out the deep, rich colors like burgundy, emerald, black, and plum which work perfectly for a moody wedding.  The more common color combos are black, burgundy and dusty rose or emerald, black and white or shades of plum and purple.
However, there are also some more unique combinations that could work for a moody wedding too.  Deep royal blue, magenta and amethyst make a perfect grouping by using the royal blue as a background color to focus on the other two.  For a bit of a majestic, moody theme choose red, aubergine and marsala as your color palette.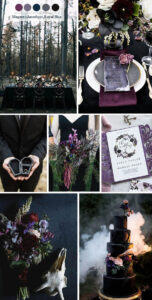 Unique Moody Wedding Attire
All eyes are on the bride and groom on the big day so why not stand out with a unique wedding dress and suit!  Gone are the days of the bride only wearing white or ivory.  Black bridal dresses are starting to pop up on social media and they scream moody wedding.  Or opt for a white dress with black florals to help tie in with the theme.  Having a dress with an open back or a dramatic, long veil will help to make a gorgeous statement!
Your soon-to-be husband can choose a monochromatic look like a black suit with a black shirt and tie.   Or, he could also choose a richer hue like a Hunter Green or Burgundy suit to coordinate with the aesthetic of your wedding.
What about your bridal party?  If a black bridal dress isn't your thing, have your bridesmaids wear black to bring the drama that a moody wedding needs.  Other stunning options would be emerald green, different shades of deep purple or burgundy.  Your social media feeds have probably shown you that the girls' dresses don't have to match, just coordinate and the visuals are epic!  The gentlemen in your party could opt for a black suit.  To bring the look together have their ties and pocket squares match the bridesmaids' dress color.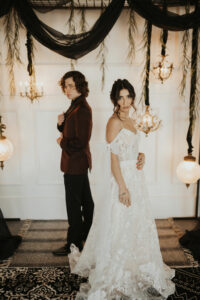 Stunning Décor & Florals
The details matter and you will definitely want to bring the romance and dramatic vibe to your moody wedding.  You want to set the tone for what is to come and that starts with your wedding invitations.  Some touches you may want to consider are abstract brush strokes, wistful floral designs, and even ink splatters.  Gold accents will help brighten up and soften the invitation to make it more elegant.
Dark-colored flowers are a must.  Not only are they important for your bouquet but for your ceremonial backdrop, tablescape, and even the cake!  Flowers like deep red roses, burgundy dahlias, purple foliage and eucalyptus are the perfect choice for wedding florals.  To soften, add in some white anemones or pops of fluffy stems.
Keep the moody vibe going into dinner by having a modern and unique tablescape for you and your guests.  Forgo the traditional table linens and use a table runner that is black, deep emerald or burgundy.  Choose a lace table runner for a touch of femininity and sexiness.  Or have a greenery runner with sporadically placed florals running down the middle.  Finish off the table with black or creamy taper candles in golden candle holders and black goblets.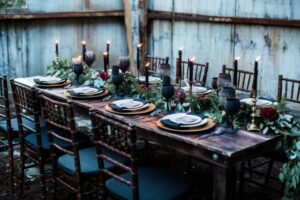 When you say "I do" to your partner, you want to feel the romance, drama, and fantasy, and a moody wedding theme will do just that.  Jim's Formal Wear is here to help the guys look great with suit and tie options to perfectly fit in with your vision.  Visit your local JFW retailer or start browsing online.