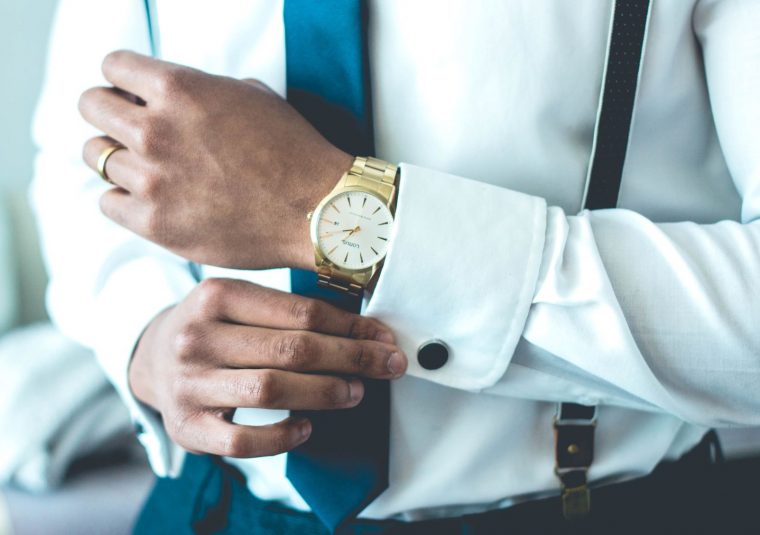 There's more to a formal or business look than the suit you choose to wear. Accessories are just as important to your outfit, too! And one of the smallest accessories, cufflinks, can add a nice touch of personal style to a suit. Although they are small, knowing how to pick the right cufflinks can be a big part of accessorizing your suit. 
New to wearing cufflinks and don't know where to begin? Our cufflink style guide below can help you find the best cufflinks style to complete the look you're going for. 
What cufflinks are and how they work
Cufflinks, true to their name, are decorative accessories that fasten the two sides of a cuff on a dress shirt together. You might see buttons on a shirt that perform the same job. However, while buttons are sewn onto the cuff, cufflinks are fully removable.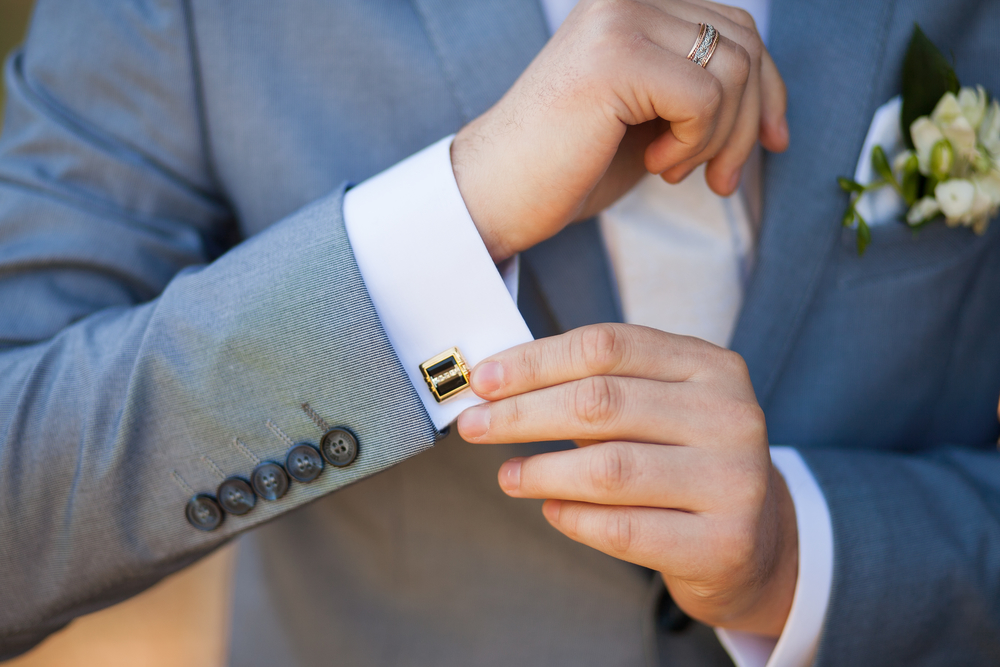 How do cufflinks work? Many cufflinks consist of a larger front piece called the "insert member," a post, and a hinged toggle connected to the post. When the toggle is upright and aligned with the post, you can slide it through each opening on the cuff of your shirt. Then, you'll rotate the toggle into its locked position, perpendicular to the post. That holds the sides of your cuff together, with the decorative front face of the insert member-facing outward.
This type of cufflink is often called a bullet back and toggle closure cufflink. There are other types of cufflinks with different kinds of backings, too. A stud or button cufflink has a fixed backing, meaning the individual parts do not move. They're secure, small, and fairly lightweight. Rather than a post, chain link cufflinks have two decorative ends connected by a short chain to create a traditional and dapper look. 
Consider the occasion or purpose
Although cufflinks are most often used as formal or semi-formal accessories, there are other occasions where they're appropriate too!
For formal events 
If you have an invitation to a fancy dress party, award show, or gala, you'll want to pick the right cufflinks that pair well with formal evening wear. Understated cufflinks with an elegant, simple design look good with a classic black tux and white shirt. You usually can't go wrong with mother-of-pearl or onyx cufflinks that add a slight pop to your shirt, but still, respect the formality of the event.
For semi-formal events
You have a little more room to play and express your style at cocktail parties, weddings, or office parties. There are many cufflink materials and designs that are suited for all occasions: carbon fiber, enamel, precious stones, titanium, and glass.
For office wear or casual events
Yes, you can still wear cufflinks to jazz up a more casual outfit! Cufflinks with bright designs or colors and novelty cufflinks are popular for less formal wear. Cufflinks made of materials like silk, knit or sterling silver are usually appropriate for casual looks.
Choose cufflinks that complement your outfit colors
You want to wear cufflinks that complement your outfit, not blend in or clash with it. This can be tricky and can take practice. Since white tie and black tie events are more formal, you should stick with simple, monochromatic cufflinks like diamond, onyx, or mother-of-pearl. Our tips below are for informal occasions where you're probably wearing a suit or a shirt with some color, like your office or a dressy casual wedding. 

White shirt
Since a white dress shirt is a neutral basic, you can play around with different colors and patterns. If you like classic styles, cufflinks with a striped design or solid gemstone might appeal to you. If you like texture, look at cufflinks in a knotted or raised pattern design.
Blue shirt
Blue is a common dress shirt color. Complement it by choosing cufflinks in a similar blue tone. For example, if you have a solid blue shirt or a shirt with a very small print, find a pair of cufflinks with large blue accents or blue patterns. If your blue shirt has a large pattern like checks or plaid, stick to a simple cufflink that won't clash with your shirt. Blue also looks great with platinum, carbon fiber, stainless steel, or gunmetal cufflinks.
Black shirt
Black is another neutral that serves as a solid background for many types of cufflinks. However, gold cufflinks really pop against a black dress shirt. If yellow gold isn't your thing, try cufflinks with a mixed metal design, such as stainless steel and gold.
Pink shirt
Depending on the hue of your pink shirt, gold and rose gold cufflinks can complement it well. Enamel, glass, and stainless steel work, too. So you don't overdo the pink, find cufflinks with minimal pink accents, monochromatic cufflinks with gemstones, or metal cufflinks with interesting plain designs or patterns. 
Show off your style
Remember: cufflinks are another accessory that allows you to show off your personal style! Don't be afraid to try fun cufflinks that represent your hobbies or interests: sailing, baseball, comic books, astronomy, cars, travel, and so on. Just make sure they're appropriate for the occasion, and that they add to your outfit, not detract from it.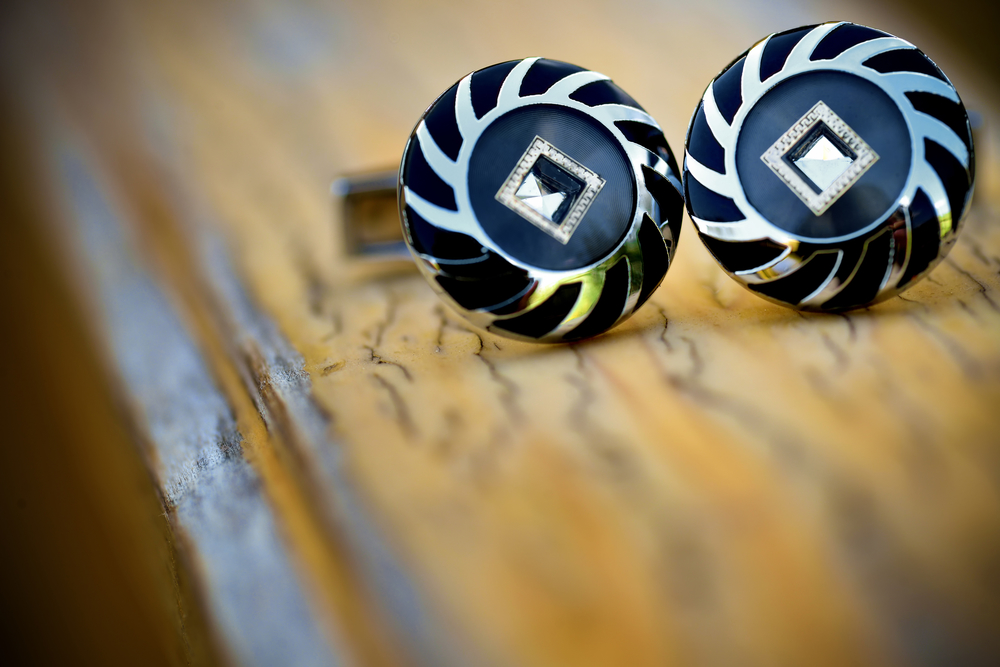 Jim's Formal Wear has all the accessories you need for your next formal wear event, including cufflinks in a variety of metals and colors. Browse through our formal wear accessories online, or come talk to one of our stylists at a location near you to help pick the right cufflinks!