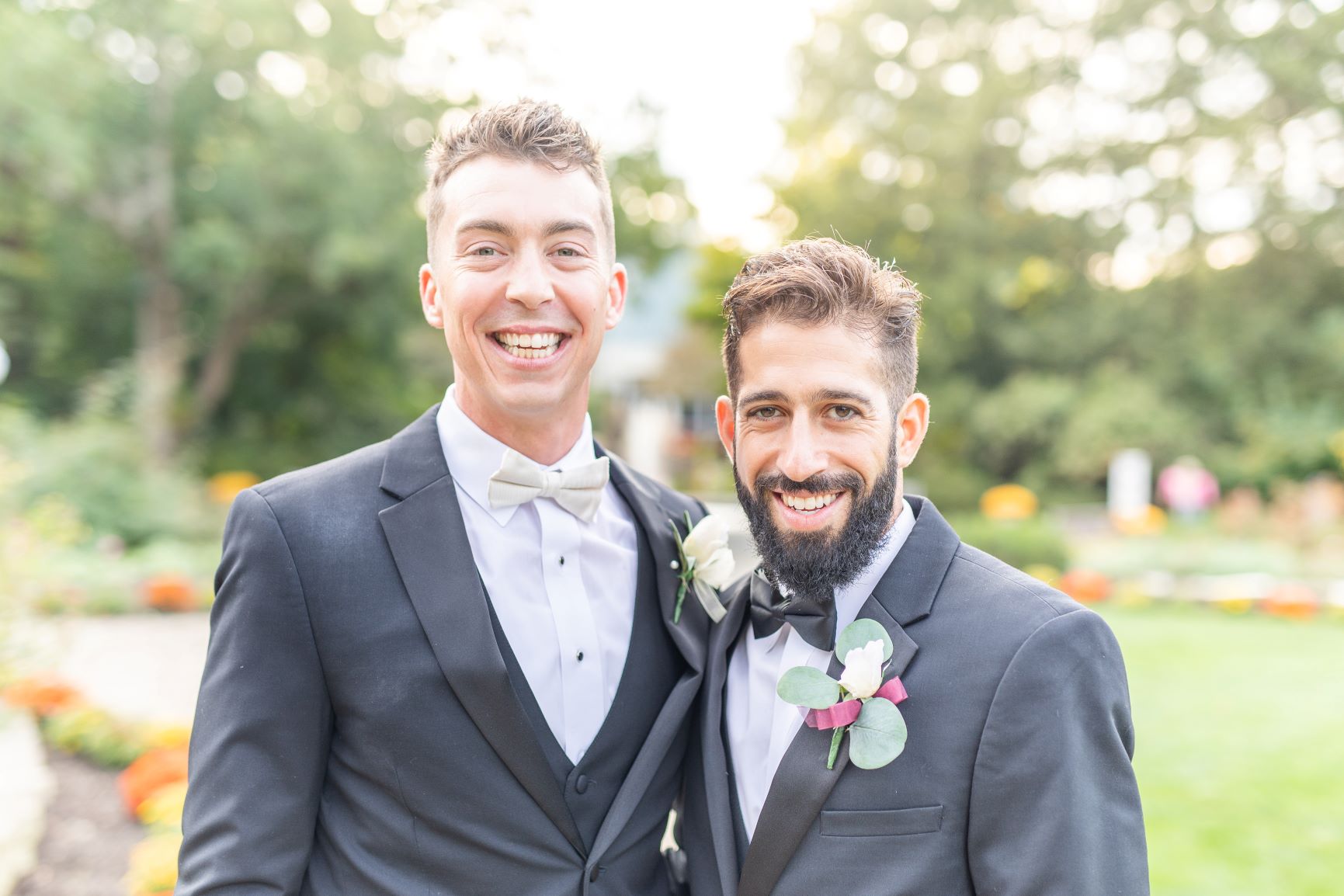 Are you planning a hometown wedding with out-of-town groomsmen? Or maybe you're simply trying to accommodate everyone's busy schedules. If you're questioning how to order the groomsmen tuxedos and suits for your big day, we have in-store and online options to help accommodate almost any scenario.
Build a custom tuxedo or suit
Browse our selection of pre-styled looks or build a custom ensemble to suit your tastes. Need some help deciding? Visit a Jim's Formal Wear Retailer for personal, expert advice.
Organize your event
Once you've chosen the perfect outfits for everyone in the party, our Event Manager will help to get you organized. You can save styles, add members, assign looks, and share all of the information with your entire party.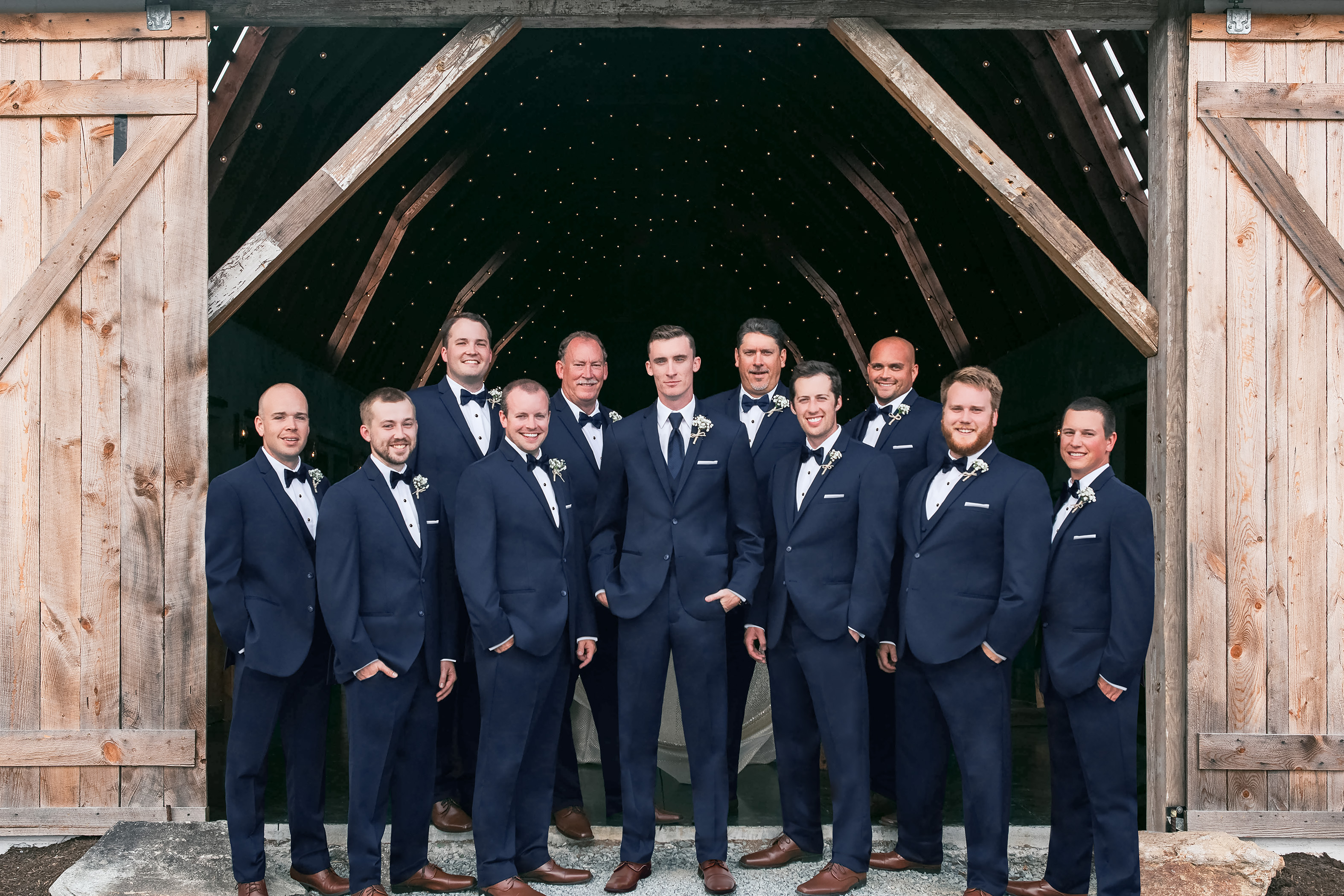 Get measured
Whether you've chosen to rent in store or online, your groomsmen will need to be measured. If you've selected a local Jim's Formal Wear Retailer to handle your tuxedo or suit rental needs, they can measure any of your guys that live close to the store's location.
But how do you get sizes for all of the groomsmen who are scattered across the country? Simply share a link to our out-of-town measurement form. Your out-of-towners can present this form to their local Jim's Formal Wear Retailer when they go to get measured. If they do not have a Jim's Formal Wear retailer close, visiting a professional tailor shop or men's formal wear store would be a good alternative.
Sometimes busy schedules get in the way of important groomsmen duties, and we understand. If the gentlemen in your wedding party have trouble getting to a store to have their measurements taken, they can learn how to measure for a suit or tuxedo by following our easy-to-use instructions.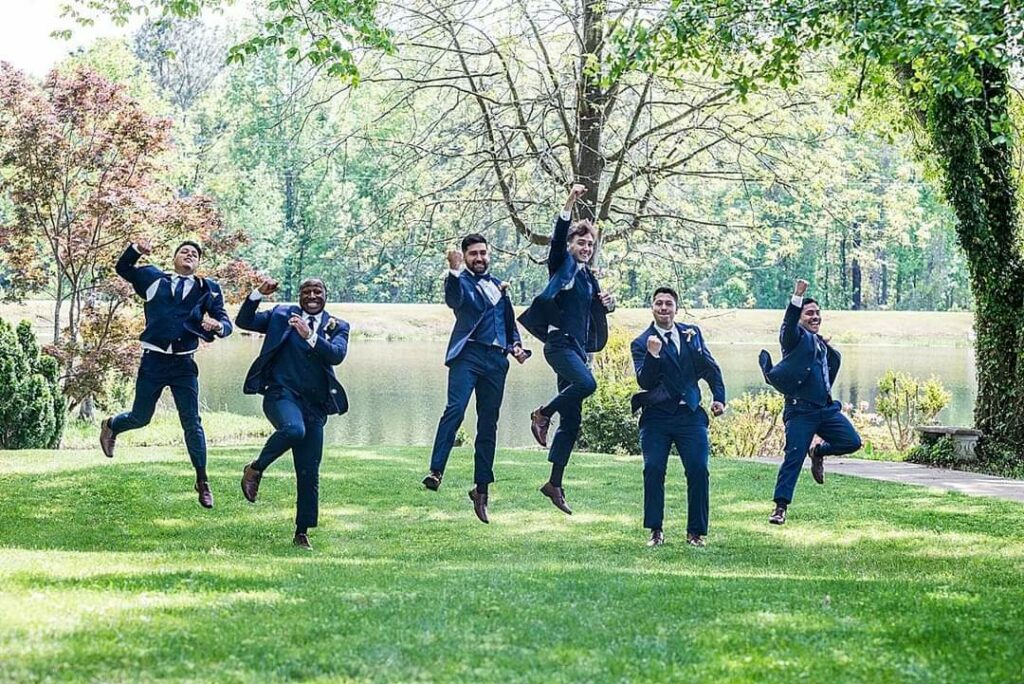 Rent tuxedos or suits in-store
Renting your wedding's groomsmen tuxedos or suits in store can be a great option for you and your out-of-town groomsmen. You'll receive hands-on, personalized service from one of our independently owned neighborhood stores. The JFW retailer can help you choose style options and get your wedding members registered. Your out-of-town groomsmen should share the information gathered on their measurement forms directly with your local JFW retailer. Then, the store will take over and complete the ordering process from there.
The groomsmen tuxedos or suits will be delivered the week of your event. Your JFW retailer will notify you when they are available for pick up. However, if your out-of-town groomsmen won't arrive until just a day or two before the wedding, ask about our Direct Delivery option. Orders can be shipped directly to your groomsmen's home, office, or other destination of choice.
Rent tuxedos or suits online
For those brides and grooms that would rather complete the rental process for their groomsmen tuxedos from the comfort of their own home or office, the JFW online shopping experience is quick and easy. Once you've organized the event, you and your groomsmen can enjoy the convenience of at-home ordering. Simply enter the measurements, shipping, and payment info for each party member online. JFW will ship each order directly to the individual's home, office, or destination with extra time to check the fit.
Whether you're planning a hometown or destination wedding, ordering online or in store, Jim's Formal Wear has options for you. Get started by shopping for your perfect wedding day look online or at one of our 5000 locations nationwide.