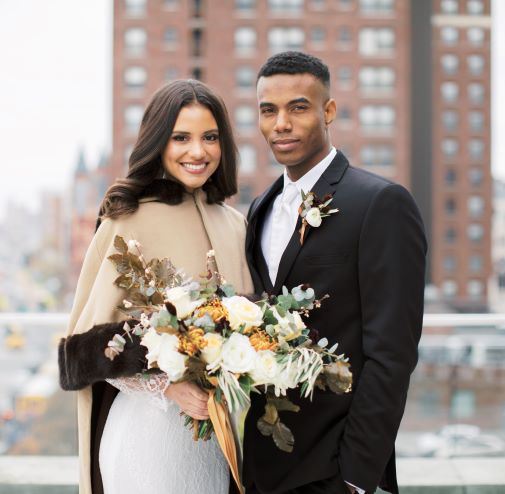 There is something magical about winter weddings. From the frosted trees and pine cones to the holiday music and seasonal florals, winter weddings are breathtaking and becoming more popular each year. But how do you decorate for a winter wedding? What should you embrace to change your venue into a winter wonderland? Here are some helpful tips on how to incorporate winter wedding decor into your celebration!
Greenery
Wedding wreaths can help bring the outdoors indoors! They can be used to decorate your reception and ceremony by placing them on doors and windows. Another popular way to include them is to have your bridesmaids carry them instead of a traditional bouquet. Decorating the ceremony aisle with holiday garland would also be a nice touch. And who doesn't love the fresh pine scent that winter brings? Adding evergreen to your table settings or flowers will help add to the winter theme as well as bring a nice, subtle scent. Your guests will love it too!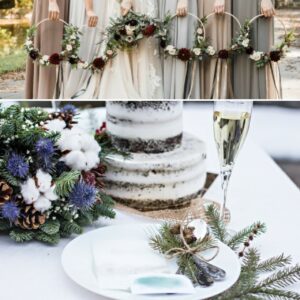 Pinecones
Bring your centerpieces to life with the addition of pine cones! Not only is this another great way to bring nature inside, but it adds a rustic feel and is a chic accent. There are a few ways to integrate them into your winter wedding decor. Use them as seating card holders or place them in clear vases with lights to help the room feel whimsical and welcoming. You also can have a variety of pine cones to choose from. You can either purchase them frosted with "snow" or natural-looking. For more of a festive feel, spray paint them gold or purchase the cinnamon scented pine cones to help add holiday cheer.
Lighting
Glistening lights can help set the magical tone for your winter wedding. To add a wintry, romantic twinkle, string lights around the trees. If you need an elegant backdrop for the ceremony, use garlands of greenery with lights to bring warmth and a cozy feel to the room. Another great option would be to line the aisle with candles and lanterns to create an intimate, fairy-tale atmosphere.  Have a magnificent canopy of twinkle lights at the reception to feel like you are dancing under the stars!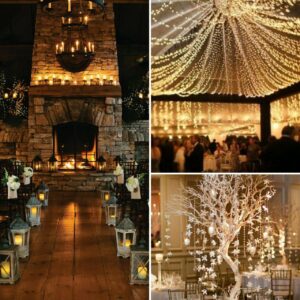 Florals
Just because you are having a winter wedding doesn't mean you can't have an amazing bouquet of flowers throughout your celebration. The main thing you will want to keep in mind is to select winter blooms such as roses, poppies, or amaranth to keep your budget in check. Not to be outdone by these bolder blooms, baby's breath could also be added to your winter wedding decor. They can be dramatic when used for centerpieces or as balls hanging from the ceiling. Plus, they symbolize everlasting love and innocence!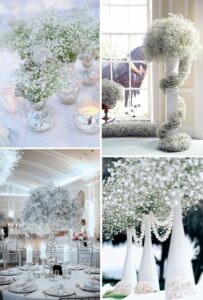 Branches
We're sure that branches or bare trees are not the first things that come to your mind when thinking of beautiful decorations! However, they can also be used as winter wedding décor to add a rustic winter vibe. Use classy tree centerpieces and string them with embellishments like hanging crystals, snowflakes, or tinsel. For a sophisticated accent, add twigs or branches into your vases, flower arrangements, or centerpieces. You may even add in some berries for a pop of color as well!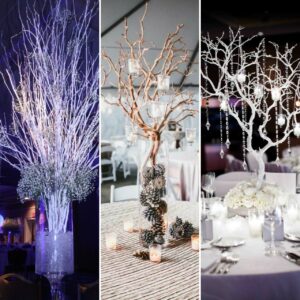 There is no doubt that winter weddings are magical and special. Just adding a few of these winter decorations into your wedding will help turn your wedding into a winter wonderland. Jim's Formal Wear has the perfect selection of winter wedding tuxedos or suits to keep you feeling magical too! Get started shopping online, or if you need additional assistance, contact one of our local experts nearby.