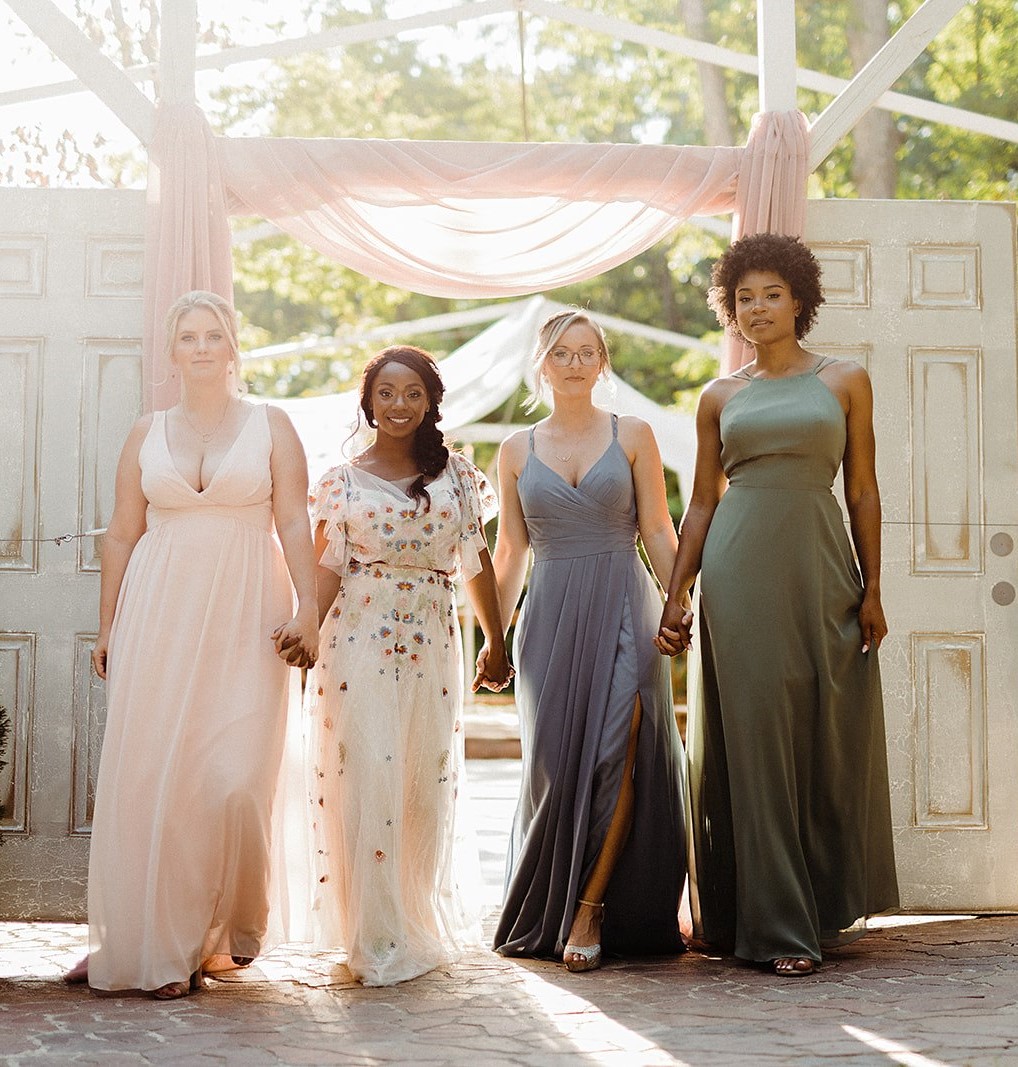 While the weather outside is still a bit chilly in most parts of the country, Spring is just around the corner. No better time to start planning for your spring wedding! Once the trees, grass, and flowers start waking up, it's the perfect time for a wedding. With a variety of hues that have jubilant tones and a pop of bright colors, it will surely bring good vibes. Plus, spring is the season of new life and beginnings, making it an ideal time to get married. There are a lot of wonderful wedding color combinations that will work nicely with a spring wedding. Imagine warm yellows, delicate pinks and purples, vivid greens, and beautiful blues. Here we will list the top color pairings for spring weddings.
Grey and Dusty Blue
Looking for a clean and romantic color palette? Then look no further than a grey and dusty blue combo. Stay away from dark grey and choose a medium to light grey to match the spring tone.  Bridesmaids can wear dusty blue bridesmaids' dresses and your table linens could match as well. Our Allure Heather Grey Clayton suit would look great on the groom and his groomsmen. Pair it with a dusty blue tie and pocket square to complete the look!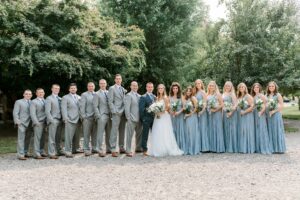 Sage Green and Lavender
For a nature-loving bride and groom, going with a gorgeous green, such as sage, will make your wedding feel dreamy and elegant. Have the bridesmaids wear lavender dresses or sage green to add a touch of sweetness and softness. For the floral arrangements, use white flowers sprinkled with lavender accents and sage green leaves. A great choice for the guys is our Allure Sand Brunswick suit which is the perfect suit for an outdoor wedding. Compliment the suit by adding a floral sage green tie.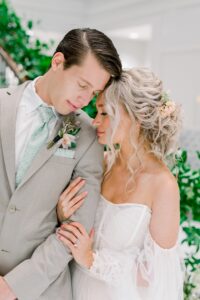 Blue and Yellow
Looking for something a bit brighter? More eye-catching? Then go with a blue and yellow color combination! With the vibrant yellow tones against a royal blue, it will definitely be a stunning wedding. You could also change the royal blue for dusty blue and still create a serene, chic spring color palette. Incorporate blues into your invitations and table linens with pops of yellow. The guys in your wedding party can wear a blue suit like our Michael Kors Blue Performance suit and add a splash of yellow with the tie or pocket square.

Blush and Ice Blue
Another great way to use blue in your wedding is the pairing of blush and ice blue. This elegant and romantic color scheme is a great choice and can be used for an indoor or outdoor spring wedding with its softer color arrangement. Add a regal touch with hints of gold throughout your décor and flowers. Just adding in a few splashes of color will help make this color palette come together.
Peaches and Green
A classic spring color is peach and it compliments very well with greenery. Picture peach bridesmaids' dresses with a foliage heavy bouquet. You could also replace the peach with terracotta, a natural brown-orange color that is becoming very popular right now. Look around social media and all you see is the color terracotta paired with muted, natural colors! To help bring the spring, add pastels such as light pink and at the same time it will help contrast the earthy tones. Grey suits for the guys will help unite everything together.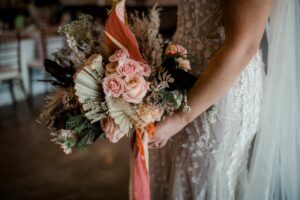 Obviously, there is no shortage of color schemes to choose from for a spring wedding. From neutral and earthy tones to bright and bold hues, a spring wedding will undoubtedly be a beautiful and memorable one. Whatever you decide to do, Jim's Formal Wear has what you need so you can look your best on your wedding day!