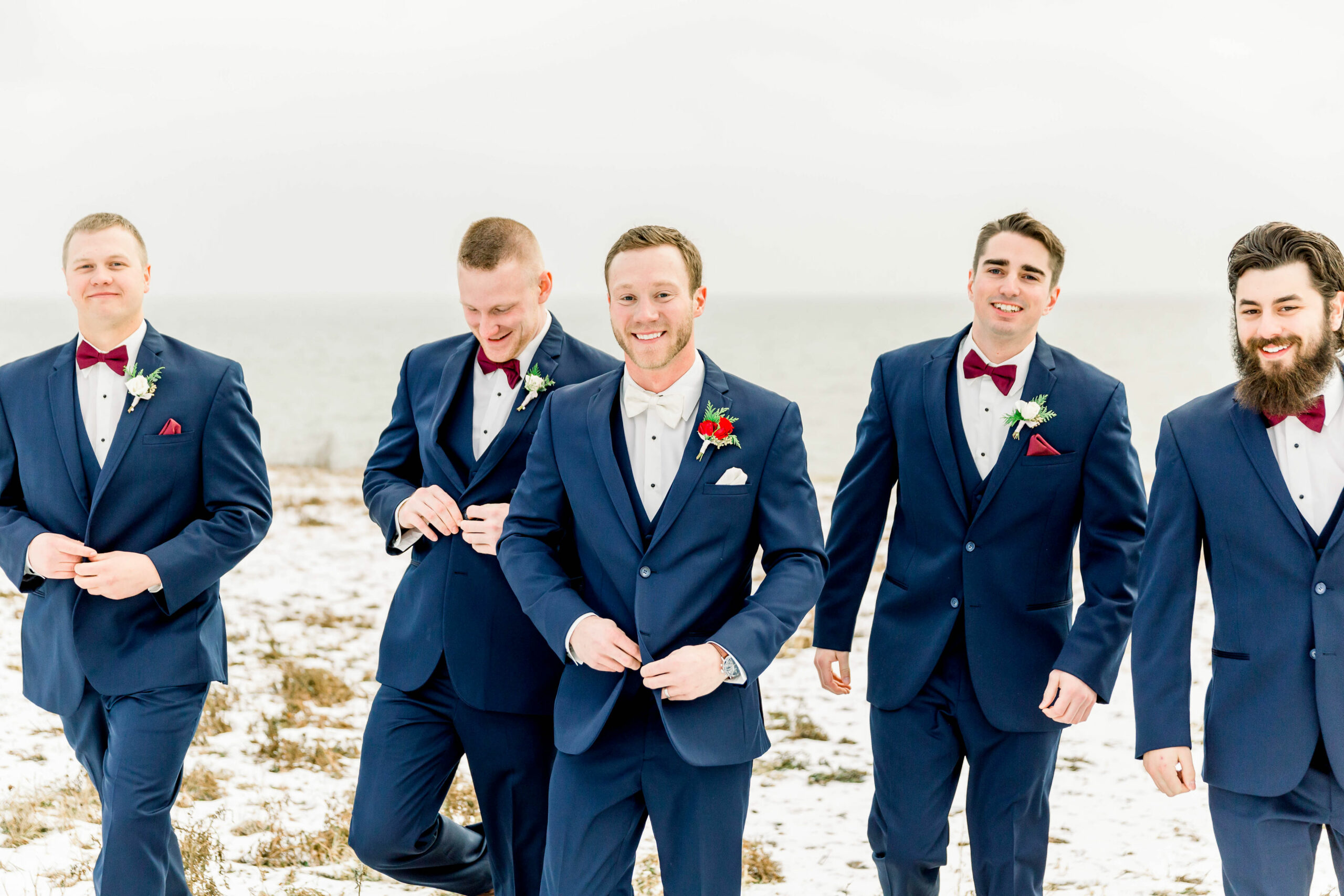 When you're deciding how traditional or non-traditional your wedding will be, more couples are asking the question, "Does the groom have to wear the same look as the groomsmen?" When you look at old photos from your parents' or grandparents' wedding, you'll likely see that the groom and groomsmen are wearing the exact same tuxedo or suit. But the rules – if there ever were wedding fashion "rules" — have changed, and you may be more interested in starting your own tradition with your wedding fashion choices.
So, what kinds of looks could you consider? Below are a few examples to generate some ideas:
Different Suit Color
Just like the bride often wears white while the bridesmaids wear a different color dress, why can't the groom take the same approach? After all, it's his big day, too. In this photo, you'll see the groom is wearing a stylish blue, velvet wedding tuxedo, while the groomsmen are wearing more traditional, yet still stylish, black tuxedos.
In any look you consider, try to find a consistent element in the look for both the groom and groomsmen. Accessories are a great way to create that consistency. In this case, the groom and the groomsmen are all wearing a black bowtie for color coordination.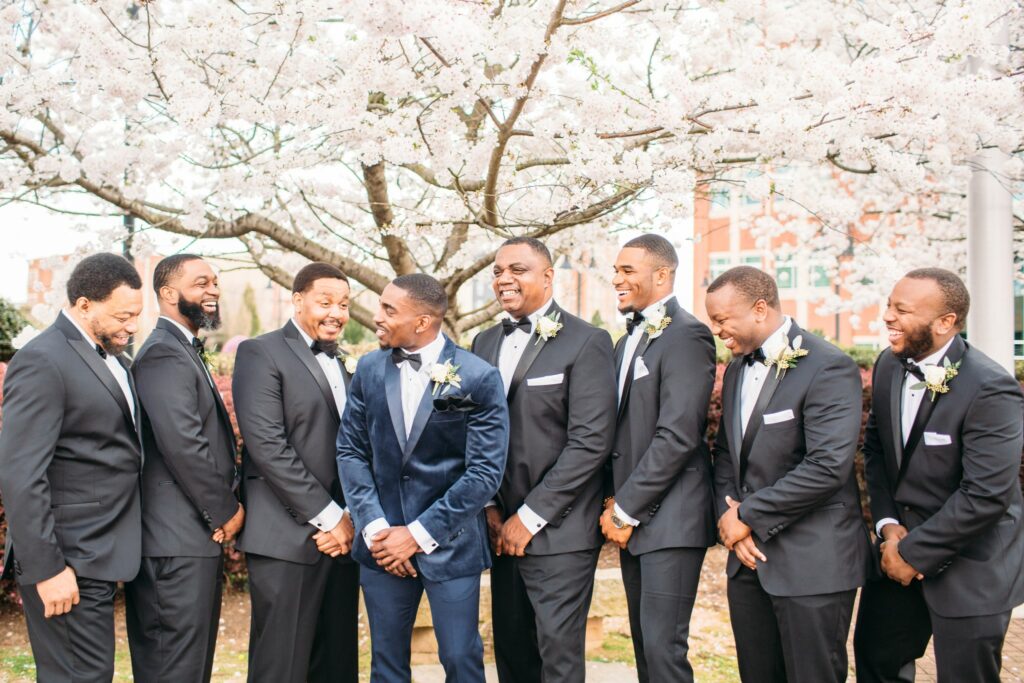 Same Color, Different Shade
As the bride often has something to say about the groom's fashion decisions, she may be more comfortable with a more subtle distinction between the groom's and groomsmen's attire, while still incorporating a matching color with the bridesmaids.
In this photo, you'll see all of the wedding suits are gray, but the groom's wedding suit is a slightly darker shade (along with a little pattern) to help him stand out. Staying within the same color palette provides a nice blend of traditional and modern fashion sense. In terms of that consistent element among everyone's look, pay close attention to the accessories you choose (accessories can make all the difference!). You'll notice here the groom and groomsmen have matching ties as well as matching pocket squares, tying their look to those of the bridesmaids (which you can't see here, but trust us, they match!).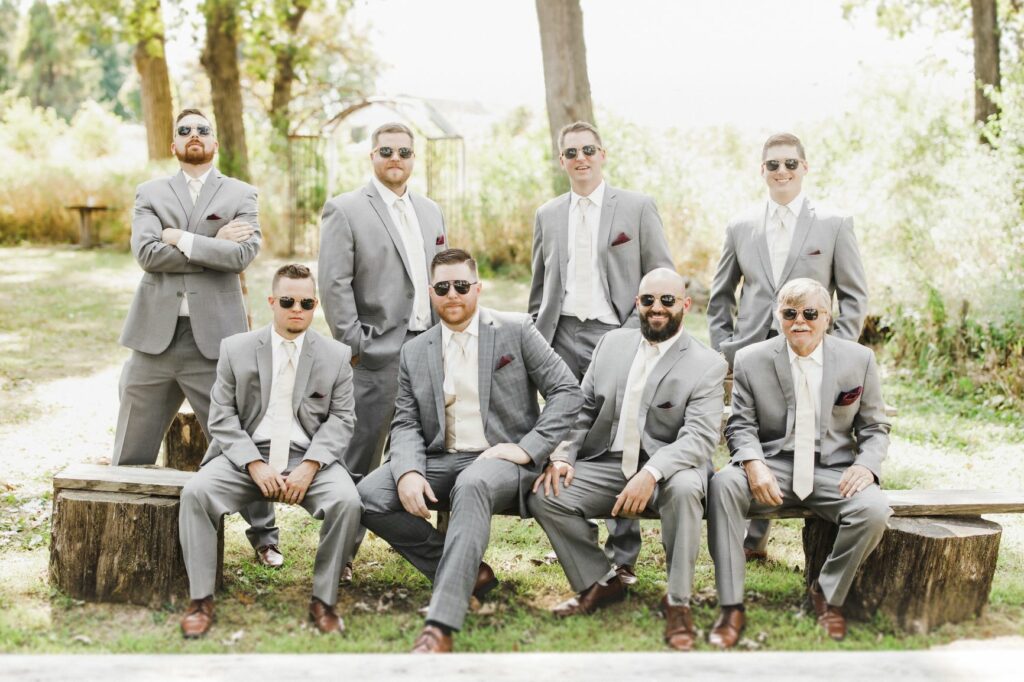 Mix and Match
There are more parts to a wedding suit or tuxedo ensemble than you might realize at first. And this is extremely helpful for broadening the fashion choices you can consider. Along with accessories such as the tie and pocket square, you can use the vest as a matching element in your ensemble. You also can think about incorporating a different-colored lapel for your wedding suit or tuxedo.
For instance, in this photo, you'll see the groom is wearing a white tuxedo coat with black tuxedo pants – very stylish! To tie the groomsmen's look into the groom's color palette, their gray suits have black lapels. The groomsmen also are wearing bowties that match the color of the bridesmaids' dresses, tying together the overall party's look in an elegant and classy manner.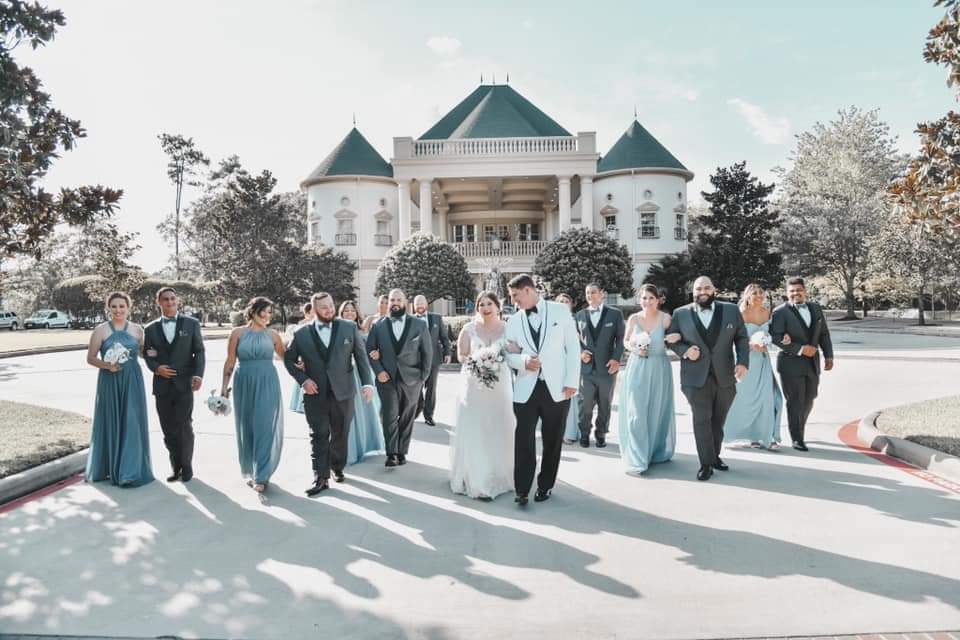 Bringing It All Together
Whatever look you want to go with, JFW can help you find it, build it, and make it a reality.
You can use the Event Manager tool on the JFW website to browse available styles, build your perfect look, and place your orders. The JFW retailer you select will follow up with you to help you and your groomsmen get measured and get your ensembles to you in time.
Thinking about buying your wedding suit while still allowing your groomsmen to rent? No problem! Our Rent-or-Buy options give you an array of great choices from leading brands such as Michael Kors and Allure for Men.
Have out-of-town groomsmen? You also can use our Direct Delivery service to get their ensembles delivered to their homes or the wedding destination.
Enjoy selecting your perfect wedding look, and send us pictures of your big day!