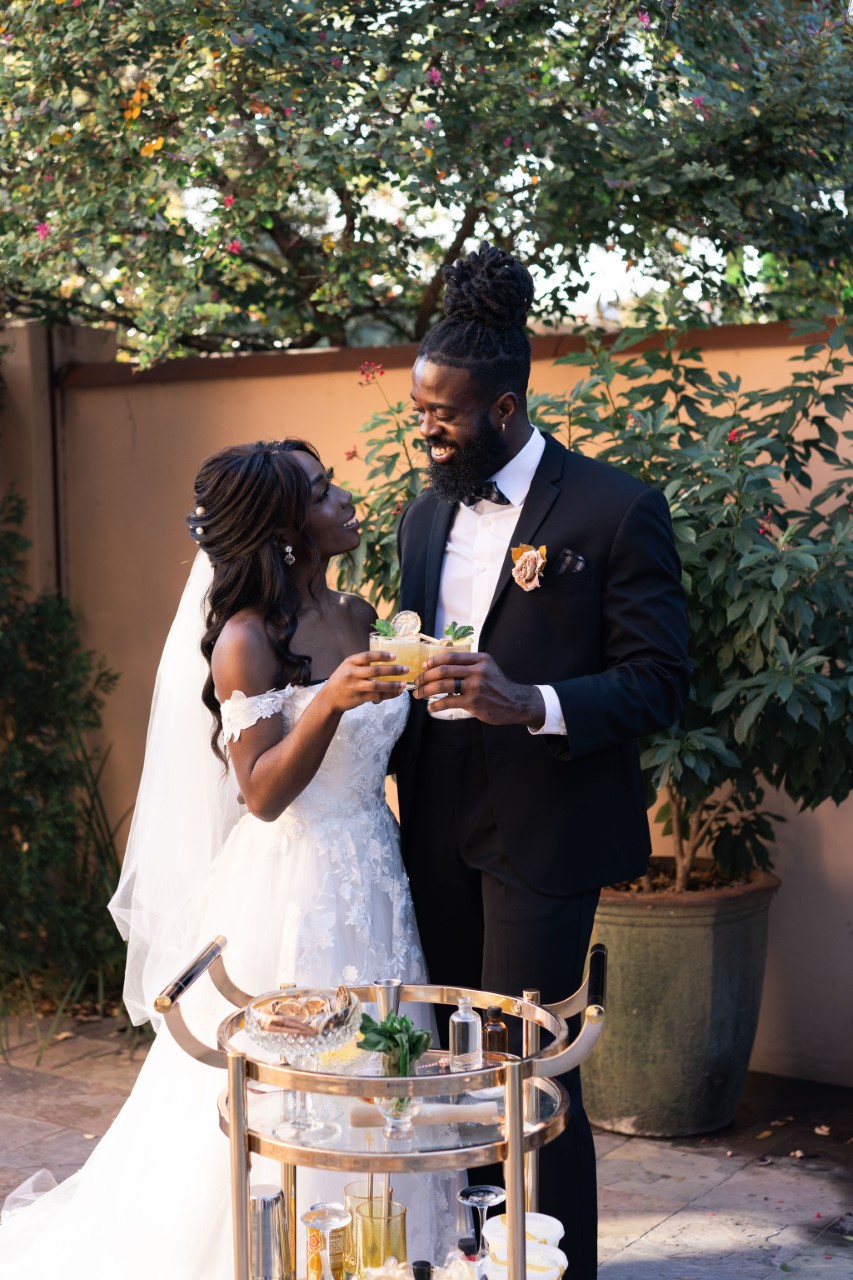 What better way to welcome your guests and kick off your wedding celebration than with an open bar! Sure, this is nothing new to the wedding world, as almost every wedding reception has a bar of some type. But, oh how the wedding bar has evolved over the last several years! Here are some of our favorite trending wedding bar ideas.
Classic Cocktails
Keeping things classic doesn't have to be boring. Spice up your traditional wedding bar with a custom drink menu, featuring some of your favorite cocktails. Incorporate your wedding theme and colors into your drink selection for some added interest. Add an extra personal touch by giving each drink a clever name reflecting you and your partner (or pet). How about setting up a his and hers bar? Maybe beer and bourbon for him and mimosas and martinis for her.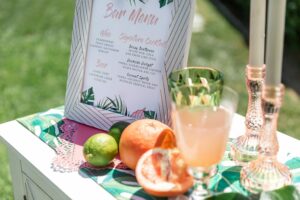 Perfect Pairing
Let's face it, some things are just better together. Create a perfect pairing station with all the best: Pretzels and beer, cheese and wine, margaritas, and guacamole. It's said that the fastest way to the heart is the stomach, so offering a little snack with the drinks is sure to be a crowd-pleaser.
Mocktails
Alcohol is not for everyone, so offering a fun, non-alcoholic beverage option would be much appreciated. Daquiris, pina coladas, and other fruit juice-based cocktails can be just as tasty without the alcohol. Keep it simple with beloved classics like Shirley Temples and Arnold Palmers.
Serve up something hot like cider, coffee, or hot chocolate perfect for a Fall or Winter wedding bar. Or keep it cool and refreshing at your Spring or Summer wedding with an old fashion lemonade or iced tea stand.
Dessert Bar
Bars aren't just for beverages anymore! Treat your guests to something unexpected. Trade out that traditional wedding cake for a dessert bar. Consider an array of homemade pies, cakes, donuts, and other baked goods.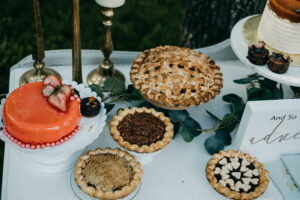 An ice cream bar would make the perfect sweet treat for a hot summer wedding. You could even consider scheduling an ice cream truck for some added fun and to be sure your treats stay cool until serving time.
Sweet and Salty
Because you can't have one without the other, why not have both? A DIY trail mix bar is sure to satisfy the saltiest of tongue to the sweetest of tooth. With mixed nuts, candies, and dried fruits, the possibilities are virtually endless. And if that doesn't get your mouth watering, imagine freshly baked pretzels sprinkled in sea salt or cinnamon and sugar. For a lighter, healthier take to your sweet and salty bar consider fresh fruits and veggies with various dipping flavors.
Late Night Snack
Surprise your guests with a late-night snack to end the evening. Consider the ultimate bedtime go-to snack, milk, and cookies. Imagine homemade chocolate chip cookies served atop a cold refreshing glass of milk. This classic treat is sure to please taste buds of all ages.
What better way to lure your guests out the door than with a late-night food truck stop. This mobile wedding bar is a great way to serve up a variety of snacks hot, fresh, and ready to order. Tacos, pizza, hot dogs, and popcorn are just a few food truck favorites sure to cure that late-night snack attack.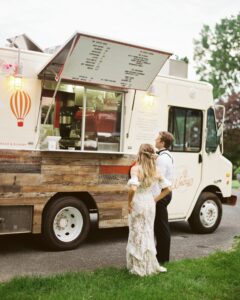 If your late-night is likely to turn into early morning, send your guest off with a mini breakfast of donuts, breakfast burritos, mini quiche, or french toast sticks. Don't forget the coffee! After a long day of celebrating, who couldn't use a little pick me up.
From classic to colorful and everything in between, there's a bar sure to fit your wedding style. And a suit too! Jim's Formal Wear has endless style options to get you looking and feeling your best on your big day!