If you love America as much as we do, then this blog is for you! In honor of our great nation, we've rounded up some of our favorite Americana wedding ideas. Inspired by all things patriotic, check out what we found in our search for festive Americana wedding must-haves.
You're Invited
Set the tone for your Americana wedding with patriotic save the dates and invitations. Consider crafting your own cards for a truly, made in the U.S.A. feel.  Not the DIY type? No worries. There's plenty of local and online crafters that can help you achieve a handmade look. Keep in mind that summer schedules can fill up fast, especially around holidays like July 4th and Memorial Day. So, be sure to get your Save the Dates sent out early!
America the Beautiful
Nothing says America quite like the great outdoors! From majestic mountains to shining seas or even your own backyard, there's no shortage of beautiful outdoor settings perfect for your Americana wedding.
Straw bales or tree stumps draped in old flags and fabric is a great option for some extra outdoor seating. Or lay out old quilts and pillows for a relaxed picnic feel. String lights and light candles to add a soft romantic touch to your outdoor wedding. Embrace the natural beauty of your surroundings and let the landscape be your main décor.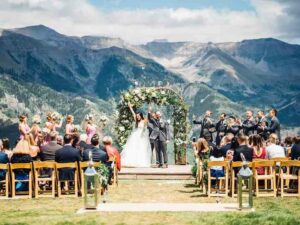 Red, White, and Blue
The tried and true, red, white, and blue color scheme seems obvious for an Americana wedding. But don't be afraid to experiment with different shades for a unique take on the traditional color pallet. Consider deep colors like navy and burgundy for a moody tone. Or create a fun, retro vibe with bright colors like tiffany blue and red-orange. And if you're looking for more of a subtle touch, stick to muted tones like pale pinks and baby blues. You can still be festive without screaming red, white, and blue.
Stars and Stripes
Pay homage to our nation's flag with stars and stripes details. Arrange flags in old vases, tin cans, mason jars, and soda bottles for a vintage flair. Add in some texture to create a down-home feel with fabrics like lace, burlap, and gingham. Create a wow factor by hanging a large oversized flag as a backdrop for your ceremony, cake table, bar, or photo booth.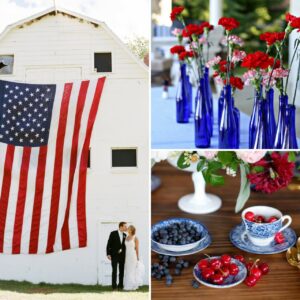 Festive Florals
Let your flowers take a cue from the red, white, and blue. Flower variations such as hydrangeas, roses, and anemones come in an array of patriotic colors. Create an ombre effect by combining reds, pinks, and creams or blue, lavender, and whites. Or go with whimsical wildflower arrangements to add a little country to your Americana Wedding. If a bold and colorful bouquet is not for you, keep the pallet simple. Consider wrapping your bouquet in stars and stripes or red, white, and blue ribbon to bring in a little hint of patriotic flair.
Comfort Food
Downhome comfort food is key for any Americana-themed event. And the more homemade the better! From apple pie to pan fried chicken, serve up your favorites. You could even create an around-the-country menu by offering iconic foods from different regions. Think Kansas City barbeque and Philly cheesesteaks. Or keep it home town proud with foods from your favorite local businesses.
Incorporate some natural red, white, and blue colors into the dessert table with a variety of berries. You could even add cut out star details to foods such as fruit, cheese, and pies. A naked red velvet cake with white cream cheese frosting would add a striped detail to the dessert table without going overboard.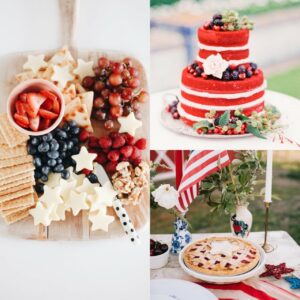 Dress to Impress
When it comes to your bridal party keep the dresses classic. Pops of red or blue can be pulled into the look with shoes, hair accessories, jewelry, and even lipstick. Bold patterns like gingham, polka dots, and large floral prints are sure to make a statement. Consider tea-length dresses for a casual vintage look.
Let the guys in on the fun! Pair a classic blue suit with bright red accessories for a clean crisp look. Or try a linen suit for a more casual and lightweight feel. Add in colorful accessories like socks, suspenders, ties, and pocket squares to complete your all American ensemble.
Go Out With A BANG
What better way to end an Americana celebration than with fireworks. Just imagine an old-fashioned reception getaway, waving to your guests as you drive away under a fireworks-filled sky. Talk about going out with a BANG!
If a full fireworks show is not practical, there are plenty of other festive options. Keep it simple with sparklers, smoke bombs, or confetti. Not only will these make for fun party favors, but they'll also double as great photo props.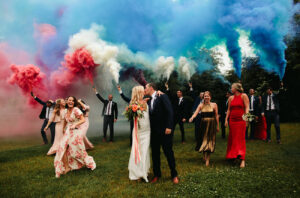 Whether you're going for subtle Americana touches or an all out patriotic bash, you're sure to find something to inspire your Americana wedding. And be sure to dress the part. Jim's Formal Wear has endless style and color options perfect for your special day!