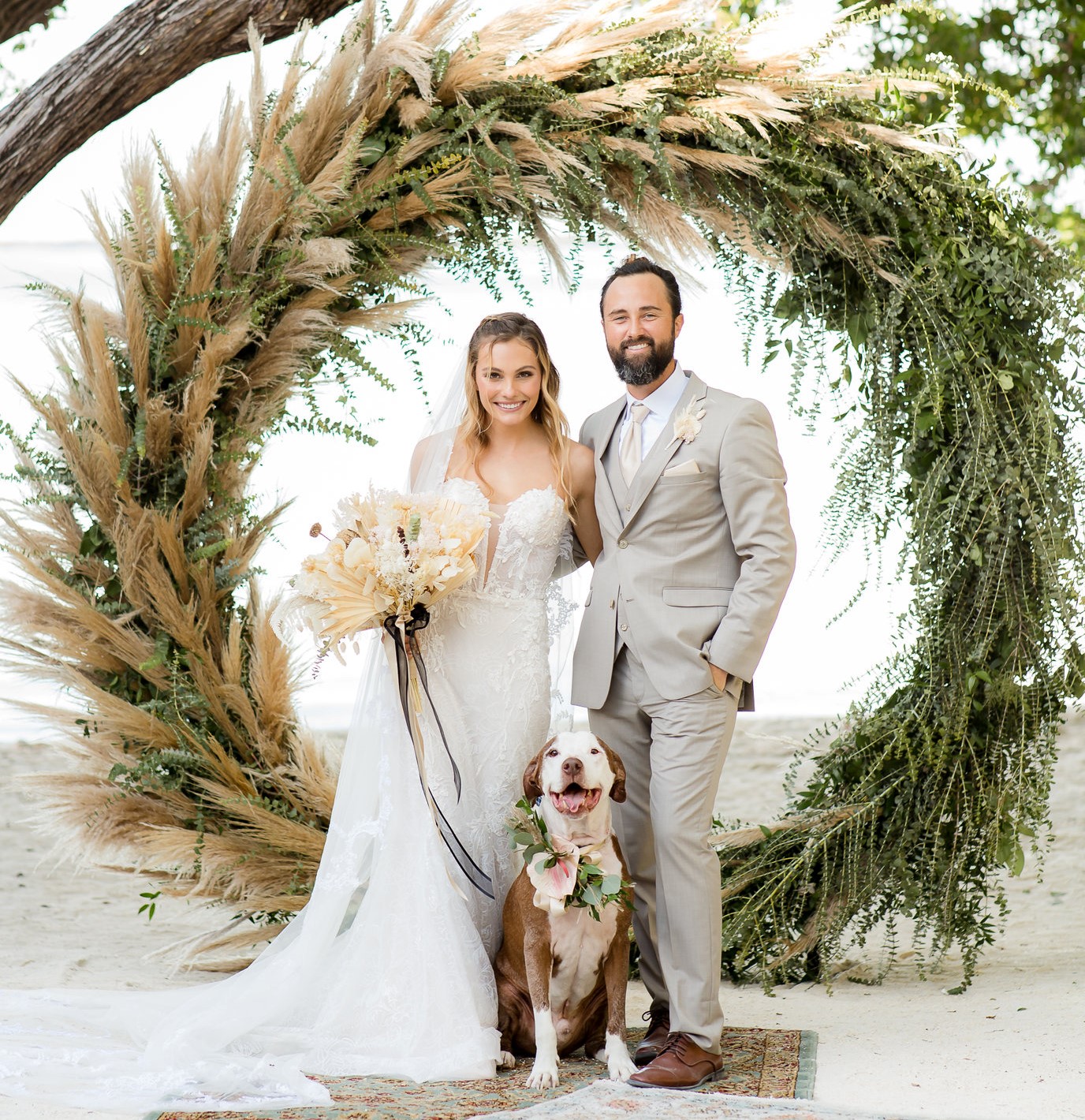 The big day is rapidly approaching. Invitations are in the mail, and you've got your bridesmaids and groomsmen confirmed. But there is someone you may be forgetting. Your fur baby!  Including your four-legged BFF in your wedding is becoming the norm, and we are here for it! But how can you incorporate them into your special day? Here are some ideas to help you figure out how to include your fur baby family member.
Dress up your fur baby
Who doesn't love a dog dressed up? If your pup is a boy, have them wear a little tuxedo!  Some couples go all out with a full tuxedo which could be uncomfortable for the little guy, or you could go with just a bandana set or just a bow tie. If you have a little girl, dress her up in a little dress or tutu! For an added touch, have the color match your bridesmaids' dresses, so she can be a part of your bride tribe!
Not sure if your baby will enjoy being dressed up? Then opt for a flower wreath or collar. Or, you could wrap their leash in flowers and greenery for when they are walking down the aisle. Either way, they will be adorable!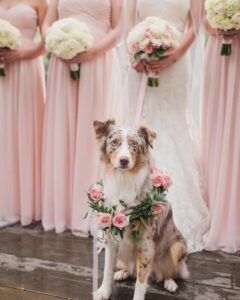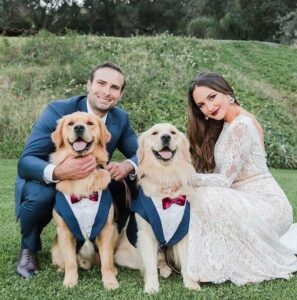 Be a part of the wedding party
Sure, you will have a maid of honor and a best man but what about a dog of honor and man's best friend? They deserve to be standing (or sitting) next to you at the alter too! If you're worried your human maid of honor or best man might get a little jealous of sharing the spotlight, think about having your baby be a ring bearer or flower girl. Imagine your little cutie sashaying down the aisle with a velvet pouch around his collar to present the rings or having a flower crown for her head and prancing down the aisle.
When it comes time for pictures, don't exclude your furry friends! For a special and memorable moment, take a few family photos with just you, the groom, and your fur-baby. Then, when it comes time for bridal party pictures, make sure to snap a few shots with them. If they are a good boy or girl, have them sit right next to you. If your furball is tiny and needs to be held, cradle them instead of your holding your bouquet.

Décor, Food, and Drink
If you aren't sold on having your dog in the wedding, there are other ways to still include them in your big day! For your invitations, napkins, or even table cards, consider including an illustration of your beloved baby. If you're a fan of puns, think about using the phrase, "Please fetch your name," for the escort card table and have little dog figurines that resemble your pooch. Another fun idea is to have a signature cocktail named after them. Display a sign with the drink options and add a picture or drawing of your cutie-pie.
And let's not forget food! A simple approach is to add a finishing touch to your cake by having a cake topper of your fur-baby. You could either have them by themselves or make it a family affair by including them with the bride and groom topper. For an added entertaining touch, you could have a little sign added that says "I do too!" One of our favorite ways we've seen a dog included in the cake is to have them peeking out from under the icing or having paw prints climbing up the tiers. Adorable!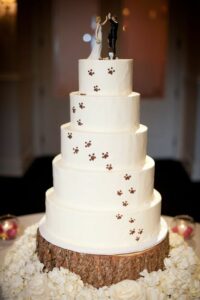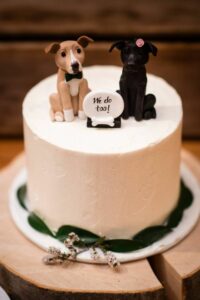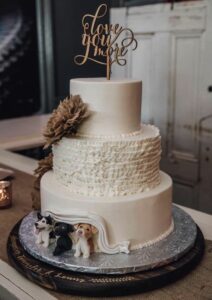 Your fur baby is a member of the family and shouldn't be left out on the most important day of your life! Whether you have them at your actual wedding and in your bridal party or there in spirit, it will definitely be an enjoyable, unforgettable time and Instagram-worthy! You will want to make sure your groom looks his best too! Check out our selections of suits and tuxedos online or visit one of our 5000 retailers nationwide to help you plan your best day ever!