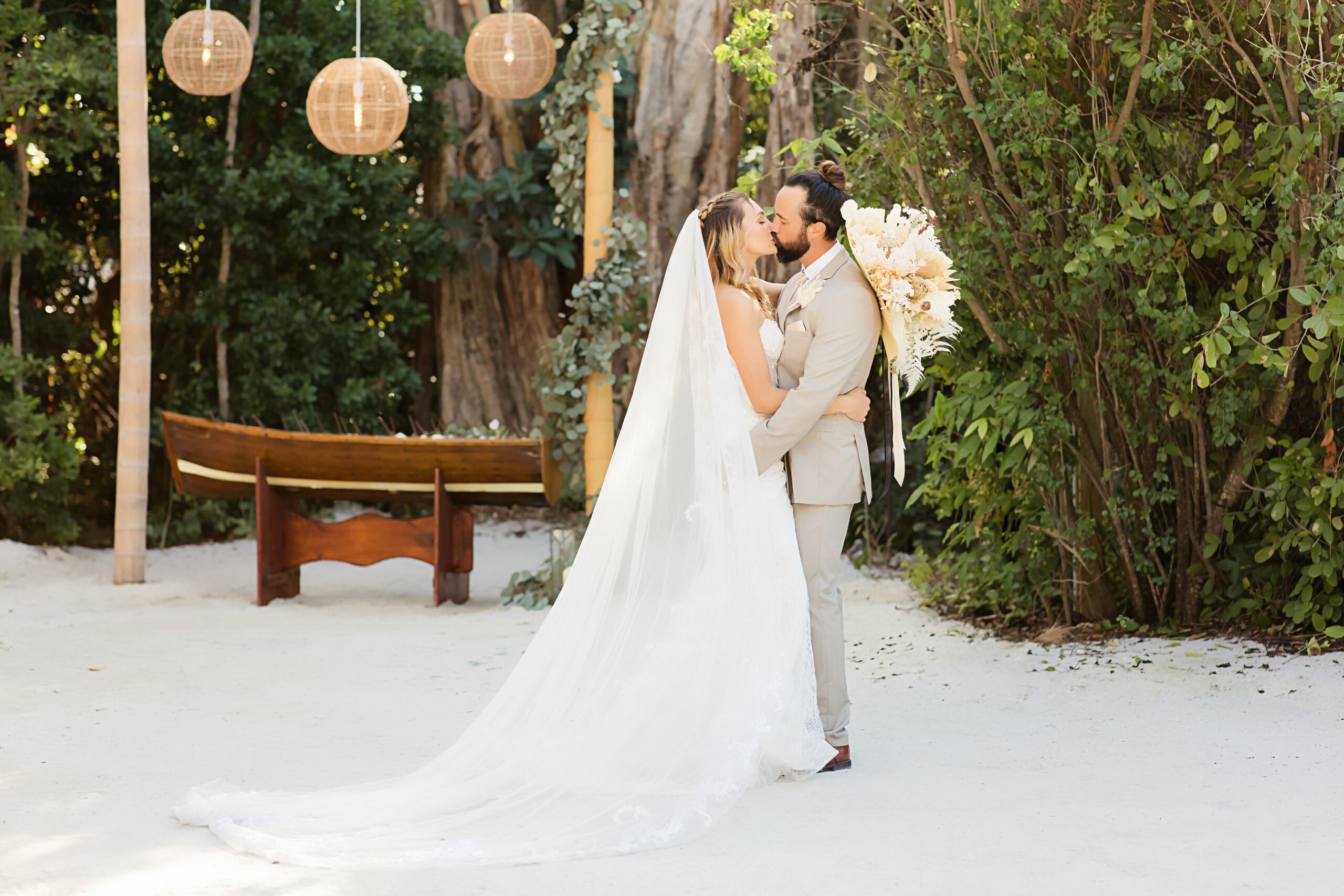 For all who love the feel of sand between their toes and the sound of waves crashing ashore, nothing would be more fitting than saying your "I do's" at the beach. Beach weddings offer natural scenery and a romantic tone without having to do a lot or spend a lot of money. Here we will give you some great beach wedding ideas to help inspire you!
Food & Drink
Not only will you and your guests be at the ocean, but you can appeal to their taste buds by including beach themed food and drink. Nothing says beach wedding like seafood! For cocktail hour, consider a tower of shrimp or fish tacos. For an added touch, build the tower on a piece of wood or driftwood to help tie in the nautical theme. Add a treat such as tropical flavored popsicles to help your guests stay cool during cocktail hour or for a fun treat after dinner.
Adding a festive beach bar, such as a tequila bar, would be a great choice for your summer wedding. Keep the party going with piña coladas and margaritas or serve drinks in coconuts. If you and your spouse-to-be are into outdoor adventures, then a fun idea is to fill up a canoe or kayak with ice and drinks or use a mini version for your dessert table!
And let's not forget the cake! A creative way to include your beach theme for your summer wedding is to embellish the cake with cute decorations. For your cake topper, instead of the traditional bride and groom figurines, you can use seahorses or for a tropical touch, flamingos. Embrace the beach by adding edible sand, seashells, starfishes, or even coral to the cake.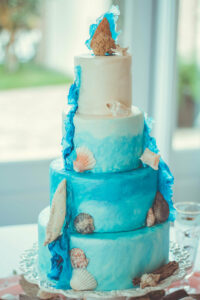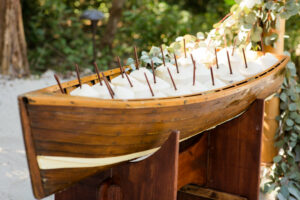 Décor & Lighting
The great thing about a beach wedding is the endless ways you can incorporate the theme into your summer wedding. Starting with escort cards, you could use seashells, oyster shells, or even starfishes as a decorative element. For your ring bearer, skip the traditional ring pillow, and instead, use a nautilus shell!
Centerpieces can also have a beach feel by using items naturally found along the beach such as shells, sea glass, and driftwood. Driftwood can also be used for signs to help guide guests in the right direction or for your Mr. and Mrs. signs for the back of your chairs. Add a splash of color to the centerpieces by using fresh fruit throughout or tropical flowers such as bird of paradise, jasmine, orchids, or hibiscus.
Lighting will also play an important role, especially in the evening. Install spectacular twinkle lights above the dance floor as everyone dances the night away. To help evade the wind from blowing out your candles, use hurricane candle holders or lanterns for romantic lighting.

Guests
You will want to make sure your guests are comfortable while they enjoy themselves. To help, use stress-free furniture such as ghost chairs or benches that are cushioned for a refined look. If you want to go with a more laid-back approach, use simple wooden benches and have the aisle adorned in greenery or florals in your color palette.
Guests will have to walk in the sand so to ensure they don't walk in their nice dress shoes, set up a shoe valet or caddy for them to drop their shoes before the "I do's". You can even provide flip-flops in exchange for their shoes if you think they may not want to walk in the sand barefoot. Next to the shoe caddy, set up a stand with paintbrushes for them to brush the beach off their feet.
The best thing you can do for your guests is to have a welcome bag that will help safeguard them from the elements. Obviously, sunscreen is a must but don't forget sunglasses, flip flops, insect repellent, and fans to help keep them cool.
Attire
Just because you are having a beach wedding that is naturally casual, it doesn't mean you have to deter from your formal attire. For the bride, a flowing, lightweight dress would be the ultimate choice or you can even select a shorter dress which is beneficial when frolicking in the waves. Be unique and choose a taupe or blush dress to tie in with beach-inspired colors. Add a decorative piece like starfish in your hair for an added touch. For the bridesmaids, don't shy away from color! Having pinks, greens, corals, and bright reds will work with the sand and blues from the ocean and sky.
Let's not forget the groom and groomsmen! A linen suit would be ideal for a beach wedding and with options in blue, tan, or grey, they will match perfectly with the beach aesthetic. If linen isn't the way you want to go, then a light grey or tan suit would also work nicely. Do something fun for the boutonniere like a starfish or seashells!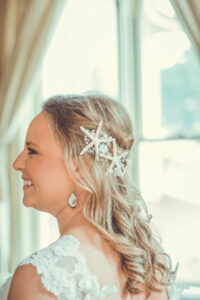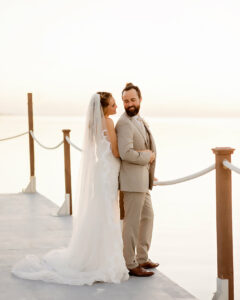 Even though beach weddings offer natural scenery and a romantic tone, there are so many ways to add other beach elements to your wedding. The possibilities are endless! When it comes time to get the guys suited up, look no further than Jim's Formal Wear! Visit one of our 5000 retailers nationwide or start shopping online.