Summer wedding season has arrived and so have the high temps and humidity in most parts of the country. So what are men wearing to look stylish and still remain cool? Clothing choices tend to become more casual as the temperatures get hotter, but casual attire may not be in the dress code for the summer wedding you're attending. You will want to make sure you have the appropriate attire for the day, so you look the part at every event you attend.
Finding the perfect look starts with knowing the dress code for your event. Check out our suggestions below to help guide you to a flawless look with the right balance between casual and formal.
Black Tie Wedding
While it's not the norm for a summer wedding, when invited to a black-tie wedding, a black tuxedo is the go-to choice. You'll want to dress the part at this formal event. Pairing it with a white, pleated wing-tip or lay-down collared shirt with a black bow tie will add a layer of sophistication. Finish it off with a pair of black patent leather shoes and a coordinating pocket square.
If the invitation to the summer wedding says "black tie optional", you can wear a dark suit rather than a tuxedo. An elegant choice would be a dark blue suit. Top it off with a white dress shirt and contrasting tie and pocket square for a stylish look.
Keep in mind, "black tie" doesn't limit you to a black tux. Even though a black tuxedo is the traditional choice for a black tie wedding, you can also consider a lighter color option like a white or ivory dinner jacket. The lighter shade and more breathable fabric will keep you from sweating through your black wool tux which is an obvious benefit. Pair the jacket with black formal pants and a black bow tie to finish off your look.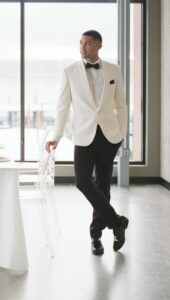 Semi Formal Wedding
When it comes to your attire for a semi-formal summer wedding, feel free to let your creative side show. While you can ditch the tuxedo, you should still choose a suit for the event. Let the time of the day dictate the color choice for your semi formal wedding suit. Consider casual suit colors such as light grey, cornflower blue, or sand for daytime events. If the wedding will take place later in the day or in the evening, opt for darker shades like navy, charcoal, or even hunter green.
When considering which accessories you should wear, a non-pleated, lay-down collared shirt pairs well with any suit option. Select bold colors or eye-catching prints in ties and pocket squares for daytime events. More subtle patterns and colors are best for evening affairs. Dress shoes such as oxfords are the perfect choice for this type of outfit.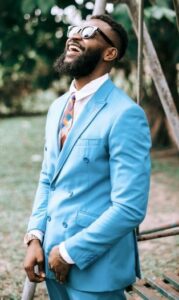 Beach Wedding
A smart choice for a summer wedding attended at a beach would be something with a lighter fabric that is more breathable to help you feel that ocean breeze. Seersucker and linen suits would be the ideal choice paired with an open-collar cotton or linen shirt without a tie, and boat shoes or loafers. To help with the summer vibe, choose a lighter shade like light grey, tan, sky blue or the ever-so-popular rose pink. Since a beach wedding normally means a more laid-back look, you could venture out with patterns and colors for the shirt, like a Hawaiian shirt, to complement the easy-going feeling.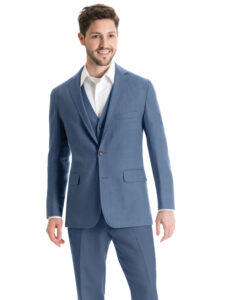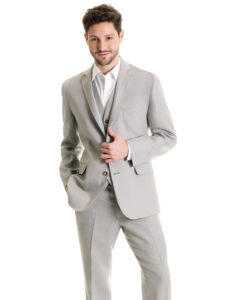 Casual Wedding
Generally, casual attire means anything goes. However, in terms of wedding attire, leave the jeans, t-shirts, and shorts at home. Remember, it's still someone's wedding day, a once-in-a-lifetime event, so you better look sharp! The safe and more fashionable choice would be a nice pair of dress pants, khakis, or chinos paired with a belt and a short-sleeved polo shirt. For shoes, consider loafers, brogues, or canvas shoes for a smart finish.
Although summertime isn't always the ideal time to wear a suit, there are options to help with the heat. Utilize lighter fabric options when possible such as linen, seersucker, or a linen-wool-silk blend. In addition, go with a lighter color like sky blue, tan, or beige, or even a light grey to help beat the heat. When it comes time to get suited up, look no further than Jim's Formal Wear! Visit one of our 5000 retailers nationwide or start shopping online.