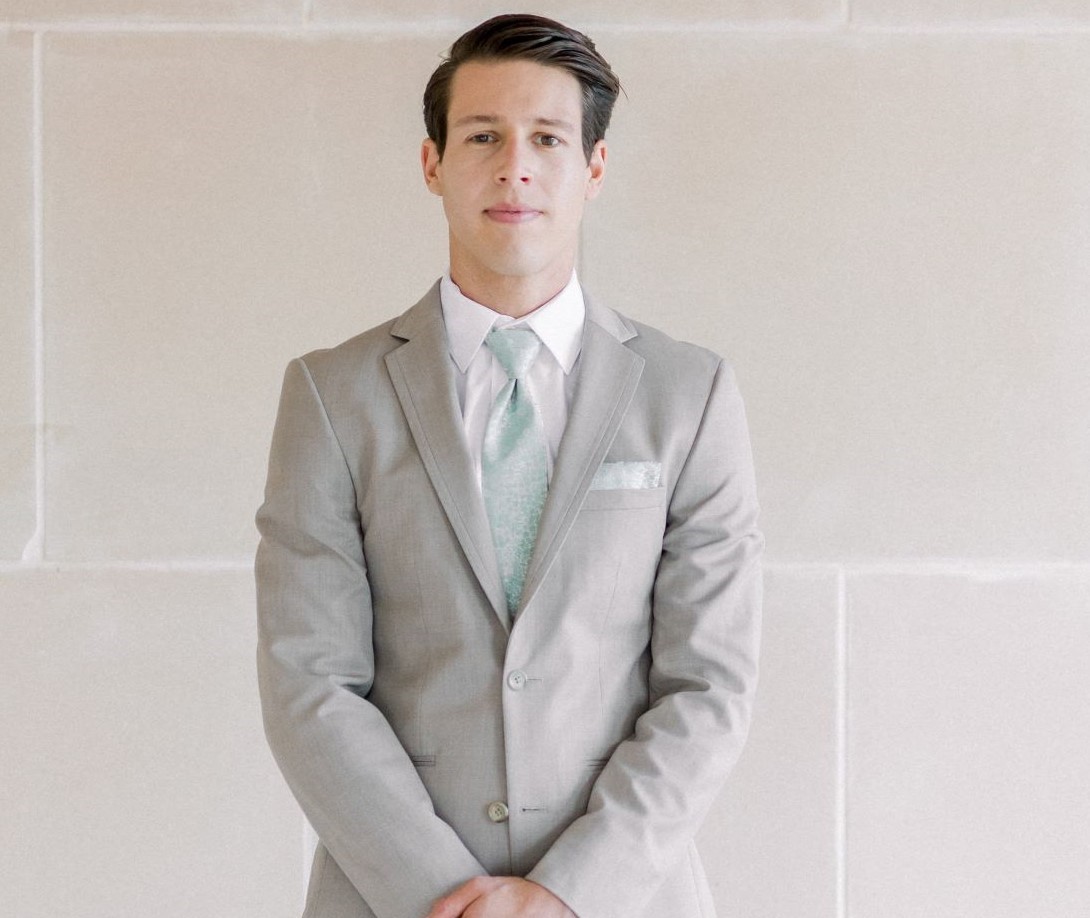 When you think about spring, you may be imagining an end to frosty winter temperatures and lots of bright, sunny days with flowers blooming everywhere. While those are the hallmark signs that spring has sprung, spring weather is notoriously hard to predict, and planning ahead for a spring wedding can seem difficult. How do you plan an outfit for weather that could range from chilly and damp to humid and sunny in a matter of hours (especially for a special occasion when you truly want to look your best)? Don't worry; dressing for a spring wedding doesn't have to be a headache and can actually be one of the best times to try new styles and trends.
Consider the Venue
Spring weddings, unlike winter weddings, offer the bride and groom the option of hosting their ceremony and reception in outdoor or indoor venues. By the time you receive your wedding invitation in the mail, it should be apparent whether you will be spending the majority of your day indoors or outdoors, which can help you decide what kind of material and layers you may want to wear for the occasion. Naturally, outdoor weddings require a little more planning on your part to ensure that you will be warm enough if it's windy and cool enough if the temperature rises. Don't forget, it isn't unusual for a chilly morning to become a sweltering afternoon, so layering accordingly may be a clever option.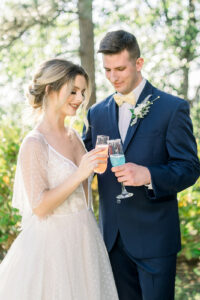 Material Matters
Gentlemen, the material of your suit makes a huge difference in the breathability or insulation it will provide you. For spring weddings, especially in warmer climates, you want a suit that will not trap heat near your body, but will allow you to look cool–and stay even cooler. Consider a suit made from a light woven cotton or a worsted wool, like this one from Stephen Geoffrey which comes in an ultra-flattering light grey. With a lighter material, you have the option of wearing a thicker button-down shirt underneath if you tend to be too cool, but you won't worry about melting into a puddle, either.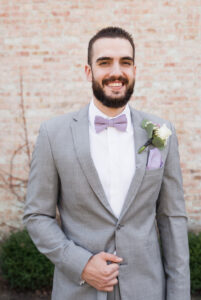 Lighter Colors Mean Lighter Temperatures
Remember that color makes a difference in your comfort level, as well. Lighter-colored attire helps reflect the sun while darker colors soak it in. As a spring wedding guest, you have a lot of leeway in terms of color scheme, but keeping to a taupe, tan, or light grey may help you stay chill in the beaming afternoon sun. This sand-colored suit from Allure Men is a fresh spring take on a classic look that will help you look slick without feeling slick with sweat.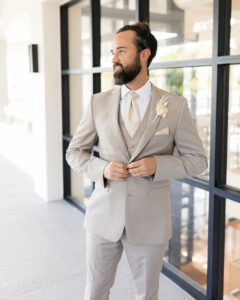 Pastels and Brights Are Fair Game
Spring is typically associated with pastel dresses and nature-inspired accessories, and that doesn't just mean for the ladies. Finding a bright or patterned pair of dress socks or a funky floral pocket square can level-up your entire wedding guest ensemble, and it can be a fun and inexpensive way to personalize your look. Having a coral floral pocket square tucked into your jacket will show you know how to put together a seasonal outfit and have some fun with it, while a tiffany blue pocket square is a quirky take on a classic color scheme. Dress socks, like this pink argyle pair  are another way to add a special note to your fashion-forward look. No matter your style choices, your accessories can make a huge impact, particularly in spring.
Spring fashion can be exciting as the weather changes, the days get longer, and the smell of flowers wafts through the air. But if you're sweating a change in the temperatures in regard to an upcoming wedding, don't worry! With some basic understanding of materials, color schemes, and location, you can rest assured you'll be looking (and feeling) fresh for any special occasion on your spring calendar. For some style inspiration or to shop for suits and accessories to make your wedding look pop, check out Jim's Formal Wear!