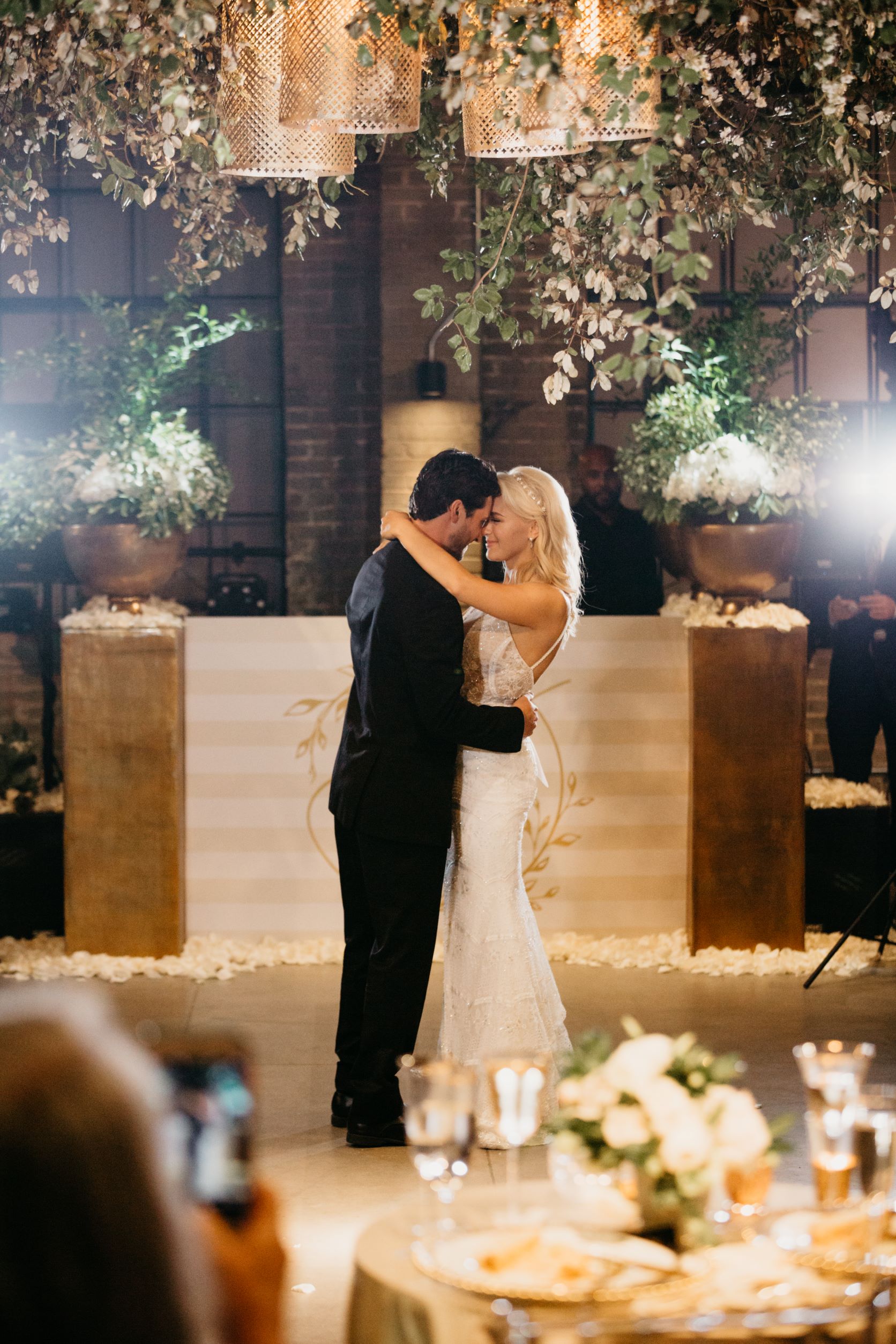 Every moment of your wedding day is a reflection of you and your beloved as a couple, but no moment encapsulates this feeling more than your first dance. Choosing a first dance song may feel like an overwhelming responsibility, but don't worry! Whether you and yours are a slow-dancing, classically romantic couple or a livin'-it-up, dance-'til-dawn duo, there is a first dance song to fit your style, and we can help. Here are some ideas to get the creative juices flowing about what kind of vibe you want for your first dance as a married couple.
For the Mellow-Vibes Couple
1. Alone by Jessie Ware
A moody female vocalist like Jessie Ware will set a sensual, sentimental vibe for your first dance. This song is a beautiful tribute to your commitment to each other and the life you have started together, and it is a wonderful choice if your vision of your first dance involves a lot of looking deeply into each other's eyes; you certainly won't be looking away from your new spouse during this song.
2. The Girl by City and Colour
A light, romantic song, this is a lovey-dovey choice for a husband who wants to show his appreciation for his new wife and all she does for him. This is a nice blend of slow acoustic singing that picks up in the second half for a more upbeat ending (if you cut out the last minute or so), so you get the benefit of a slower start and a more fun finish to your first dance as a married couple.
3. Beyond by Leon Bridges
This song is a perfect description of what every couple wants when they think of their perfect match. The jitters and the feeling of falling in love are so sweetly described in this song, and it is an easy, slow groove for a couple's first dance together as married partners.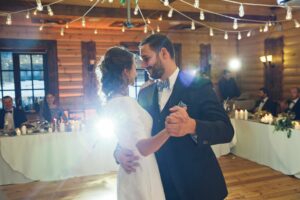 For the Couple Wanting a Modern Twist on a Classic 
1. God Only Knows by John Legend, Cynthia Erivo, and yMusic
A cover of The Beach Boys' original, this version of the song is sentimental and touching, and it lends itself to a slower, more mellow first dance than the original recording. John Legend is known for his buttery smooth voice, and as a pairing with Cynthia Erivo's lovely vocals, this couldn't be a sweeter choice for a couple who wants a recognizable yet unique first dance song.
2. Make You Feel My Love by Adele
If you are a fan of Adele's sultry vocals, but you want a familiar, timeless first dance song, this is a perfect fit for you. Written by Bob Dylan and first released by Billy Joel, this song has become a standard in many people's romantic-music repertoires for a reason, and Adele's version is a beautiful cover that will keep your first dance feeling modern without feeling too trendy.
3. Can't Take My Eyes Off of You (I Love You Baby) by Ms. Lauryn Hill
An R&B remix of the song originally made famous by Frankie Valli, this is a sultry, moody version that will have you grooving in no time. The vocals are sensual and romantic, and the beat will keep your hips swaying to the rhythm without getting too fast-paced like the original recording.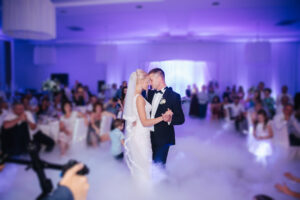 For the Fun-Loving Couple
1. You Make Loving Fun by Fleetwood Mac
Not every first dance has to be a slow dance, and this song is a match made in heaven for a couple who doesn't take themselves too seriously. With its fast pace and catchy hooks, you and your sweetheart won't be able to keep yourselves from swinging around the dance floor.  Just try and listen to this song without smiling; we dare you! 
2. Shut Up and Dance by Walk the Moon
An incredibly popular song from the last decade, this is a fantastic pick for a couple who needs a little push to make themselves the center of attention on the dance floor. Because it is so upbeat and familiar, this is a cute choice to give you a chance to bust a move with your spouse before inviting the rest of your guests to join you on the dance floor and take the pressure off you.
3. Grow Old with You by Adam Sandler
Originally from the movie, "The Wedding Singer," this song works for the couple with a flirty, goofy sense of humor–and may even get you choked up. As a warning, make sure you listen to all the lyrics before committing to this choice, as there are some explicit moments that are not a fit for every couple's taste, depending on which version of the song you choose. However, if you and your love are looking for something unique and quirky, this is a surprisingly sweet and fun choice for your first spin around the dance floor.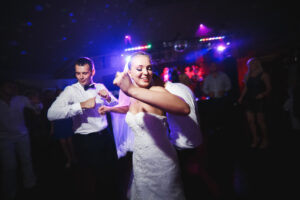 For the Cutting-Edge Couple
1. Lifetime by Justin Bieber
While Justin Bieber may feel like a strange choice for a first dance song, these lyrics will have you changing your mind. Particularly sweet for a young couple, this song feels like a wonderful choice for the couple that found each other against the odds, and it has the added bonus of being a newer release from 2021, so it won't be overdone.
2.Still Falling For You by Ellie Goulding
This song is a spectacular way to enter into your life as a married couple with its changing beats and show-stopping, beat-dropping chorus and bridge. If you and your spouse are looking to choreograph a first dance routine, this song lends itself to drama and theatrics.
3.Love by Lana Del Rey
Lana Del Rey has a voice that calls back to times-gone-by, but a style and lyrics that keep her songs firmly planted in this century. This song is no different, and it lends itself to a couple who want to feel everything–the good, the bad, and the ugly–together. It's sweet and sad all at the same time, but undeniably romantic.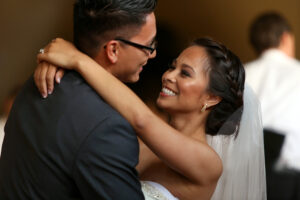 If you feel like you have no idea where to begin with picking your first dance song, try making a date of it! Plan a time with your fiancé and listen to these suggestions to get you started. Once you have a song that feels like "you," make sure your attire for your big day also matches your personal style by browsing the selection at Jim's Formal Wear. Rent in-store at one of our nearly 5,000 retailers or online today!