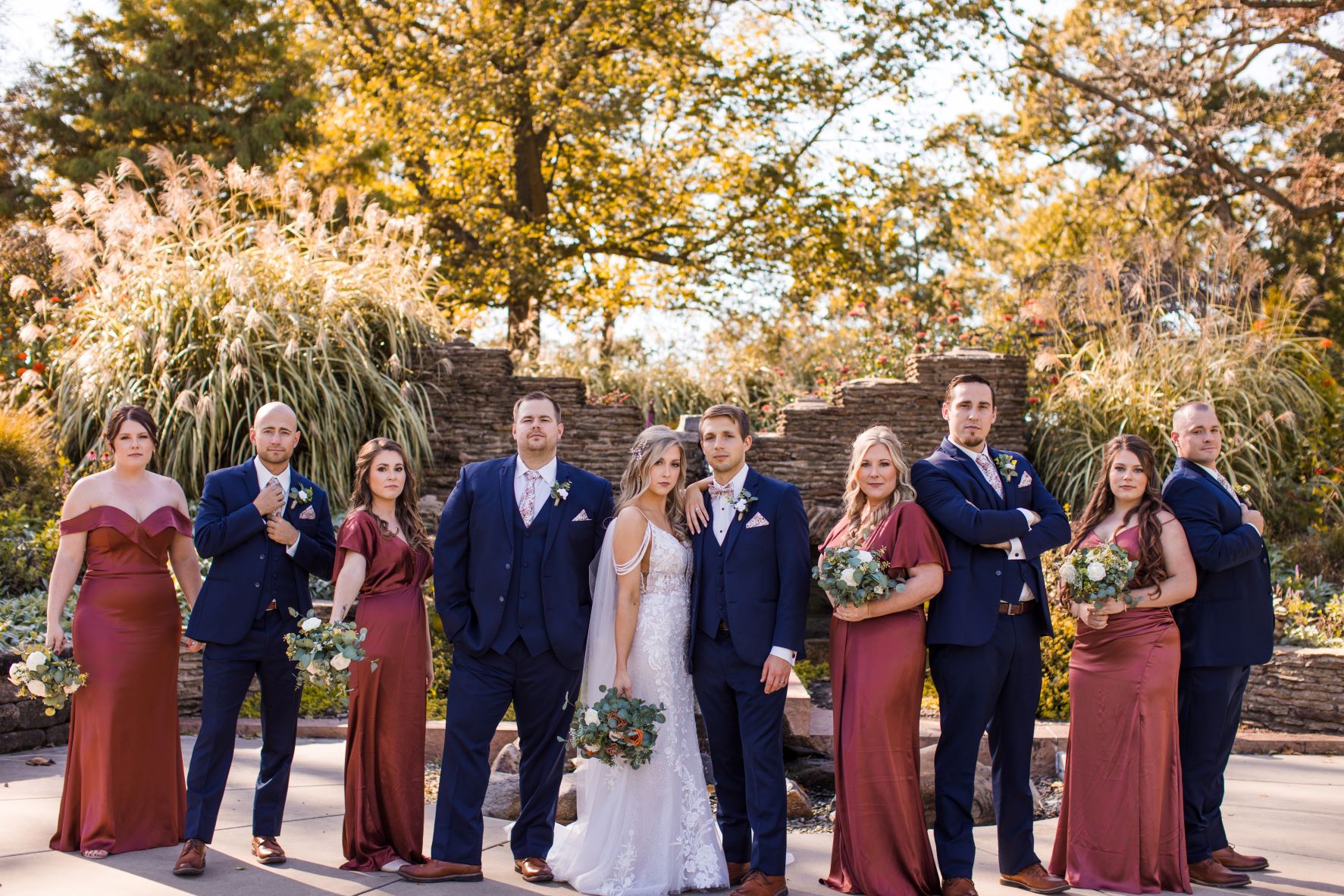 It's no secret that the bride's dress will steal the show on the wedding day, but that doesn't mean that the groom has to be destined for neutrals. Suit options are extensive, ranging from simple and classic to bold and daring—even within the same color family. If you are still looking for your "something blue" and haven't taken the time to consider a blue suit or tuxedo for your wedding day, take this as your sign. 
Navy: The Softer Classic
Does the idea of color for wedding menswear make you cringe? If your goal is to have a sharp classic style for yourself and your groomsmen at your wedding, black is not the only option! While neutrals like black are universally flattering colors, navy blue achieves the same goal and offers a softer contrast than a stark black suit against most skin tones. Opting for a darker shade will help you make a subtle statement, like this Michael Kors suit. Timeless and appropriate in all seasons, you can readily find both blue suits and tuxedos in this colorway, meaning your options are endless!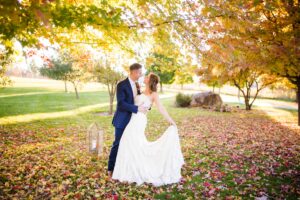 Blue with a Purple Hue
Crisp, clean, and sharp, an indigo-colored tux is a fantastic option for a slightly lighter blue without stepping into spring and summer colors. In a similar vein as navy, indigo blue is a neutral color that will suit any skin tone and any season, and it will pair as a fresh companion alongside nearly any color in your wedding scheme. A purple-toned blue also complements brighter or darker accessories to keep it seasonally-matched. A coppery leather shoe will pair nicely for a daytime wedding, or a black leather will class it up for a nighttime affair.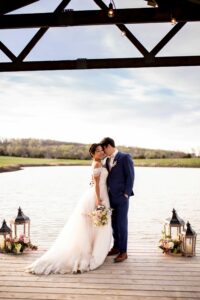 Cobalt: Blue with a Twist
If you are looking for a blue suit or tuxedo that is a little more daring, a cobalt tuxedo is sure to make your eyes pop and give a debonair flair to your wedding look. Choosing a blue that has a little brighter pigment will prevent you from fading into the background of your photos, and it may even elicit some comments about how chic your style is—a big ask when you are sharing the stage with your beautiful bride! Consider finding a tuxedo with a contrasting lapel, like this Ike Behar Cobalt Blue Tribeca, to really amp up the drama.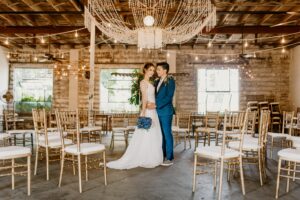 Bold Blue Prints and Patterns
Nothing says style like a man confident enough to wear a statement jacket! When wearing a patterned blue suit for your wedding, you want to consider the other colors and patterns already happening in your bridal party attire—will it clash with the bridesmaid dresses, or is it too distracting from your bride's show-stopping moment? To avoid a clash of styles, consider having a statement patterned tuxedo for the groom and a simpler style for your groomsmen.
Another tip is to go with a monochromatic pattern, such as an all-blue paisley print, to maintain an air of decorum and avoid a loud, abrasive style disaster.  Still worried it's a bit too much?  How about this fun fashion coat for a reception look?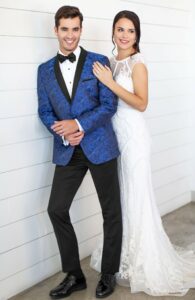 Blue suits and tuxedos for wedding attire can be daring and unexpected or crisp and chic, depending on your desired wedding vibe. The color blue also represents meanings of depth, trust, loyalty, sincerity, wisdom, confidence, stability, faith, and intelligence which also makes it a perfect choice for the guys to wear on your special day. 
Whether you are looking for a classic navy or a daring pattern, Jim's Formal Wear has the shade of blue to help you look your best.  Start building your unique look online today or visit your local JFW retailer for expert help and advice!