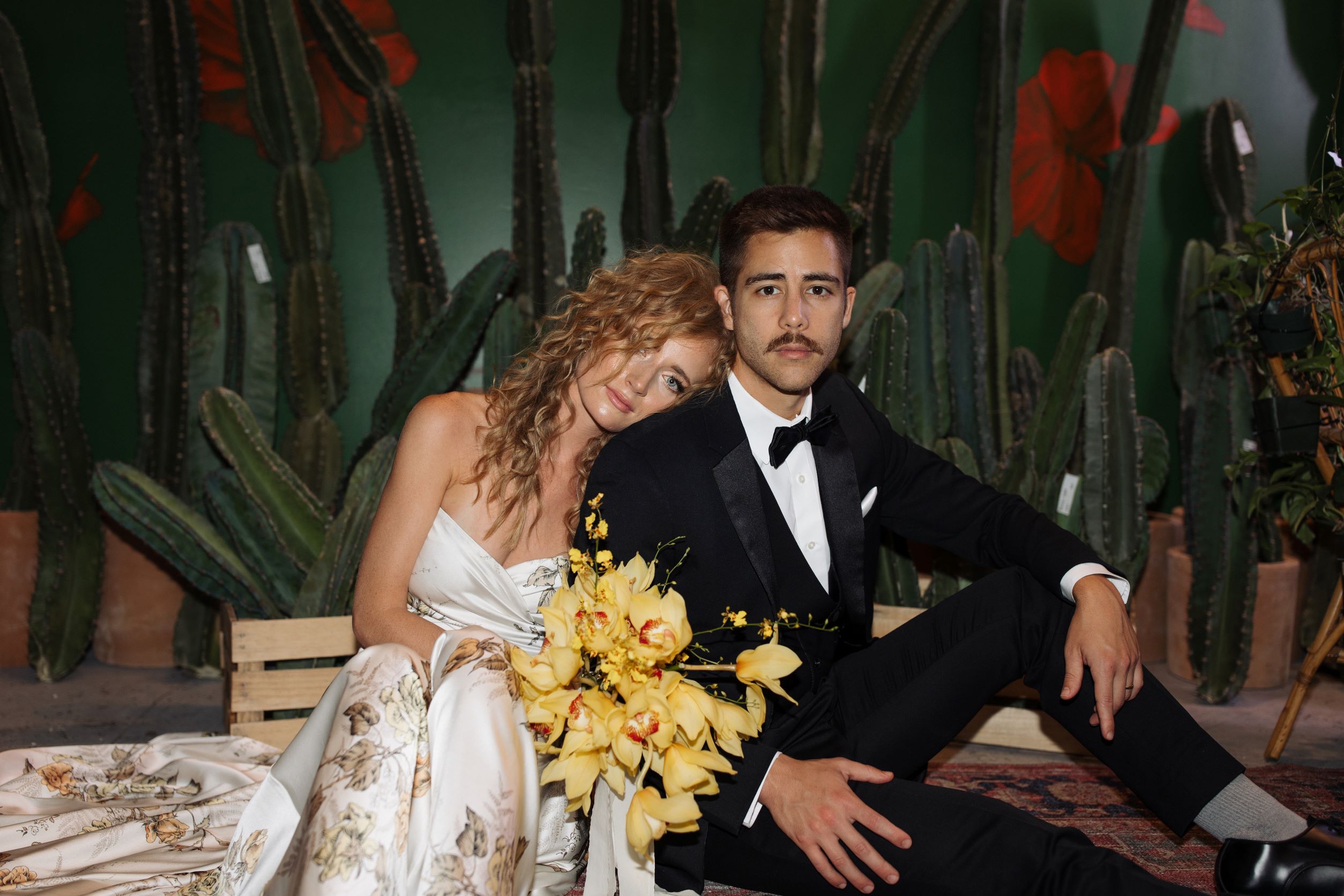 We are expecting a huge year for 2023 weddings. After the 2020-2021 wedding season was basically cancelled, 2022 saw an exponential increase, and 2023 is expected to be no different.  The separation from loved ones has put new emphasis on the importance of love and family. Because of this, the attention to detail and magnitude of weddings has been enhanced. To ensure your 2023 wedding is up to par, check out these popular wedding color themes.
Sage Green + Terracotta
Whether you are strolling through Target or shopping online, you will quickly notice the influx of sage green and terracotta items. From clothing to décor, these colors are achieving increased popularity for 2023. Weddings are not exempt from these color trends, as sage green and terracotta themes are gaining recognition. This comes as no surprise as these colors elegantly complement each other and prevent the use of harsh tones. This theme creates a warm, earthy vibe, especially perfect for fall.  Having your guys in a tan suit like our Sand Brunswick with a sage floral tie will pair nicely with this wedding color palette.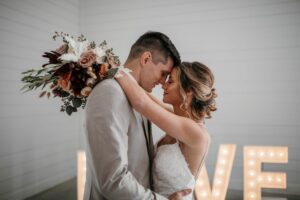 Bright & Bold Balanced with Neutrals
A black and white color scheme with pops of color is something we have seen a lot of this year, and that trend will continue to grow with 2023 weddings.  Bright and bold colors will definitely be showing up on your social feed, and when paired with neutral colors, it only makes them pop more.  Yellows are making a huge comeback, so keep the guys classic with black tuxedos like our Michael Kors Performance Legacy with a yellow pocket square or boutonniere.  Your bridesmaids' holding vibrant yellow bouquets while wearing black dresses will create a stunning wedding design.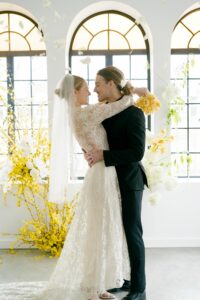 Elevated Boho
While a boho aesthetic isn't something new, future brides and grooms are adding an accent color to make it more relevant.  If you've been on TikTok or Instagram lately, pampas grass and brown hues are everywhere!  By adding a brighter shade like orange or a softer peach, this will help bring your boho vision up a notch.  The classic wedding elements are infused with rustic touches to create the perfect romantic vibe.
This theme focuses on quirky, small details to achieve the bigger picture.  Boho chic is personable and allows for the couple's personality to shine through.  For example, vintage colored glasses on your table, simple and clean signs, string lights, and candles will have you falling in love all over again.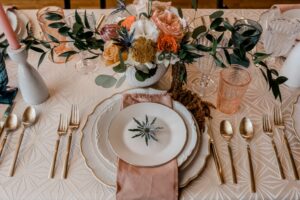 Think Green
The inclusion of greenery has become a key point in modern weddings. The use of greenery on tables and ceremony arches adds a sophisticated touch and brings the outside in. Ariana Grande exemplified this in her home wedding in which lush greenery covered the dinner tables. This look adds another dimension to the space and creates an almost magical escape. Whether ferns, cacti, or foliage is being used, green offset by white décor emulates a stunning scene that refuses to go over the top.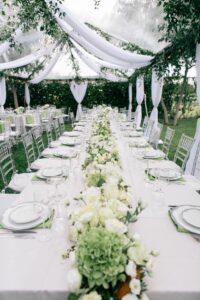 Light Blues
The meaning behind blue is trust and loyalty, and it's proven to have a calming, relaxing effect, so it's no wonder that blue is one of the most popular wedding colors of all time.  Shades of light blues will be a go-to for 2023 weddings.   A blue and white wedding bouquet with peonies, roses, and hydrangeas will bring the romance.  Dusty blue bridesmaids' dress and navy suits like our Michael Kors Navy Sterling paired with a dusty blue tie and pocket square will help enhance the love everyone will be feeling on your special day.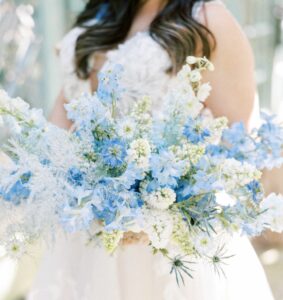 While 2023 weddings will be off the chart this year, there are no shortage of popular color themes to choose from.  From bold and vibrant to soft and elegant, there is a color palette for everyone.  Make sure you get your guys looking the part by wearing a Jim's Formal Wear suit or tuxedo.  Stop by one of our retailers nationwide or rent online!