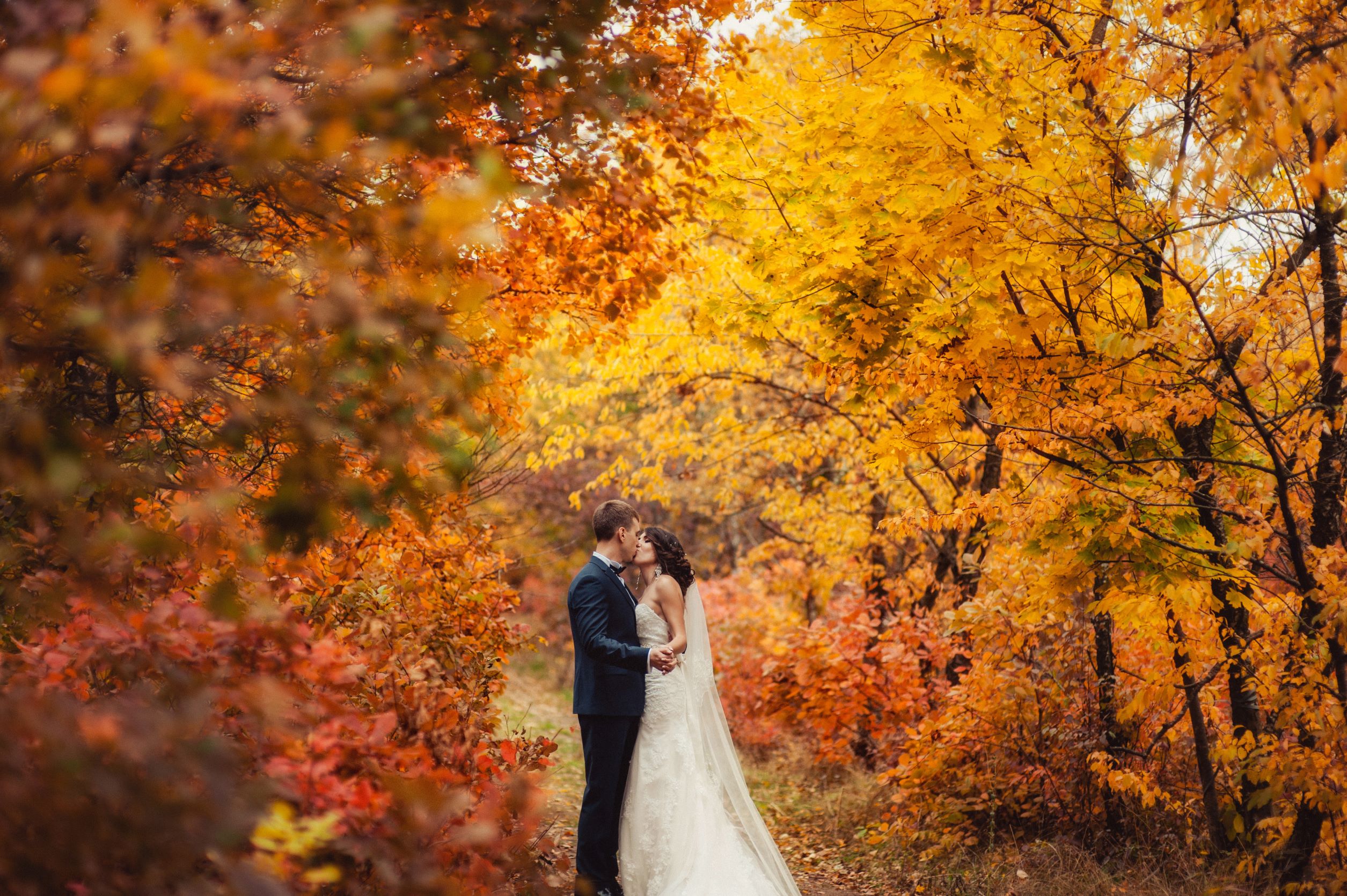 If you are a bride or groom planning a 2023 Fall wedding, now is the time to get your ideas in order. Fall is one of the best (and busiest) times of the year to get married.  The stunning fall foliage make a scenic backdrop for wedding pictures, cooler temperatures keep everyone comfortable and happy, plus all the seasonal spices, smells and food can't be discounted!  The number of weddings in 2023 is expected to be the highest it's been in almost 40 years, and it's easy to see why the Fall season will reign supreme with all the magical options available to make your special day that much more dreamer.  Here are the top few trends to consider for your 2023
Fall wedding
.
Warm Drinks and Unique Desserts
With the temperatures cooling off, choosing to serve a warm drink or two as your signature cocktail would be an ideal choice.  Not only will it fit perfectly with your 2023 Fall wedding theme, it will help keep you and your guests warm throughout the day and into the evening.  Think apple cider, hot toddy and spiked hot chocolate!
A trend that has been gaining popularity in the past year is having a non-traditional wedding cake, and since there are so many in-season fruits during Fall, this would be the prime opportunity to have pies at your wedding.  Serve mini pies in a variety of fall flavors like apple, pumpkin, and blackberry.  If pie isn't your thing but you still want to pay homage to fall, you can always do a pumpkin cheesecake as your wedding cake!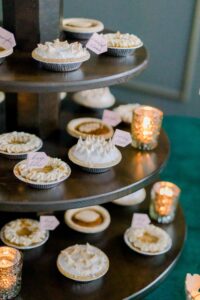 Lighting
2023 Fall weddings will be bringing the light!  You'll want to create a warm ambiance and there are a few ways to achieve this.  For outdoor or indoor weddings, lanterns or candles adorning the aisle as you walk down it towards your future spouse will bring the coziness.  Plus, they go great with fall wedding décor.  To add a rustic touch, have them displayed around the bar along with autumn foliage.
An intimate table setting with candles of different heights placed down the center of the table will have everyone feeling like family.  Of course, there is always fairy lights that will help set the mood too.  While not traditional lighting, a bonfire is another way to bring light to your wedding after dark all the while keeping your guests warm too.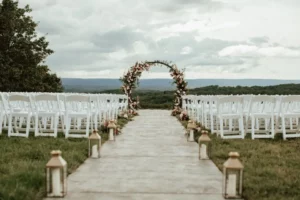 Pumpkins
When most people think of fall, pumpkins are one of the first things that come to mind.  Pumpkins can be used in multiple ways, not just dessert.  For an attention-grabbing tablescape, include different size pumpkins all throughout your tabletops and make sure to elevate it by using different colors and textures!  If you already have your table décor decided but still want to incorporate pumpkins, line them up in across the bottom of the head table.
You could also use pumpkins in place of traditional place cards.  Choose smaller pumpkins and write your guests' names directly on the pumpkin.  Or use them as card holders and have the stem holding the place card.  With colors like white, gold, shades of orange and blue, you can integrate your wedding colors or spray paint alternate ones to match your color palette.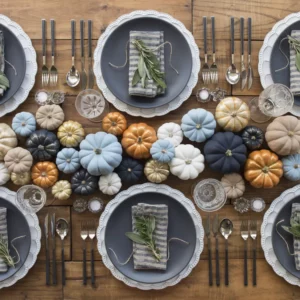 Plaid and Tweed
What pattern screams fall more than plaid!  Small, subtle touches of plaid will bring coziness to your 2023 Fall wedding!  Plaid invitations or escort cards will be the perfect pattern for your fall vibe.  With chillier temperatures, a plaid shawl to keep you warm would be ideal or even a plaid flannel.  Don't forget the guys when incorporating a patterned theme!  For them, a plaid suit would tie in nicely with the fall aesthetic.  A classic brown or grey paired with a burnt orange tie would bring the feels!  Another choice would be a tweed vest or suit to add some sophistication.  Plus it will help keep them warm as the night goes on.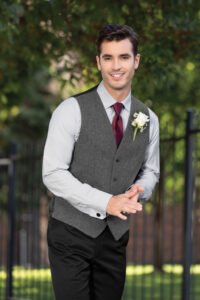 Even though the Fall season brings cooler temps, there is nothing chilly about a Fall wedding.  With beautiful, warm color palettes, seasonal fragrances and food, and the warmth of candles and bonfires, you and your guests will be feeling the love.  Make sure to have the gentlemen in your party looking the part at your 2023 Fall wedding with a Jim's Formal Wear suit or tuxedo!  Visit one of our nearly 5,000 JFW retailers or rent online!