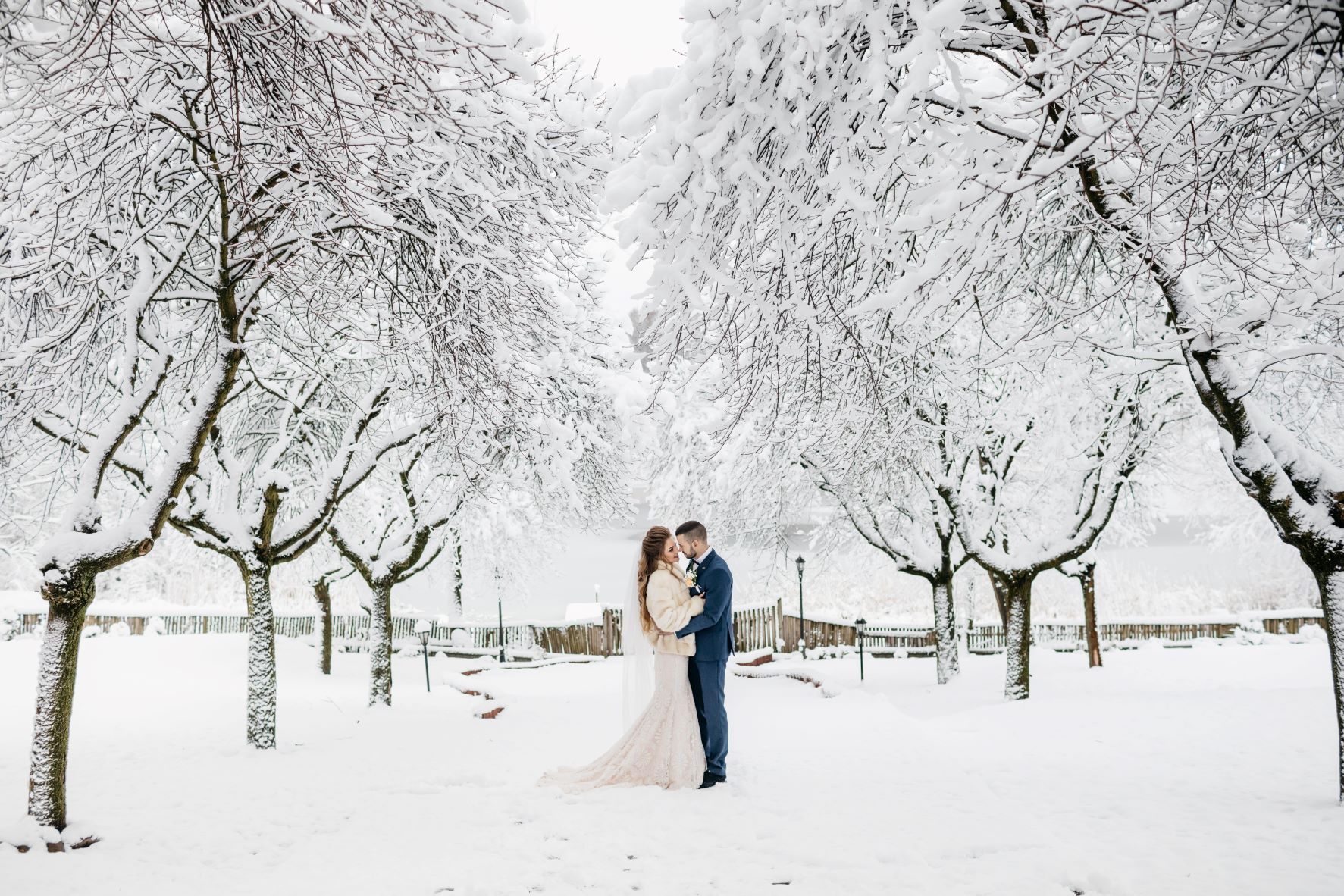 Even though winter weddings aren't the most popular in regards to the time of year to get married, there is just something magical and special about them.  Between the holidays, Christmas music & lights, and snow, it brings a sense of togetherness and joy that is undeniable.  One might think that when choosing colors for a winter wedding, the traditional red and green are your only choice, but there are so many other inspiring color combos to make the day not feel like an over-the-top Christmas party.  Here are our favorite winter wedding combos!
Grey and Purple
While purple shades aren't the first color that many people think of, it actually works very well with winter weddings.  A deep purple such as a plum shade pairs nicely with dark grey and together they will bring the charm and elegance.  The gentlemen in your wedding party can wear a dark grey suit like our Michael Kors Steel Grey Sterling with plum ties and pocket squares.
For a bit softer, more delicate purple, a dusty lavender would also work well. Combine fresh berries or different shades of purple flowers into your bouquet.  Boutonnieres for the guys can be a plum purple hellebore paired with simple green or purple eucalyptus leaves for a stylish touch.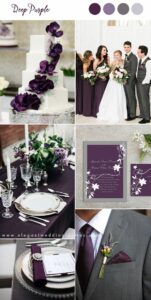 Blue and Green
These two colors offer several shades which can create an abundance of unique color schemes.  Choose darker, cooler shades like navy and emerald or lighter shades like dusty blue and sage.  While the latter is more common in spring weddings, dusty blue can transform your wedding into a winter wonderland!  Bridesmaids in a dusty blue, guys wearing dark grey suits with floral dusty blue ties and accents of ivory and silver will have you feeling the winter vibe without feeling the winter temps.
Tablescapes are super popular on social media and you can create your own stunning table by having a navy runner with plush greenery.  To compliment the two strong colors, add metallic candleholders and white florals to the greenery.  Navy suits paired with emerald ties will have the guys fitting in with your aesthetic.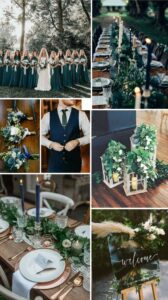 Black and White
To exude elegance, a black and white color scheme is the way to go.  This timeless combo paired with accents of gold will add a bit of holiday glamor while still bringing the sophistication.  Keep the guys traditional by wearing black tuxedos with gold ties.  Have the bridesmaids in black dresses and their bouquets full of white flowers with gold embellishments.  Black place cards with gold writing laid on top of white plates will make your tables pop.  The wedding invitations can be done in black with gold writing too.  If you want to soften the color combo, you can add in a touch of lavender, blush or pale mauve.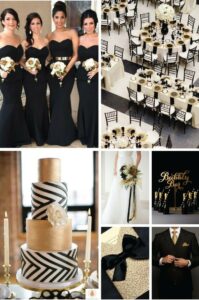 Mauve and Greens
For spring and summer weddings, you'll see the every-so popular eucalyptus and blush combination.  Winter weddings can use the same popular scheme with a winter version of those colors, mauve and greens.  Mauve is the new blush and with its slightly darker tone, it's the perfect choice for a magical winter wedding!  Pair this dreamy color with shades of green like sage, evergreen, or jade even.
You will want the wedding party to look classy and elegant. To achieve this, choose black or grey suits with floral mauve ties and pocket squares to add a soft, feminine touch for the guys.  The ladies can be in different shades of mauve which is becoming more and more of a popular trend.  Adding bouquets of ivory and sage florals will tie in nicely with the color palette.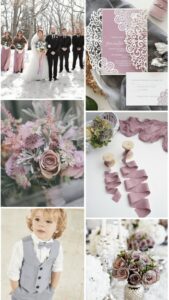 Dark Reds and Black
There are so many shades of dark red that will work perfectly for a winter wedding.  Colors like burgundy, merlot, crimson, cranberry, or wine are ideal and just feel like romance!  These deep, rich colors can help bring the holiday cheer without being to Christmas-y.  Imagine holding your wedding bouquet full of rich reds while walking down the aisle to your soon-to-be hubby who is wearing a burgundy coat like our Kenneth Cole Empire.  For cocktail hour, serve drinks with sugar-frosted berries.  Add some metallic accents like silver or rose gold to your décor to help bring the twinkle!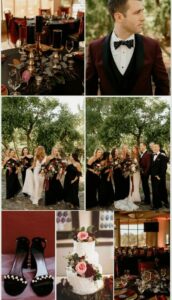 Winter weddings are special and can be your dream wedding with the right color scheme.  Whether you go with new color trends like mauve and green or elegant, rich colors like black and white or dark reds and black, you'll want to make sure the important men in your life look their best.  Jim's Formal Wear can help make your dream a reality with the best suit or tuxedo options.  Start browsing online or visit your local JFW retailer today!