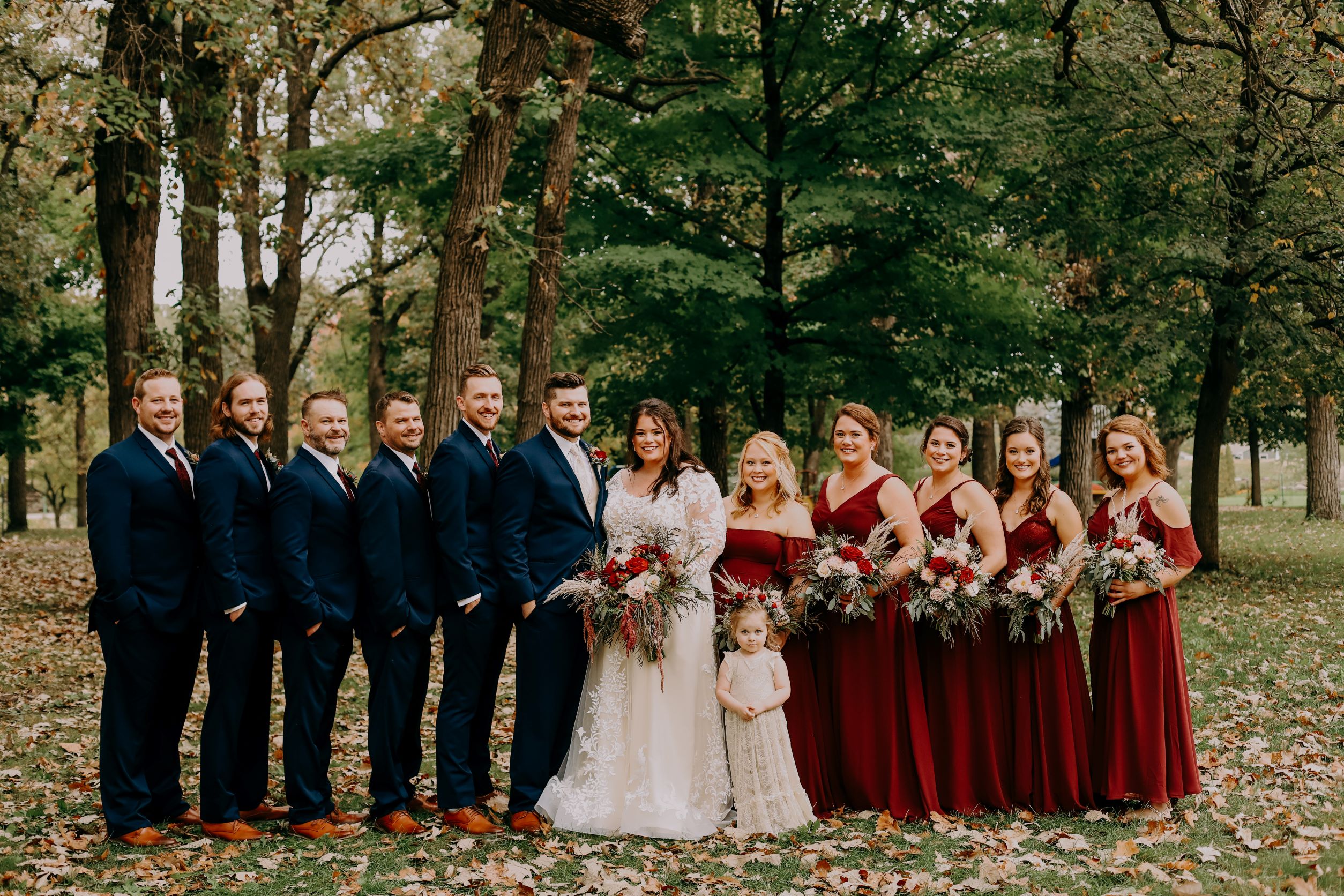 Let's face it, paying for a wedding is an expensive endeavor. In fact, according to the wedding industry research site, The Wedding Report, the average wedding costs about $27,000. From reserving the ceremony, reception and rehearsal venues, to buying the bridal gown, the flowers, the reception food and drinks, the photography and so much more, it really adds up. And we haven't even mentioned paying for the wedding suit or tuxedo that the groom and groomsmen will be wearing!  So what's a nervous groom to do? Fear not! We have a variety of simple yet cost-effective ways you can still look great while being mindful of your budget.
Rent vs. Buy
Grooms have more choices than ever before when it comes to their wedding-day attire. In addition to a greater assortment of styles and colors, grooms also have more options on whether to rent or buy their wedding suit or tuxedo. If you plan to wear this outfit just once, it may make more financial sense to rent, as most wedding suit or tuxedo rental options will be less expensive. 
If you do select a suit or tuxedo style that could be used for other occasions or special events, it may be worthwhile to purchase your outfit so it's available again whenever you want it, and you won't have to rent another outfit. Plus, it's always handy to have a nice suit in your closet, ready to use at a moment's notice – perhaps for that upcoming job interview! At Jim's Formal Wear, for example, there are nine wedding suit styles (including several Michael Kors styles) available to rent or buy, so your groomsmen can still rent that style if you decide to purchase it. This option helps you be mindful of your groomsmen's budgets, too!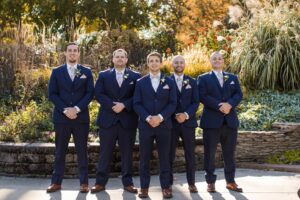 Just the Suit Coat, Please
Depending on the theme and location of your wedding, a full wedding suit look may not be the right look for you and your wedding party.  For example, let's say you've planned a rustic wedding. In this case, pairing a handsome brown or tan wedding suit coat with a pair of jeans creates the right blend of formal and relaxed dress features for the occasion. It also helps you and your groomsmen save a few dollars by not having to rent a complete wedding suit or tuxedo ensemble.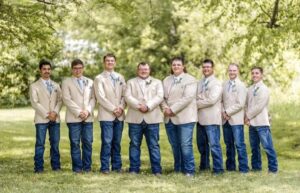 Everything But The Coat
What about doing the exact opposite of the previous suggestion? Some wedding parties love looking formal, they just don't want the suit coat. To pull off this look – and to look great in those wedding photos! – you'll want to find the right wedding vest color, preferably one that matches or at least compliments the bridesmaids' dress color.  Another big trend is wearing suspenders instead of the vest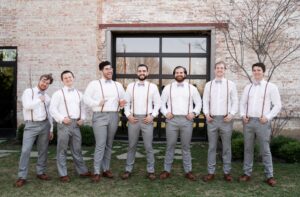 Return Your Suit or Tuxedo Rental On Time!
If you know anyone who's planned a wedding, they likely will have stories about the expenses they DIDN'T expect to pay for. Make sure to remind yourself and your groomsmen to return your suit or tuxedo rentals to the formalwear retailer the next day or next business day after your wedding. If you have groomsmen headed out of town the next day, designate a friend or family member to gather those ensembles and return them.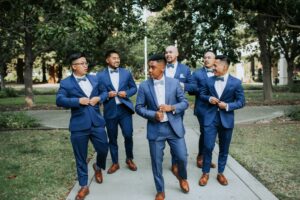 Look for Special Deals
If you have a larger wedding party – say five or more groomsmen – you may save money by qualifying for special discounts – or perhaps even receive the groom's outfit for free! Be sure to ask your retailer whether they offer any special deals. Jim's Formal Wear retailers, for instance, have a special promotion where the groom receives a free suit or tuxedo rental with five or more paid rentals in the wedding event.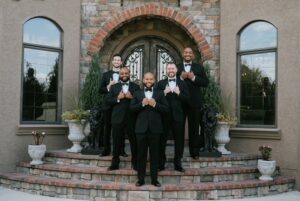 You'll already be spending enough money to create the wedding of your dreams. Hopefully, one of these helpful tips can make it a little more affordable.  Start browsing styles or visit your local Jim's Formal Wear retailer to get the process started!