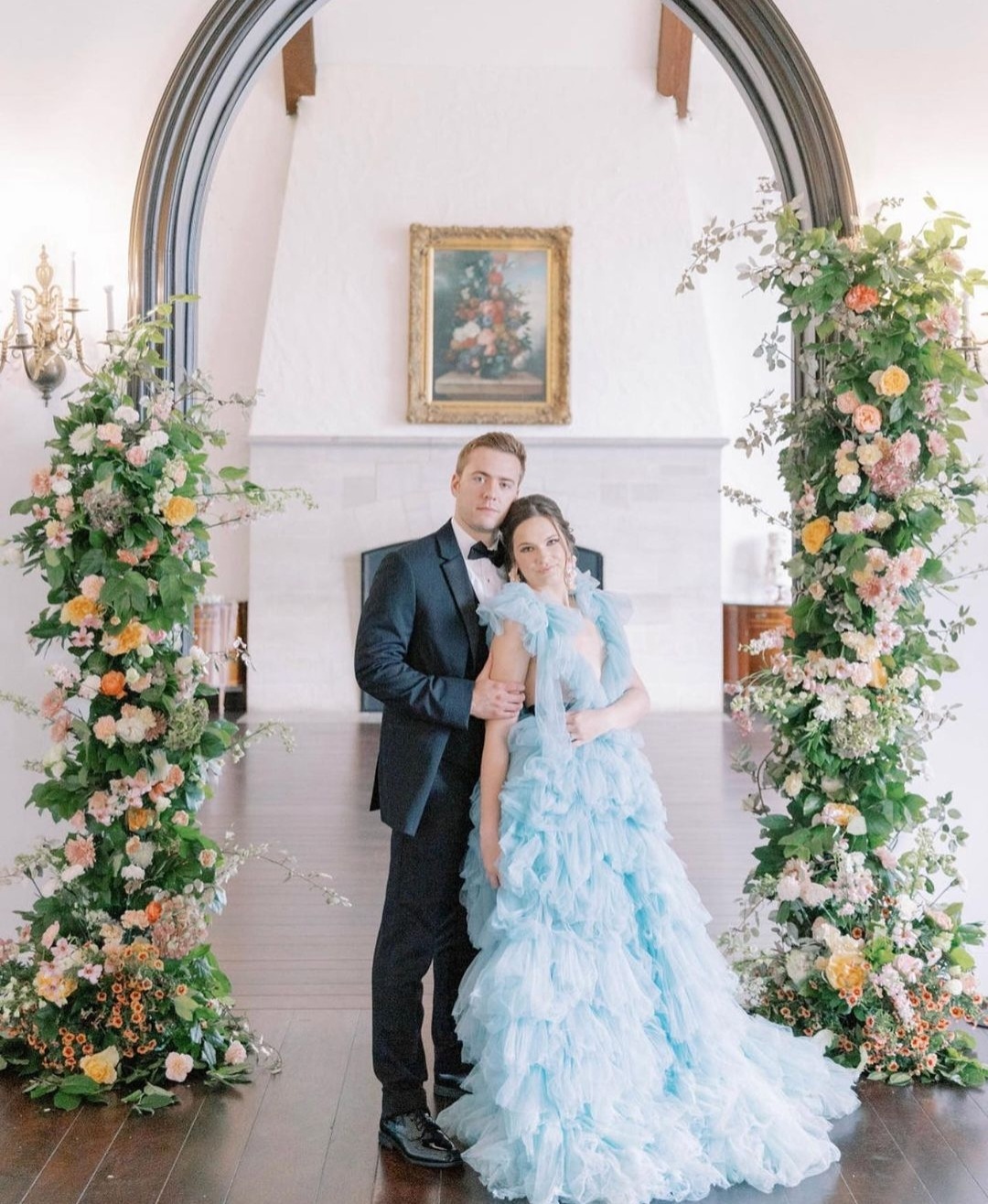 Starting to plan your 2023 wedding and not sure what is trending?  There is a lot to consider.  Lighting, color scheme, photography, and florals are just a few things to consider, not to mention guest lists and location.  The beginning of the planning process is a bit overwhelming so Jim's Formal Wear is here to give you some guidance!  Here are the top four 2023 wedding trends that you should consider for your big day.
Technology
While technology has been around in our every day world for some time, it is just now really starting to pick up for weddings.  Of course photo booths aren't anything new, but in 2023 expect to see video booths!  They've been used for celebrity events and they are idyllic for social media!  Guests can download the videos, share them on social media and use your wedding hashtag!  During the pandemic, QR codes erupted and were everywhere.  Weddings are no exception now!  You can put QR codes on your menu or even on your wedding invitations.  Have the code go to your wedding website where your guests can RSVP and see your gift registry.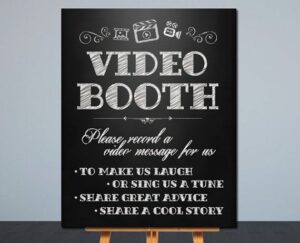 Big, Bold Florals
A huge 2023 wedding trend will be big, bold florals so when deciding on florals for your big day, remember one thing: go BIG or go home!  Dramatic florals have been showing up more in the last few months and going into 2023, the trend will be even bigger!  There are so many ways to include stunning florals, like in a statement arch.  Traditional arches with an abundance of beautiful flowers are great, but a fresher take on this trend is having the floral structure be in different directions, creating a unique way to frame the ceremony.
One of the biggest trends is having a flower cloud or flower chandelier above your reception tables to wow your guests.  This allows you to keep your table clean and minimal and let the flowers be the focal point.  They can be simple greenery but lush, or have it overflowing with your wedding color scheme.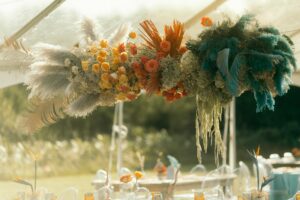 Make it a Weekend
Weddings that were supposed to happen during the pandemic have been postponed and with that, brides and grooms have decided to go all out with their special day in 2023.  Instead of it being a one-day celebration, couples are planning a full weekend of festivities.  To celebrate your last single night, start with a pre-wedding party the night before the wedding with family and close friends.  Then the following day you'll have your stunning, magical wedding and the day after the wedding can be a brunch to end the fairytale weekend.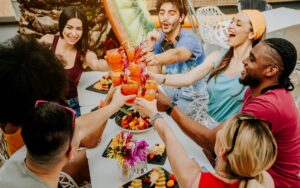 Unique Dresses
Dresses are going to be another big 2023 wedding trend! With the 80's making a comeback, you will see more big, puffy sleeves on wedding dresses.  Don't panic!  Puffy sleeves have come a long way since the 80's decade.  They now add just a bit of flair.  Pearls are also going to be showing up for 2023, some even saying the breakout star!  Simple, pearl-like beading down the back of your dress or delicate pearls on your sleeves will bring the elegance.
Not a fan of the traditional white or ivory wedding dress?  Then a 2023 wedding is perfect for you because a huge trend is colored dresses!  With colors like black, red, or light blush, you can still be the stand out of your day.  Floral prints are also popping up all over whether that be for the bride or for the bridesmaids!  Mismatched bridesmaids' dresses will also be showing up on your social feed.  From solid and floral-patterned combos to different shades of a color family, brides can really get creative with their squad's look.  Just make sure to specify your vision!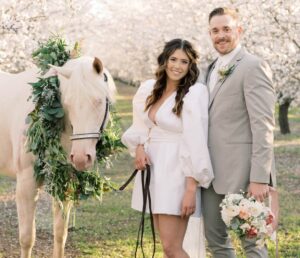 There are a lot of 2023 wedding trends to pick from but in the end it's really your day and you can do what feels right to you and your future spouse.  Make sure he looks just as good as you and your décor by wearing a Jim's Formal Wear tuxedo or suit!  Visit your local retailer or start browsing online today!