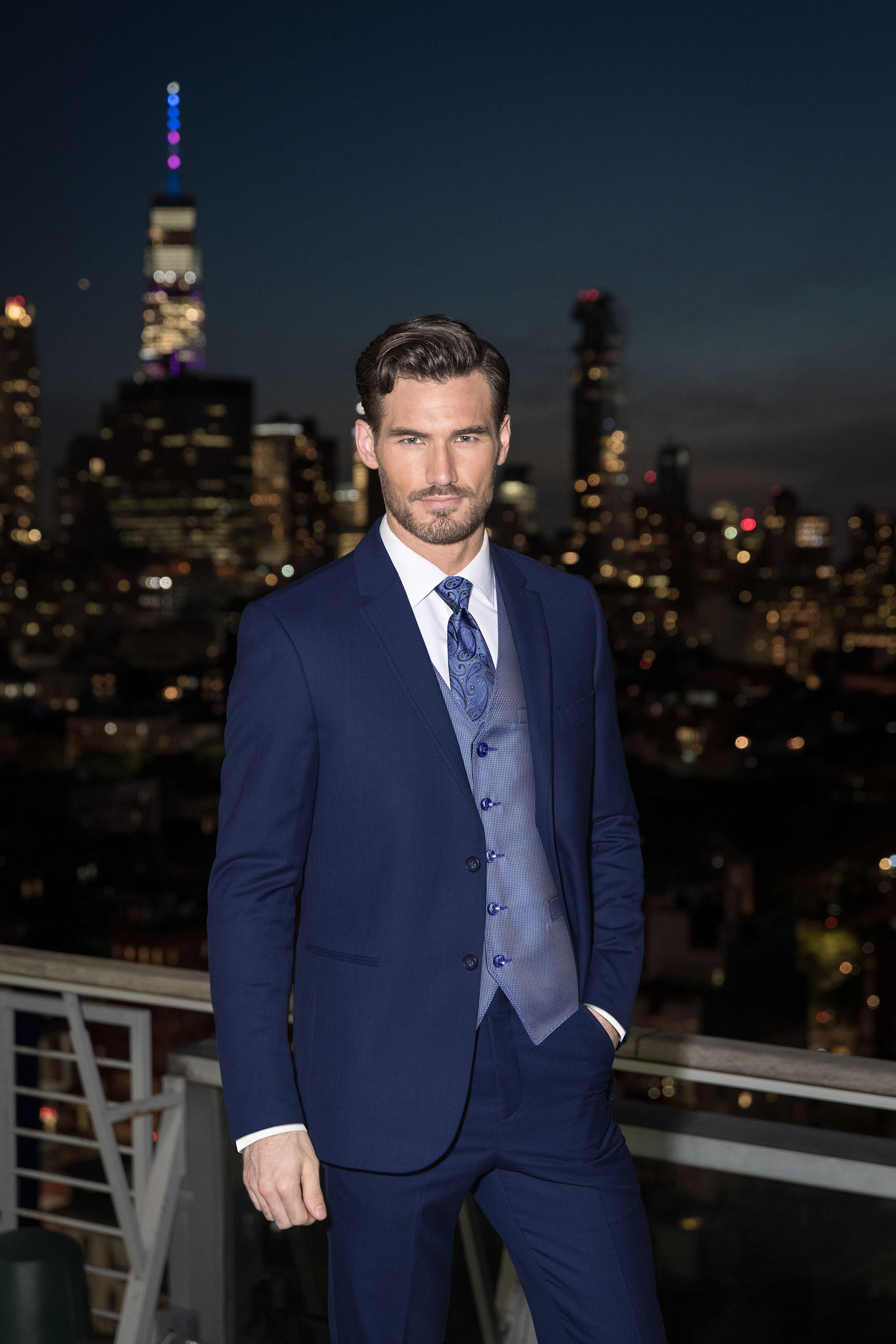 If you've recently graduated from college, you might be looking at your first job out in the "real world." Your days of T-shirts and sweatpants are over, and now you find yourself in need of a suit for your first job interview, or your first day at your new job. Want to dress the part for your new career and make a good impression? With so many style "rules" out there, it's easy to get overwhelmed with different tips for buying a suit. We've got you, though. Check out our guide for buying your first suit below!
Go for versatility with color and fabric
This is your first suit, and it will most likely be your first and only suit for a while. To get the most mileage out of it, choose a suit that will work for all seasons and occasions. It should be appropriate for not only your job interview, but day-to-day work outfits, weddings, dates, and so on. We suggest a suit made out of a basic all-season wool that's mid to lightweight. You can easily add sweaters or vests for warmth when it's cold, or keep fairly cool in this breathable fabric when it's warm.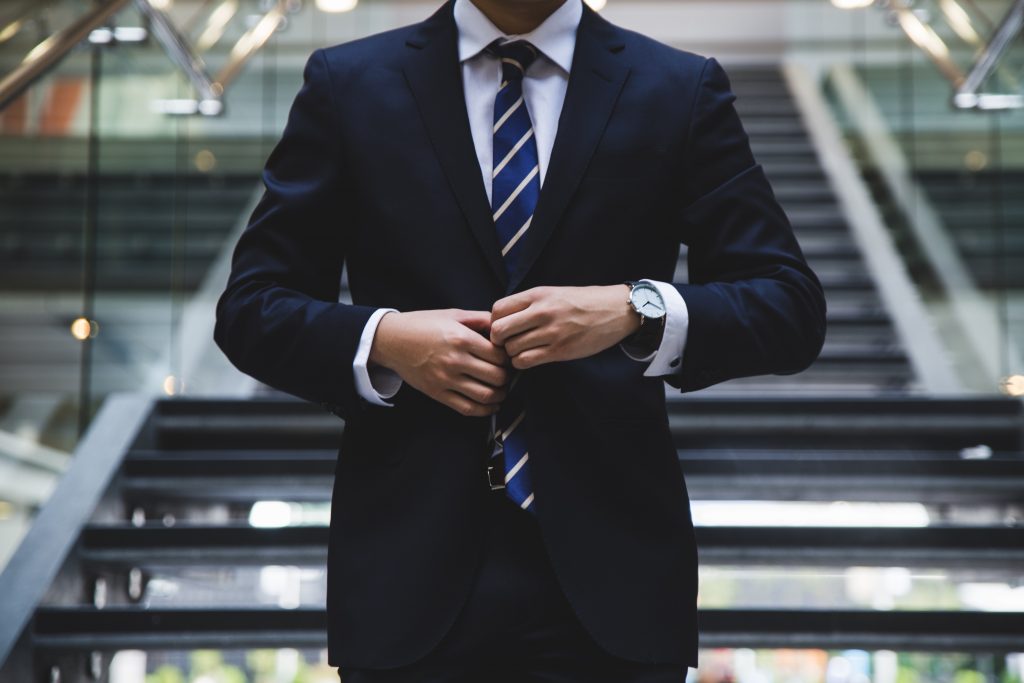 When it comes to color, solid navy or charcoal grey will be the most versatile. Both colors can be worn with any shirt color, tie, pocket square, and shoes. If you're choosing between the two, consider your own style and needs. Charcoal grey pairs well with light brown shoes for casual looks and black shoes for conservative outfits. Navy suits look great with brown shoes but can be trickier to wear with black shoes. Because of this, charcoal can give you more variety but don't forget your personal style. If you rarely wear black or your suit outfits will be less formal, go with the navy.
Stick with basic, classic details
Now that you know which fabric and color work best for you, it's time to pick a suit. Get something timeless that will work in your wardrobe for years to come. A single-breasted, two-button jacket is a design common in many workplaces. Three-inch notch lapels are simple and less formal than peak lapels. Stick with flat front trousers with a slight or medium break (which we'll get to in a moment.) Minimal shoulder padding and flap pockets finish off your classic look.
Make sure it fits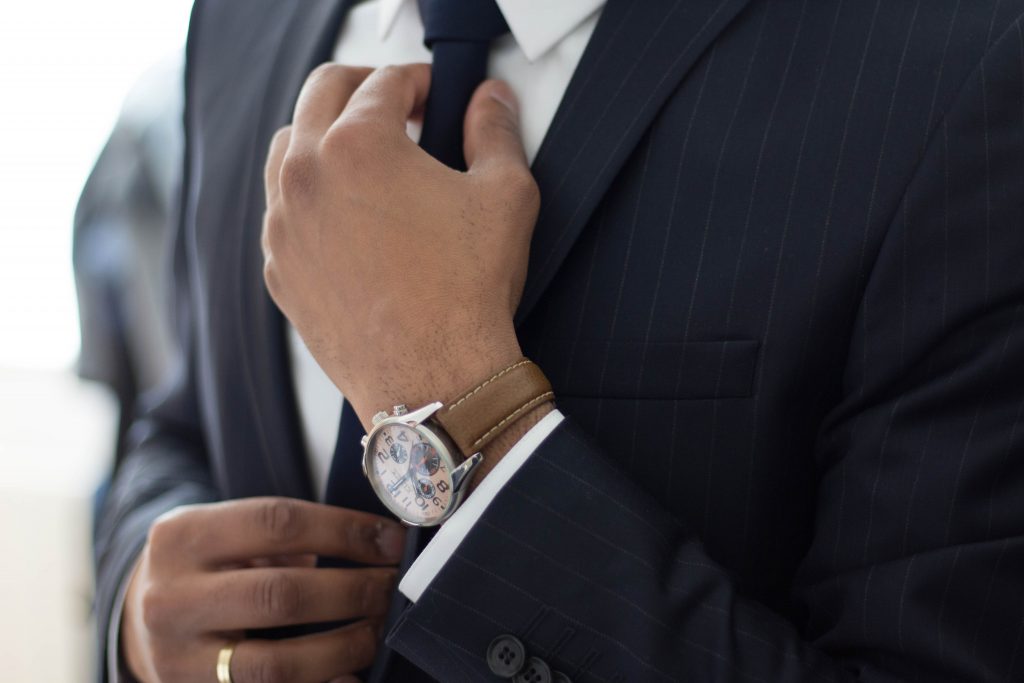 A work-appropriate and versatile suit does nothing for your appearance and style if it doesn't fit. Because this part is so important when buying a suit, we have a more comprehensive blog post dedicated to it. Here are some quick tips for making sure your new suit fits:
Jacket
Check that the seam ends right at the outside of your shoulder.

The lapels should lie flat on your chest when your jacket is buttoned.

With the jacket buttoned, slide a flat hand between the button and your stomach. The fit should be snug. If it's too loose or too tight, try a different size.

The sleeves should skim your arms and show about a half-inch to a quarter-inch of cuff.
Pants
Fasten the pants at your natural waist (about an inch below your navel.) Overall, the pants should flow smoothly from your waist down your thighs, with no bunching, draping, creases or puckers.

A slight break in your hem means the end of your pants will rest on the top of your shoe with a slight fold or indent. No break is a

trendier look

where your hem hovers just above your shoes. Want a more conservative style? A medium break has a little more fold than a slight break.
Need more advice? We have specific guides for finding a suit that fits depending on your body type: tall and skinny, shorter than average, or athletic builds.
—
Do you need more help picking out a suit? Browse our style options online, or find a Jim's Formal Wear near you!