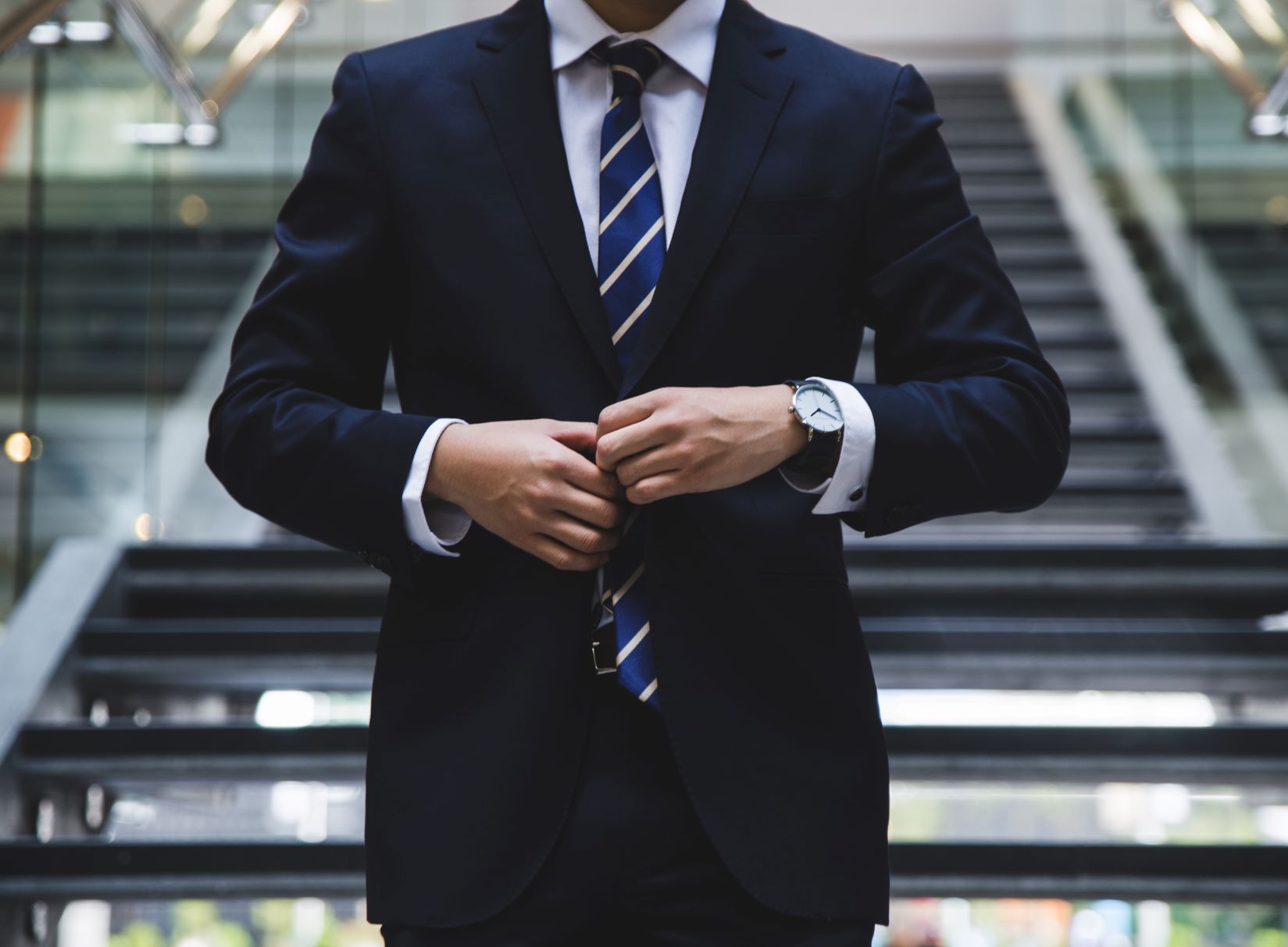 No matter how great a suit looks on the rack, it won't look good on you if it doesn't fit you well. But what fits, and how do you know which suit is best for you? We've put together a complete guide to show you how to find a suit that fits, so you can look your best.
The Jacket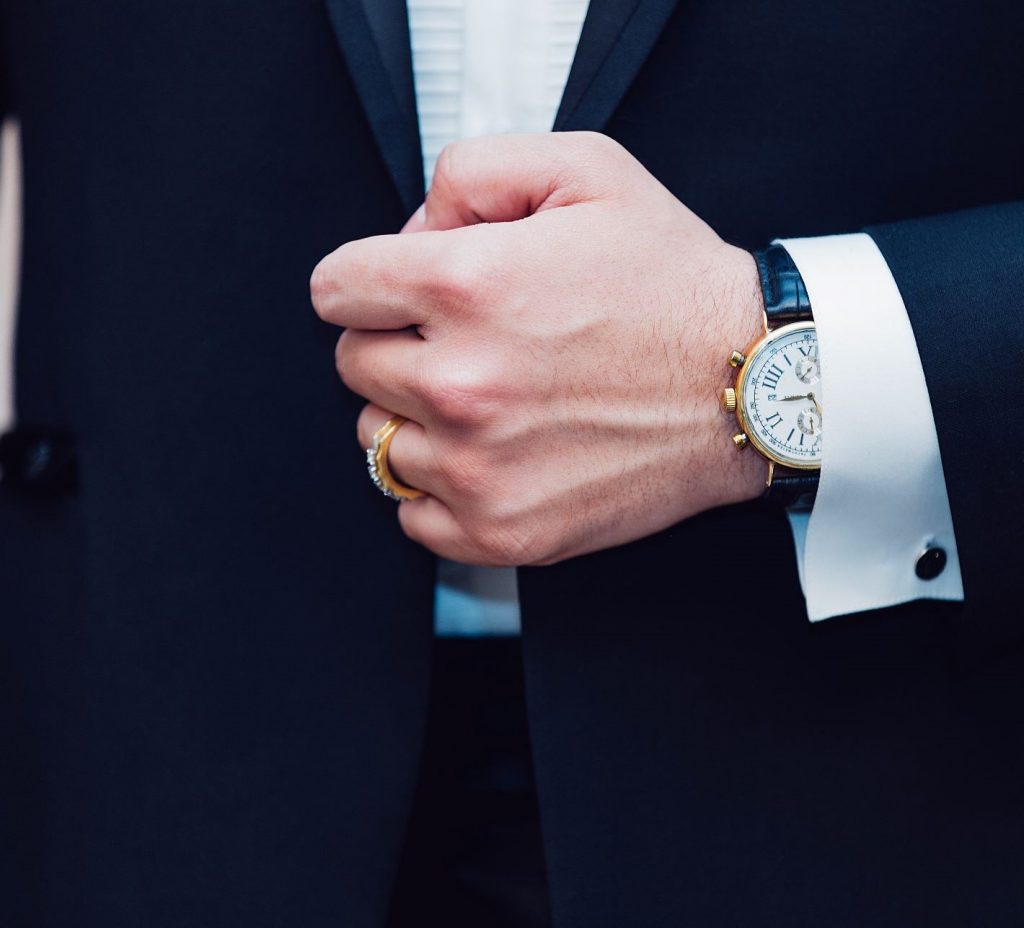 When you're trying on a suit, stand up straight and keep your arms relaxed at your side. Bring along the dress shoes you're probably going to wear with your suit, (or choose from our selection) so you can get a complete picture of what your outfit will look like. Be sure to move around so you can get an idea of how it'll look when you're sitting, standing, talking, or eating.
Shoulders
Check that the shoulder pads in your jacket ends at the edge of your shoulder. A good way to test this is to lean against a wall when wearing a jacket. Both your shoulder and the shoulder of the jacket should touch the wall at the same time. Does the jacket hit the wall first? The shoulders are too wide. Does your arm hit the wall first? The shoulders are too narrow and tight.
Whether the jacket has shoulder pads or not, the fabric should lie flat without any bunching or ripples. The seam on the top should meet the sleeve of the suit, right where your arm connects to your shoulder.
It doesn't matter if you're tall and slim, shorter than average, or have a larger athletic build. Any guy with any body type can find a suit jacket that fits in the shoulders. Look for a good fit in the shoulders first, and you can get other parts altered afterward.
Torso
Now that you have a jacket that fits your shoulders look at how it fits your torso when buttoned. With the top or middle button of the jacket fastened, slip a hand under the lapels. It should slide into your suit easily. Make a fist: your suit should pull at the button. If it doesn't, your suit is too loose. If your flat hand is struggling to get under the lapels, it's too tight.
Moving down your torso, look at the buttons on your jacket. The top button of a two-button suit or the middle button of a three-button suit should not fall below your navel. This is especially important for shorter than average guys. A jacket with higher button positioning will make your legs and torso look longer.
Let's look at where your jacket ends. In the natural stance that we previously mentioned, your knuckles should hit the bottom of your jacket. The back of the jacket should fall past your waist and generally stop where your rear starts to curve back inward. If there are any vents in your jacket, they should stay closed. If they flare open when the jacket is buttoned, it's too tight.
Sleeves
The fit of your sleeves can make or break your look. The end of your sleeves should hit between the base of your thumb and wrist. Leave a quarter-inch to a half-inch of your long-sleeved dress shirt showing. After checking the length, look at the armholes. Many armholes are on the larger side so they can accommodate more sizes. An armhole that ends just below your armpit will allow you to move easily and comfortably. If it's too small, you'll feel constricted when moving, and you'll see wrinkles on the top of the sleeve.
Everyone's arms are slightly different, so it's important to make sure you can find the best sleeve length and fit you can, then have it tailored to fit. If you're tall and have long arms, this can be tough, but a good sleeve fit will balance your proportions and make you look sleek.
The Pants
Waist and Drop
Glance at your dress pants to see how they fit overall. It should fall in clean lines with no bunching, sagging, or wrinkles. Fasten your pants where they'll sit at your natural waist, around the navel. This way you'll also check that the drop, or the length of the crotch of the pants, is comfortable. If the drop is too low, your legs may look shorter, and if it's too high, it'll be too tight. The waistband should feel snug and secure without using a belt or suspenders.
The back should drape smoothly over your rear end. If it pulls against your butt and causes wrinkles on your upper thighs, they're too tight. If it sags, they're too loose. The overall shape of the pant legs should taper slightly for a flattering fit. Traditional styles will be less tapered, while more fashion-forward styles will be slimmer. Choose a fit that you like, making sure that they skim your legs from the thigh to the hem.
Break
The "break" is the amount of material that rests on the top of your shoe when you're in a natural stance. You can have no break, a slight break, a half (or medium) break, and a full (or large) break. Break is a matter of personal preference, and it changes along with trends. Think back to the 1920s and 1930s, when men wore pants with a full break to show off luxury and wealth. In the 1960s, cropped pants and pants with no break were stylish.  
If you're not sure which break to choose, stick to a slight break, which looks good on nearly everyone. Taller guys can get away with a more generous break to balance their proportions, while shorter guys can pull off the no-break look, which is pretty trendy right now.
Find your perfect fit with Jim's Formal Wear
Remember that very few men will find a suit that fits perfectly off-the-rack. Don't be afraid to try different suits and styles on. Take your time to ensure a good fit, and you'll look spectacular. Now that you know how to find a suit that fits check out our online collection of styles to find one that speaks to you!