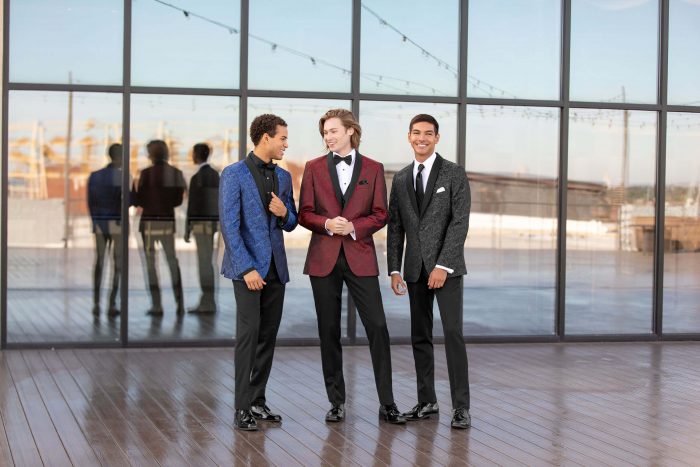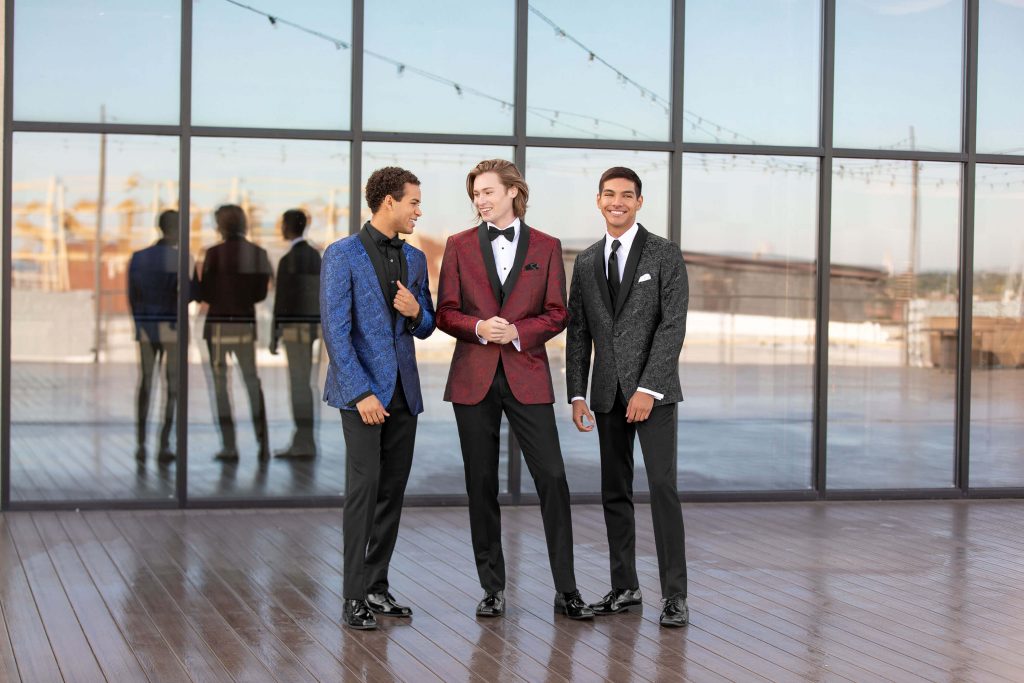 Prom season is just around the corner! Are you ready? No, we're not talking about planning an after-party, deciding which friends to split a limo with, or asking your potential date. We're talking about what you'll wear. We're seeing a lot of fun prom tuxedo trends and suit styles. Make sure you're up to speed to impress your date and avoid embarrassing them with a look that's so last year with these 4 prom tuxedo trends you should know in 2019.
1. Be bold and fiery with a red tux jacket
Look and feel like a million bucks when you rock a patterned red tuxedo jacket and black pants. To make the jacket really pop, pair it with classic black slim fit pants. Prepare to be in the spotlight all night with your date when you stand out with this look.
Not ready to go all out yet? Choose the same patterned tux in a more subdued color like granite or cobalt blue.
2. Look dapper in a slim black t
uxedo
We suggest an ultra slim, modern fit that won't make you look dated. As long as it fits you well, you really can't go wrong with a classic black tux. You're almost guaranteed to match whatever colors your date is wearing. For extra style points, match your pocket square to one color or pattern in your date's outfit.
3. Stay on trend in a plaid suit
Plaid is hot right now, thanks to 1970s trends in menswear that just won't quit. Get on board with this trend by choosing a plaid suit in grey. Add a matching vest for a classic three-piece look, or pair it with a skinny tie and black loafers. If you're going for an edgier punk vibe, wear your best leather sneakers or black boots.
4. Go glam with an ivory tuxedo jacket
A head-to-toe white or off-white tuxedo can be a bit much (but if that's your style or prom theme, then rock it!). For a simplistic yet quintessential tux look, wear an ivory jacket with black pants. Ivory will look a little less stark than a pure white jacket, and it's a perfect color for a warm weather formal event. Plus, this look is easily customizable. We suggest pairing an ivory jacket with slim black pants and a black bowtie for a classic look.
Finding the right prom tux
Need help planning your 2019 prom? We've got tips on organizing the events before and after prom, as well as a prom planning timeline to keep you on track. But of course, one of the most important items to check off your list is finding a tux or suit. Browse our online styles to find yours!