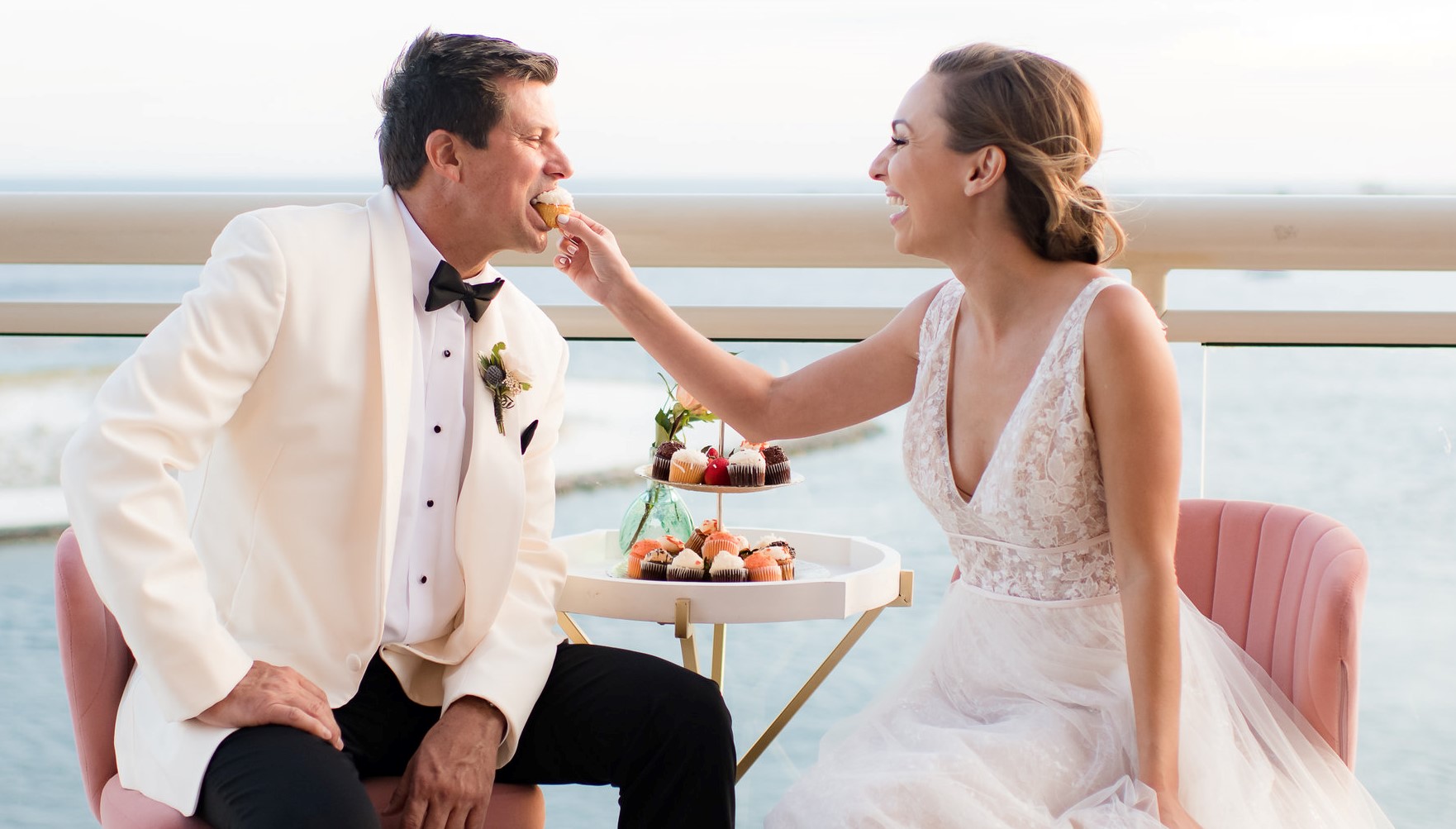 The wedding cake is a classic and traditional part of most weddings receptions.  But for couples who are looking to break away from the norm, choosing an alternative dessert or snack can offer a unique spin on an old tradition.  Over the past few years, couples have chosen to personalize every aspect of their day…including the dessert table.  For newlyweds that aren't fond of wedding cake, cupcakes, donuts, and macarons are just a few options to use as a wedding cake alternative. Read on for additional delicious options that are sure to wow your sweet-tooth guests.
Breakfast for dessert
They say that breakfast is the most important meal of the day.  So why not have breakfast for dessert?  Do you love cinnamon rolls?  Consider stacking large cinnamon rolls covered in delicious cream cheese icing in the shape of a wedding cake.  Or, offer individual cinnamon rolls on a stick next to a fountain of icing for dipping.
Are you a donut connoisseur?  Stack your favorite donut flavor into a pyramid form to resemble a cake. If you can't decide on just one flavor, no worries. Choose a variety of flavors and fillings and place your assortment on a donut wall for an Instagram-worthy pic!  You could even customize the icing to match your wedding color palette.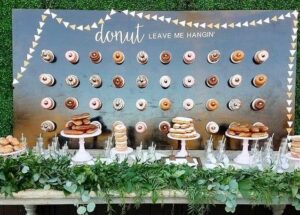 Let's not forget about another great breakfast food, waffles.  Imagine waffles stacked on a cake stand with fresh fruit, whipped cream, and powder sugar sprinkled all over! Offer small bottles of maple syrup for drizzling once your guests are ready to chow down.  Add some fresh flowers and greenery to dress up the table.
For an awesome experience, offer a crêpe station where guests can choose their fillings and enjoy a dessert customized to their taste pallet!  Crêpes are sophisticated and rich…everything a dessert should be!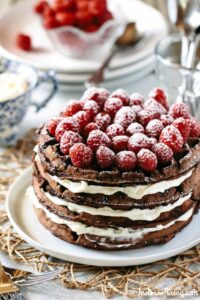 Macarons
If you've been to a wedding lately, then you've probably seen these elegant and romantic wedding desserts.  Plus, they come in a variety of flavors and colors!  Have a tower of macarons on a tiered platter, turned on their side to create a cake-like illusion.  You could either opt for a single color or two colors to fit your color scheme. You could even have them in multiple colors for a pop of fun.  Don't want to go too wild with the colors?  Then think of doing them in an ombré design which will create a cohesive, classy presentation.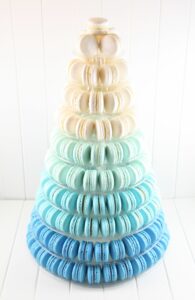 Pies and Cakes
Let's face it.  Not everybody is a cake person but they could be a pie person.  Pies served at weddings has also been gaining popularity.  Offer a larger selection of pie flavors by having mini pies such as apple, blackberry, pecan, key lime, or even pumpkin!  This will allow each of your guests to enjoy their favorite flavor.  A dessert table lined with pies will be a crowd pleaser to all those who are team pie. If you are on a budget, think about asking family members to bake them to help save you some money.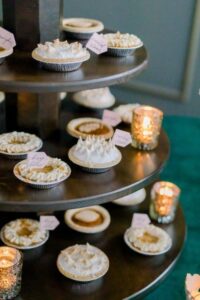 Even though you may forego the traditional wedding cake, that doesn't mean you can't serve cake at all!  Go for the obvious and ever-so-popular choice, cupcakes or cake pops.  Want something a little fancier?  Then think about having mini cakes.  Both of these sweet treats can also be done in an assortment of flavors.  Maybe you would like a dessert that is more unique.  Be creative and serve ice cream cake, Bundt cake or even cheesecake!  While not technically a cake, a delicious tiramisu would be a great substitute for a wedding cake.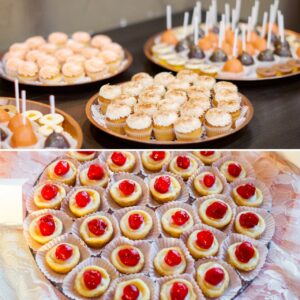 Dessert Table
Having a dessert table is the ultimate choice for guests with a sweet-tooth, and the possibilities are endless.  Plus, you and your guests won't have to choose just one dessert!  From brownies and cookies, to cannolis and cream puffs, this delectable dessert option will have everyone smiling.  Take cues from your childhood by having Rice Krispie treats, cotton candy, your favorite candy, or even churros!  Chocolate covered strawberries are always a fan favorite.  Whatever you decide to include will surely be a fun alternative to the traditional wedding cake.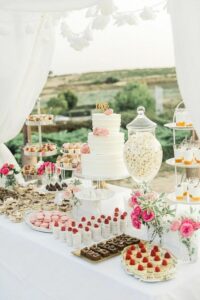 As you can see, while a wedding cake has been a staple at weddings in the past, there are certainly more options available for dessert choices today.  And with so many options, it's time to break tradition and show you and your fiancé's taste. Your guests are sure to be pleasantly surprised. Make sure to look good when eating the delicious desserts in a suit or tuxedo from Jim's Formal Wear!