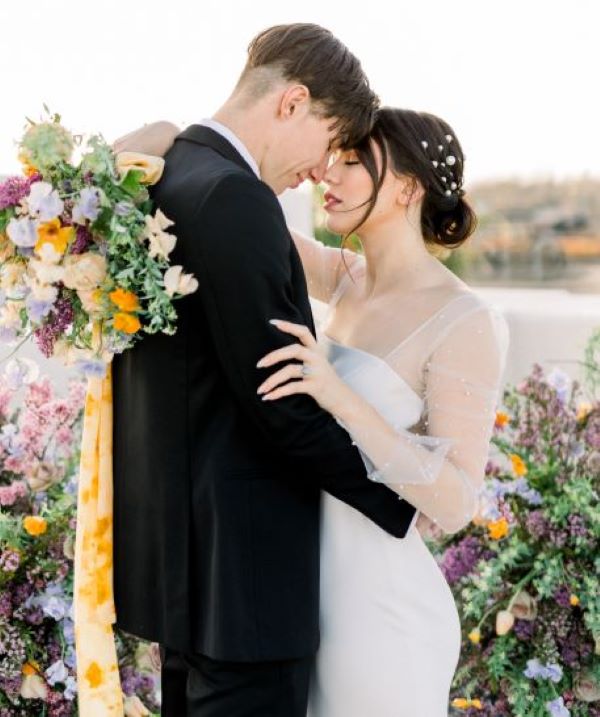 Spring into wedding season with these gorgeous colors bound to incapsulate your whimsical wedding dreams. The pastel palettes teeming with lush pink shades will create the perfect scene for your spring-time escapade. Just as the weather is warming up, so are these colors! We've listed the top trending spring wedding colors for 2022 and 2023 so you can take spring by storm.
Bright & Bold
This just in – channel your island dreams to celebrate the season of new beginnings. TikTok's influence has now infiltrated the wedding industry, and that's not something to complain about! Trending videos showcase vibrant, luscious palettes to accent and bring life to minimalistic wedding décor. Corals, bright pinks, and shades of orange emulate fresh air and Vitamin-C to help you bode goodbye to those winter blues and HELLO to spring.
The modern spring-time ceremony enhances the role of flowers to the central focus, while illuminating the space with pops of pink and orange. Bird of paradise is the absolute perfect flower to resemble this island renaissance. Include them in your centerpieces, bouquets, and throughout the entire ceremony. Offsetting the loud colors with white linings and greenery will encapsulate the revival of life and new beginnings which stand true for the season, and your reason for your special day!  Make sure to have your  groom stand out in all that color too by wearing a black suit like our Michael Kors Sterling.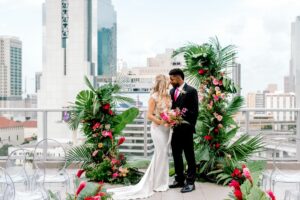 Blue Hues
Mamma Mia, look at those blues! Don't be so quick to leave the island vibes behind, ensure you're the dancing queen with a stunning Mediterranean palette. Vernalize the venue with a range of bright blues, Greek blues, and light blues to resemble the finally cloudless sky. Pair with white tablecloths and backdrops, pops of magenta, and dispersed greenery and you'll find yourself at the chapel in Kalokairi!  Have your hubby-to-be wear our Ike Behar Indigo Blue Lane to help bring the Mediterranean vibe to the party!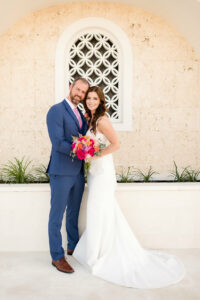 Will there ever be a spring without pastels? We don't think so. That's why these pastel combinations will never go out of style:
Pretty in Pink
Pastel pink derives a certain playfulness and feminine mystique. When coordinated with champagne, elegance will extrude from the wedding. Blush bridesmaid dresses with champagne accented décor will modernize your childhood wedding dreams. This color combo is essential for a rustic spring-time wedding in adding a little sophistication to the fresh air and new life.  A lighter color suit like our Tan Havana is a great choice for a spring wedding!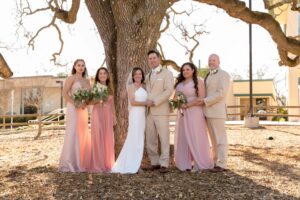 Lavender and Honey
The sweetest combination for you and your sweetheart. A lavender and honey themed wedding encapsulates the floral dreams and smells of spring. Play off the color with lavender bouquets, honeycomb décor, and even flavor the cake to the theme! Guests entering the venue will be enchanted from the serenity and pleasantness derived from this simple color combo.  Our Allure Men Heather Grey suit for the guys will pair nicely with the soft colors.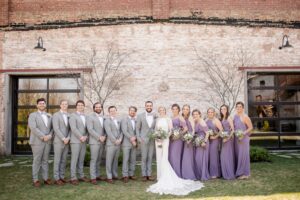 Powder Blue
Easter season would be distraught without the coveted powder blue. This gorgeous color offers the flexibility to be paired with various pastels, including peach or yellow. Powder blue and peach are the perfect pair for a whimsical atmosphere. The sophisticated giddiness of this palette enhances any vintage wedding to calmly welcome in spring, and your new beginnings.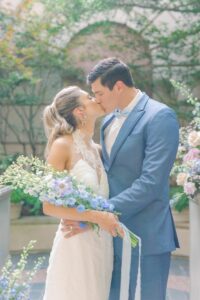 Whatever colors you choose, let Jim's Formal Wear help the guys look their best. Check out our variety of fits and colors so they can keep cool as the weather heats up!  Online shop with us or visit one of our retailers to start planning the spring wedding of your dreams!